MLB.com Columnist
Fred Zinkie
DraftKings picks: Stanton, Altuve, Cueto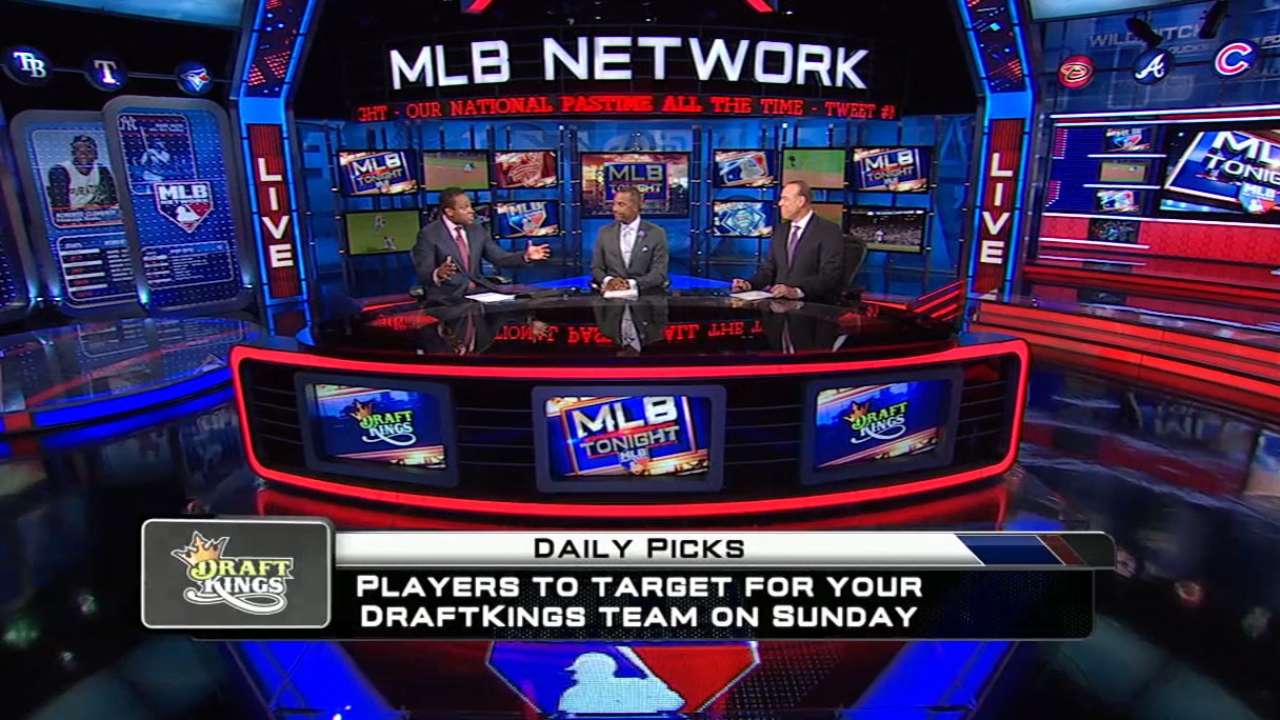 With few high-level arms on the Sunday schedule, DraftKings participants will need to choose their pitchers carefully. On the plus side, one could leave plenty of resources for star sluggers by picking a pair of moderately priced starters. Regardless of your strategy, the following players could make many happy on Sunday.
Michael Morse (Marlins): The owner of balanced lifetime righty-lefty splits and an overall career .800 OPS, Morse could post one of his best lines of the season Sunday against Gonzalez, who generated a 4.60 ERA at Double-A in 2014.
Giancarlo Stanton (Marlins): Stanton does his best work against lefties, but a lifetime .265/.357/.527 slash line against right-handers shows that he is also effective in those matchups. As one of baseball's best power hitters, he could rip a homer or drive in multiple runs against the inexperienced Gonzalez on Sunday.
Michael Brantley (Indians): Coming off a breakout 2014 campaign (20 homers, .327 batting average), the outfielder is hitting .344 this season. And with a lifetime .299/.349/.437 slash line against right-handers, Brantley could reach base often or smack a homer vs. Blue Jays righty Drew Hutchison on Sunday. After all, the fly-ball-prone hurler owns a career 4.73 ERA and a 1.31 WHIP.
Brandon Moss (Indians): The outfielder has ripped 82 of his 95 career round-trippers against right-handers, and he could add to those totals by taking the right-handed Hutchison (career 1.2 HR/9 rate) deep on Sunday.
Adam LaRoche (White Sox): LaRoche has gone deep 246 times in his career, with 196 of those homers coming against right-handers. The first baseman on Sunday could go deep or drive in multiple runs against Pelfrey, who has compiled a lifetime 4.51 ERA, and a 5.17 mark in the Junior Circuit.
Seth Smith (Mariners): Set to face right-handed Astros starter Roberto Hernandez on Sunday, Smith could be an inexpensive option for DraftKings participants. During his career, the outfielder has done the majority of his damage against right-handers, posting an .838 OPS in those situations (.602 vs. LHP). Additionally, left-handed-swinging batters have excelled against Hernandez to the tune of a .289/.360/.442 slash line during the right-hander's big league tenure.
Jose Altuve (Astros): With an impressive career .358/.396/.495 slash line against lefties, the second baseman could be well-positioned to reach base often or swipe a bag against Mariners southpaw J.A. Happ (career 1.38 WHIP) on Sunday.
Evan Gattis (Astros): Gattis could continue to emerge from an early-season slump when he brings his career .824 OPS vs. lefties (.751 against right-handers) into a Sunday matchup with Happ (lifetime 4.32 FIP).
Stephen Vogt (A's): Vogt could offer DraftKings participants premium catcher production when he faces Rangers righty Yovani Gallardo at hitter-friendly Globe Life Park in Arlington on Sunday. The owner of a career .759 OPS against right-handers (.628 vs. lefties), Vogt is hitting .348 with four homers and 16 RBIs this season.
Johnny Cueto (Reds): By compiling a 1.95 ERA and a 0.73 WHIP across five 2015 starts, Cueto is on his way to repeating his superlative 2014 season (2.25 ERA, 0.96 WHIP). The right-hander on Sunday could rack up several strikeouts and quality innings against the Braves at pitcher-friendly Turner Field, and he could also pick up a win if opposing starter Julio Teheran (4.67 ERA, 1.56 WHIP) continues to experience early-season woes.
James Shields (Padres): The Senior Circuit has thus far been kind to Shields, whose 2.90 ERA and 1.13 WHIP this season are notably superior to his respectable career marks (3.71 ERA, 1.22 WHIP). Already with 41 strikeouts in 31 innings in 2015, the hurler could continue to excel against the Rockies at his pitcher-friendly home park on Sunday.
Jason Hammel (Cubs): After posting a 2.98 ERA and a 1.02 WHIP in 17 starts with the Cubs last season, the right-hander has produced a 3.55 ERA and a 1.03 WHIP across four 2015 starts. And with a 3.13 FIP so far, Hammel has seemingly pitched better than his surface marks might indicate. The hurler could continue to provide strong value on Sunday against a Brewers squad that ranks 29th in the Majors with a .616 OPS.
Jarred Cosart (Marlins): In seven career starts at pitcher-friendly Marlins Park, the right-hander has recorded a .196 opponents' average and a 2.33 ERA. Cosart could continue his home-field dominance on Sunday against a Phillies lineup that ranks last in baseball in OPS (.607) and 29th in runs scored (66). And with the inexperienced Gonzalez on the hill for the opposition, Cosart may easily turn a quality outing into a win.
All statistics are accurate through the completion of Friday's games.
Fred Zinkie is the lead fantasy baseball writer for MLB.com. Follow him on Twitter at @FredZinkieMLB. This story was not subject to the approval of Major League Baseball or its clubs.