Banister uses same lineup for first time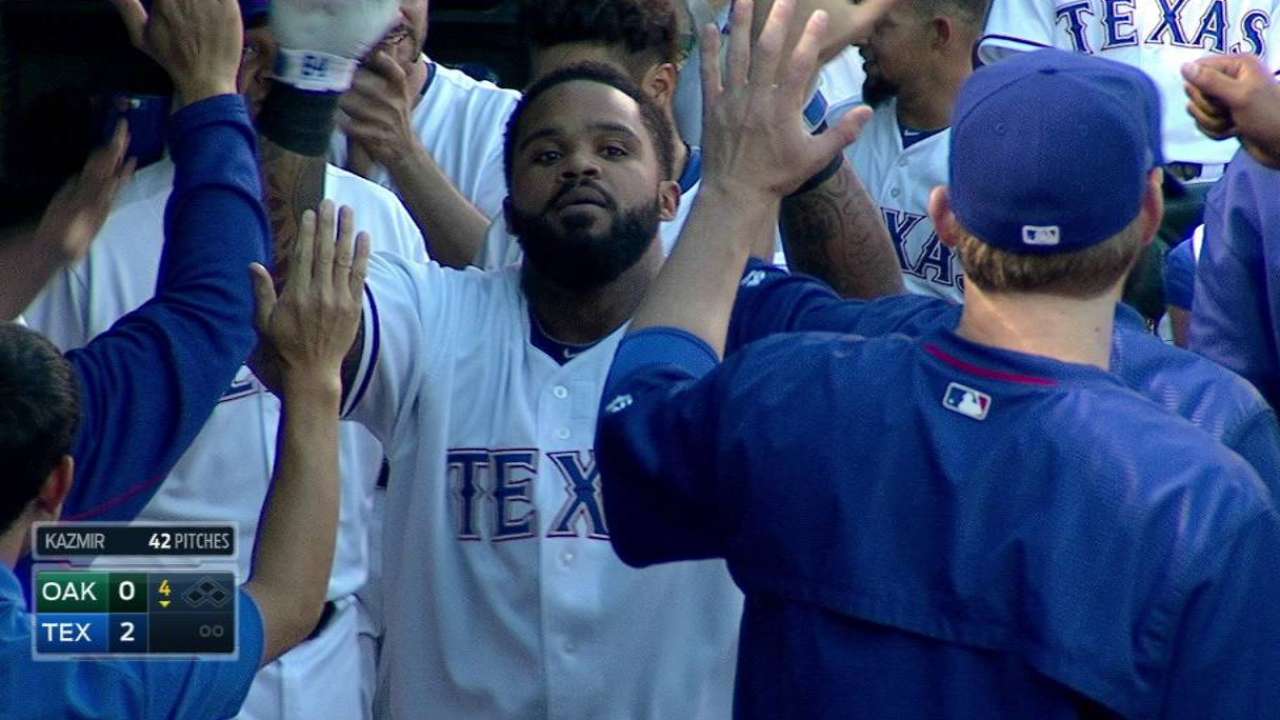 ARLINGTON -- Encouraged by the Rangers' offensive performance in Friday's 7-5 loss to the A's, the Rangers used the same lineup in back-to-back games for the first time this season.
The Rangers had used a different lineup in each of their first 22 games, the longest such streak in the Majors.
"The at-bats have been progressively on the uptick," Rangers manager Jeff Banister said. "I like the direction they're going. So let's run those guys out there. They put five runs on the board. The energy level, the at-bats and how they were with [Scott] Kazmir -- a good, tough pitcher -- I liked how they matched wits. So we're going to run them back out there and see what we've got tonight."
After hitting just one home run in their last six games, the Rangers got two early homers against the A's on Friday -- one from Kyle Blanks in the second inning, his first as a Ranger, and another from Prince Fielder in the fourth. The Rangers pounded out nine hits en route to taking a 5-0 lead in the series opener, a season-high six of them going for extra bases.
"Look at the hard contact outs we had," Banister said. "We had nine hits. I believe there were four line drive outs and some well struck ground balls. When you start putting all those together and you look at the at-bats as a whole, that was a productive night."
Every starter either reached base or drove in a run Friday. Even right fielder Shin-Soo Choo, who was in the midst of an 0 for 21 slump, chipped in offensively Friday with a double off the center-field wall during the two-run fourth after taking the previous two days off.
"He hit the ball well," Banister said. "The work always ultimately pays off for every player. If you're worried about his attitude, he's always maintained a tremendous attitude, a competitive attitude, a will and a drive to work. If he was hitting .300 with four home runs at this point, he would still be wanting to compete and do more."
Christian Corona is a contributor to MLB.com. This story was not subject to the approval of Major League Baseball or its clubs.