Alex Gordon Classic benefits cancer research
Royals outfielder hosts youth tournament in support of Alex's Lemonade Stand Foundation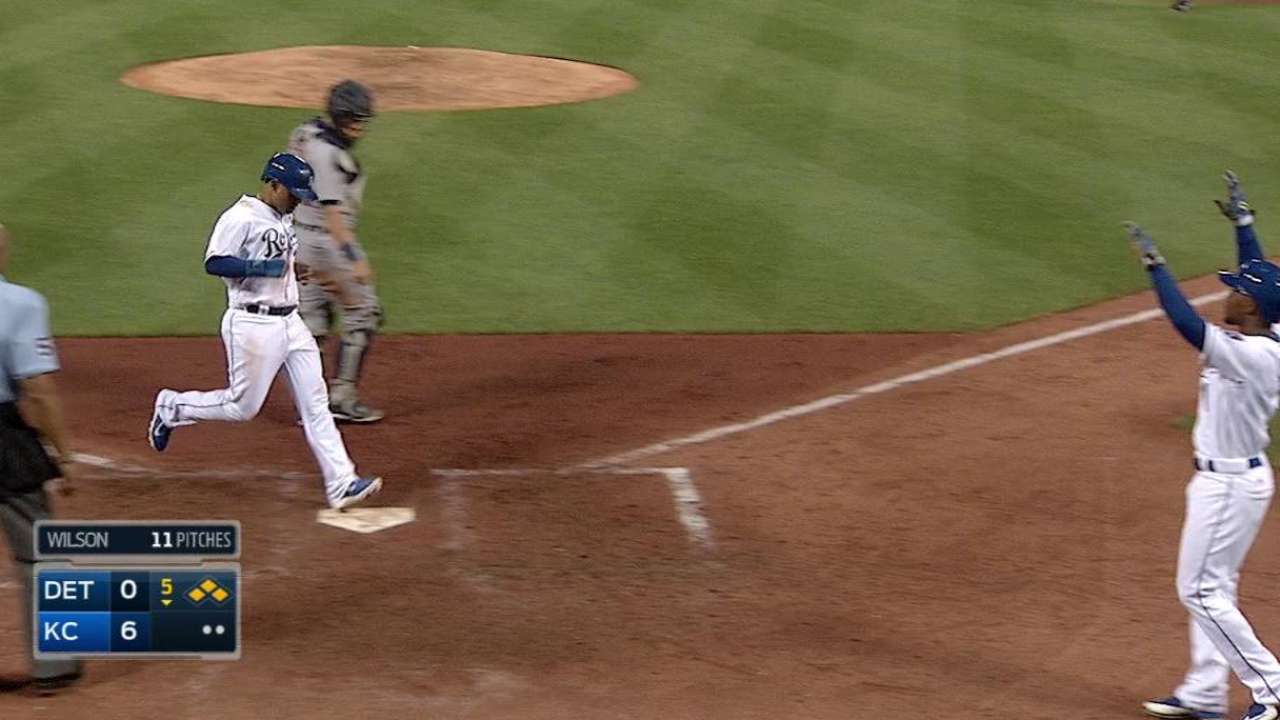 KANSAS CITY -- Alex Gordon worked late at Kauffman Stadium on Friday night, but turning off the alarm clock and sleeping in Saturday morning simply wasn't an option.
The Royals' Gold Glove left fielder had an important 10:35 a.m. appointment to support a cause that is near and dear to his heart. Right on schedule, Gordon arrived at the Mid-America Sports Complex in suburban Johnson County to salute a cluster of wide-eyed youth baseball players who have gathered for the inaugural Alex Gordon Classic. which is raising funds for Alex's Lemonade Stand Foundation and the fight against childhood cancer.
The three-day weekend tournament, which was organized by Midwest Sports Production, is bringing a lot more than competitive youth baseball. The participating teams from around the Kansas City area have combined to raise more than $20,000 for the ALSF, a national organization that Gordon and his wife, Jamie, have supported for several years.
"I really give a lot of respect and credit to these young kids who are doing this today," Gordon said.
The top four fundraising teams were Competitive Edge from Ottawa, Kan. ($5,518); Northland (Kansas City) Aces ($4,663); Strike Zone Sluggers from Tonganoxie, Kan. ($2,650) and the Blue Valley Hornets from Overland Park, Kan. ($2,525). Competitive Edge and Northland were able to take in batting practice at Kauffman Stadium on Saturday evening and received VIP treatment for the Royals-Tigers game. Earlier in the day, all four teams were seated around the Mid-America Sports Complex diamond at Field 1 to hear some remarks from Gordon and later have picture and autograph opportunities.
When Gordon was initially approached by the Royals' Community Relations department about getting involved with Alex's Lemonade Stand Foundation, the elements were in place for a perfect fit. The Foundation developed after childhood cancer patient Alexandra "Alex" Scott announced at age 4 in 2000 that she wanted to open a lemonade stand to raise money so that doctors could do research and find a cure for childhood cancer. She died four years later, but her dream continues. Alex's Lemonade Stand Foundation has raised more than $95 million, funding over 475 pediatric cancer research projects nationally.
"From the heart of a young girl who has passed away, her legacy continues to live on," said former Royal outfielder Les Norman, the emcee for Saturday's event.
From one "Alex" to another, Gordon shares the vision of a young girl who inspired so many. The topic strikes home in many ways. Gordon's mother, Leslie, is a two-time cancer survivor.
"I started doing some research on what this Foundation was all about," Gordon said. "I knew from the get-go this was going to be something very special."
As the winner of the 2014 Hutch Award, which goes to the player who best exemplifies the honor, courage and dedication of the late Reds' manager Fred Hutchinson, Gordon had an opportunity to travel to Seattle in the offseason. He visited the Fred Hutchinson Cancer Research Center and gained added insight into the importance of fundraising efforts.
"To actually see what the money being raised was doing out there and how appreciative the doctors were ... it gave me goosebumps," Gordon said.
Whether he's visiting kids at the ballpark or on an outing such as the one he took Saturday morning, Gordon gets steady reminders regarding the challenges of childhood cancer. Natural Baseball Academy of Olathe, Kan., is one of the teams participating in the Alex Gordon Classic. But team member Jacob Sprinkle, 11, could not be with his teammates. He was diagnosed with lymphoma last August. His father, Eric, spoke at Saturday's event as Gordon looked on. Jacob was able to monitor the proceedings from home via FaceTime. Jacob Sprinkle wears No. 4 because he so admires Gordon that he wanted Gordon's number.
"It puts everything in perspective," Gordon said.
On Sunday, there will be raffle tickets and T-shirt sales at the Alex Gordon Classic that will further benefit fundraising efforts.
"Win or lose, this was the tournament we were going to play in," Eric Sprinkle said. "We are here to represent and fundraise for the cure of childhood cancer."
Robert Falkoff is a contributor to MLB.com. This story was not subject to the approval of Major League Baseball or its clubs.