Fiers rewards Brewers' patience with great outing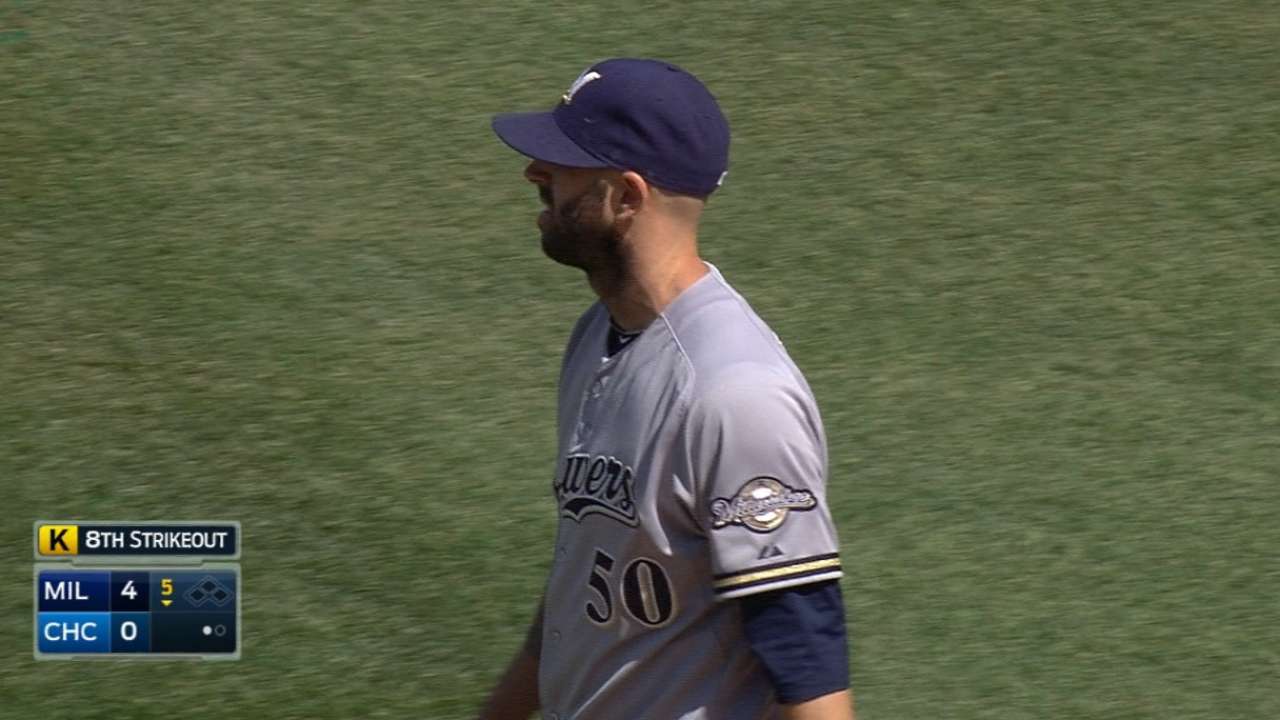 CHICAGO -- Just how badly Brewers right-hander Mike Fiers needed a quality start on this particular afternoon at Wrigley Field, manager Ron Roenicke did not precisely say.
Roenicke had insisted following Fiers' previous outing, his second in a row which spanned only four innings, that Brewers brass was not discussing a change to the starting rotation. Fiers had earned the opportunity, Roenicke said, to pitch through his early-season issues.
On Saturday, that patience paid off. In his first start at Wrigley Field since a six-inning, 14-strikeout gem last August, Fiers worked six innings once again, surrendered only one run, and this time sent 12 Cubs batters walking back to the dugout.
According to the Elias Sports Bureau, he became the first visitor to log consecutive double-digit strikeout games at Wrigley Field since another Brewers righty -- Yovani Gallardo -- in 2010 and 2011. The only other pitcher to record 26 or more strikeouts over consecutive starts at Wrigley Field was Hall of Famer Sandy Koufax, who had three such combined performances in his career.
It marked only the 31st time in franchise history that a Brewers pitcher struck out a dozen or more batters. Only 11 of those games have come on the road.
Most importantly, the Brewers won, 6-1, on Saturday, and can take their first series all season with another victory behind Jimmy Nelson in Sunday's finale.
Asked whether it was critical for Fiers to step up, Roenicke said, "I think so. You always start talking about things the longer it goes on. It's probably not any different as far as us winning and losing. How long do you just sit there and watch? It gets difficult."
Fiers silenced any such speculation with his performance on Saturday. In a three-hit outing, he became the final member of the Brewers' rotation to record a quality start.
"It's definitely a step in the right direction," Fiers said. "I think I was fine mentally before, but it's great to get a great start like this and get a good team win and move on from it so the next start I have that in the back of my mind that, 'Hey, I can still do this.'"
Fiers walked two of the first three batters he faced, but also began to pile up strikeouts. He struck out the side in the first inning and again in the fifth, and whiffed multiple batters in five of the six innings he pitched. The only inning Fiers did not strike out a batter was the third, when he retired Addison Russell, Jorge Soler and Dexter Fowler in order on 12 pitches, his most efficient inning.
By limiting opponents to one earned run in each of his last two starts, Fiers has lowered his ERA from 6.75 to 4.74.
"I'm glad he got back to the type of pitcher he is," Roenicke said. "We've been waiting for one of these starts to get him rolling. We know what happens when he gets on a roll. I think confidence is part of that. He should walk away from this feeling really good. When he has life in his pitches, he can put up a lot of zeros in a game."
Adam McCalvy is a reporter for MLB.com. Follow him on Twitter at @AdamMcCalvy. This story was not subject to the approval of Major League Baseball or its clubs.