Situational hitting boosting Padres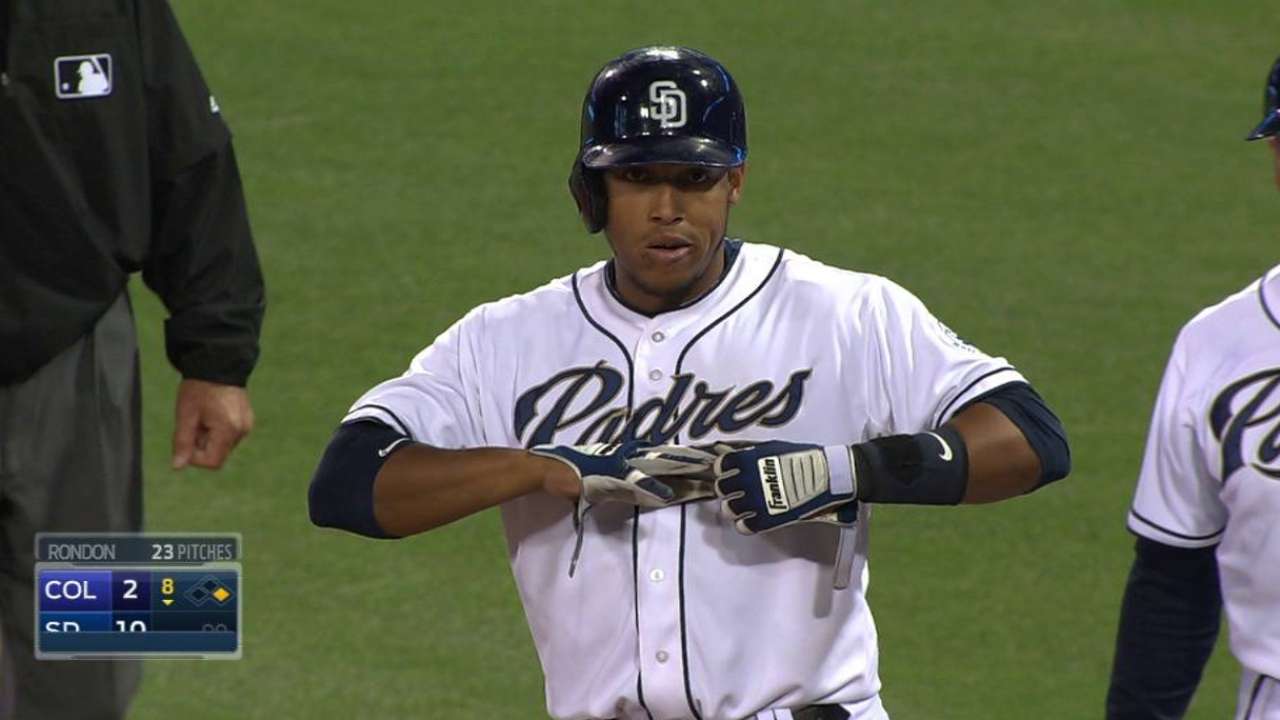 Bill Center, longtime sportswriter for U-T San Diego, is an employee of the Padres.
One of the Padres biggest improvements over the 2014 edition is situational hitting. Last season, for example, the Padres hit .220 with runners in scoring position.
There were actually two problems in this area. One, the Padres didn't get that many runners into scoring position. Two, and when they did they struggled to get them home safely off the bases.
The 2014 Padres hit a collective -- and Major League worst -- .220 with runners in scoring position ... a statistic known as RISP.
This season's Padres have been far more productive with runners at second and third. They were 8-for-19 in RISP situations in Friday night's 14-3 rout of the Rockies at Petco Park.
On the season, the Padres are hitting .332 (67-for-202) with runners in scoring position.
Infielder Yangervis Solarte had two, two-run singles Friday and ranks among the Major League leaders in RISP hitting this season. He is 11-for-18 (.611) in overall RISP and 5-for-7 with runners in scoring
position and two out.
Catcher Derek Norris is 11-for-19 (.579) in RISP situations. Center fielder Wil Myers is a .364 (8-for-22) hitter. Right fielder Matt Kemp is hitting .348 (8-for-23) in RISP situations. First baseman Yonder
Alonso is hitting .333 (5-for-15). Third baseman Will Middlebrooks is hitting .296 (8-for-27). Left fielder Justin Upton is hitting .292 in RISP situations (7-for-24).
FROM THE SCOREBOOK:
-- The Padres have scored 119 runs this season to lead the National League. They have scored 23 runs in 24 games in the first inning -- or more than a third of their full 2014 total of 62 for 162 games. The Padres scored four in the fourth and eight in the eighth inning Friday night en route to their second 14-3 rout of the Rockies in five games. And in the eighth, the Padres batted around before making an out.
-- Solarte's four RBIs Friday night moved him into the Padres lead with 16 -- with Kemp, Upton and Myers. But Solarte's 16 RBIs have come in just 61 at-bats. Solarte's four RBIs matched his career high.
-- Myers scored two runs Friday night, giving him 23 runs scored on the season. That is the highest total in the Major Leagues. Myers drew walks in his first two plate appearances Friday after drawing only two walk in
his first 102 plate appearances.
-- Alonso had his fourth, three-hit game of the season Friday, equaling his total for all of 2014. Alonso is hitting .550 (11-for-20) with a double, five RBIs and two runs scored in five games against the Rockies
this season.