Peavy has encouraging bullpen session
Pence works in outfield; Ishikawa 'starting to come around'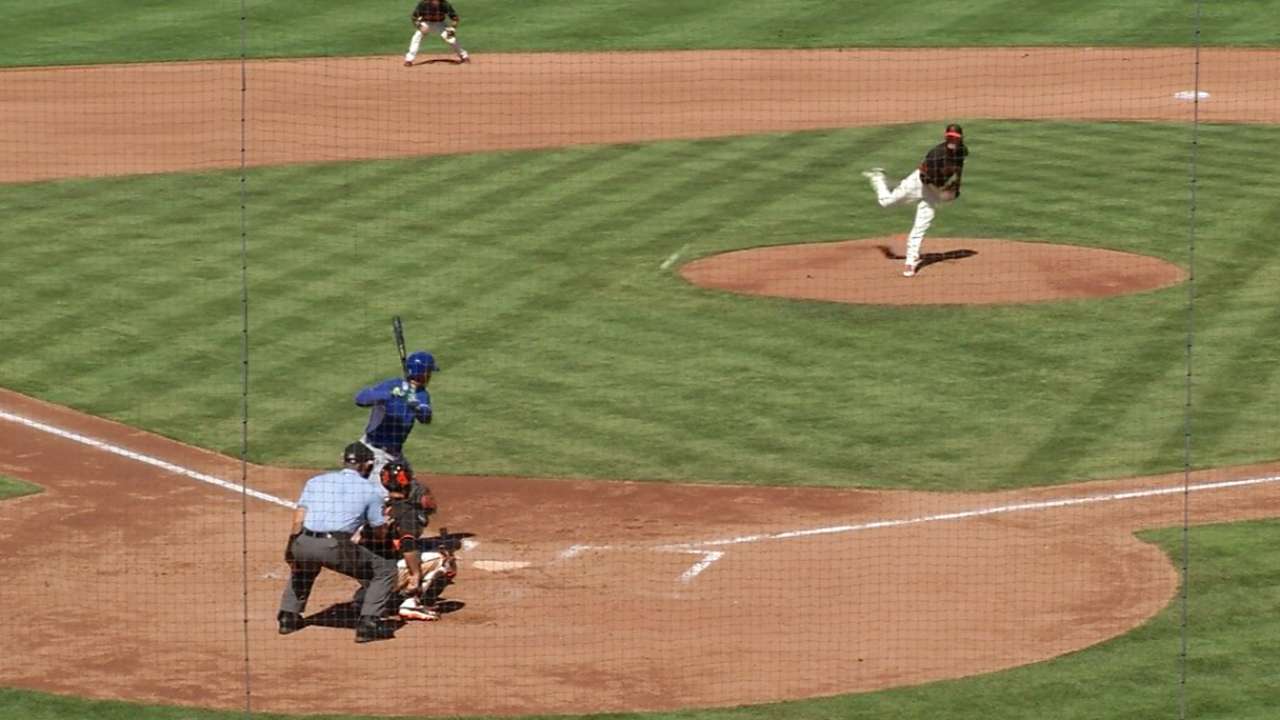 SAN FRANCISCO -- Injured Giants right-hander Jake Peavy threw off the mound Saturday for the first time since April 17. Peavy has been working through back problems since missing a scheduled start April 7, but said he didn't feel any discomfort during the bullpen session at AT&T Park.
"It's hard when you haven't been on the mound in a little bit," Peavy said. "You get on the mound and you want to be sharp, get things done. The biggest thing was to just see how my body felt. Felt quite a bit better. Still got a ways to go, but I think we're heading in the right direction. I'm excited about it."
Peavy admitted that it's been a tough mental test being on the 15-day disabled list the past two weeks, but added that it felt like his back was "on fire or spasming" when giving him problems. He said he went about 70 to 80 percent Saturday, throwing only fastballs.
"I'm way stronger in my pelvis, hips and core area to hopefully hold that position," Peavy said. "Today was the first time that we were able to test that on the mound. Felt good on the mound. Little bit of soreness and stuff, which is expected. The next thing is the next hour to 24 hours and see how my body does after. That's been our problem, is going, stopping, starting again."
Giants manager Bruce Bochy said the veteran righty is scheduled to throw another bullpen session Tuesday. Peavy said he's been focused on trying to keep his back ready for the intermittent breaks between innings when he's sitting in the dugout and not on the mound.
Going forward, Peavy said he might try to simulate game situations by staggering his bullpen sessions with rest periods. The 33-year-old said he and the team will also implement in-game stretching and treatment to keep him healthy.
"Found the root of the problem and we're attacking it," Peavy said. "Being on the disabled list is as tough as anything you can do, just mentally because of the grind and you want to help. I'm doing all I can do to get back as soon as possible."
• Hunter Pence, who is recovering from a broken left arm he suffered in Spring Training, took fly balls and grounders in the outfield Saturday. Bochy said Pence will take batting practice for four or five days starting Sunday, before the team evaluates his next step.
• Bochy said Travis Ishikawa (back) played three innings in extended spring camp Friday and was scheduled to play five more frames Saturday. "He's starting to come around," Bochy said.
Alex Espinoza is a contributor to MLB.com. This story was not subject to the approval of Major League Baseball or its clubs.