Minors Report: Goebbert hits game-winner in 13th
Almonte goes 3-for-6, homers in Triple-A El Paso's victory at Sacramento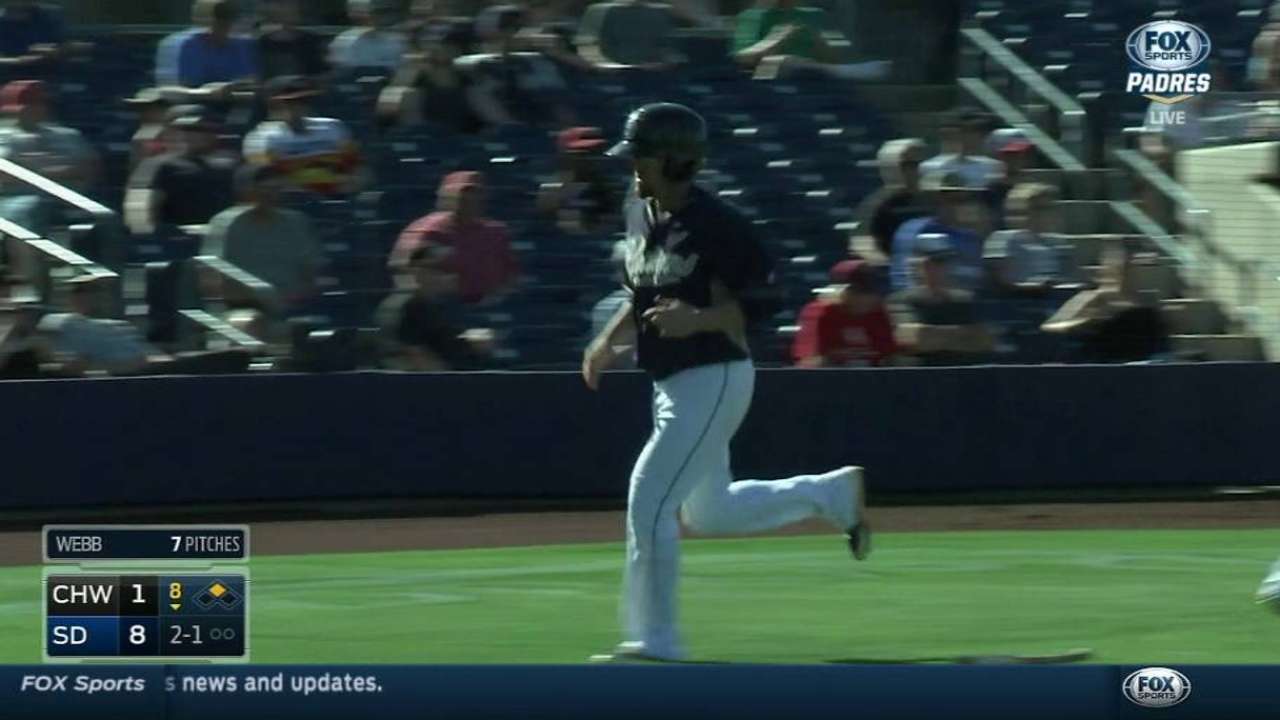 Bill Center, longtime sportswriter for U-T San Diego, is an employee of the Padres.
Jake Goebbert hit a three-run double in the top of the 13th inning Friday night to lead Triple-A El Paso to a 7-6 Pacific Coast League win at Sacramento.
It was Goebbert's lone at-bat in the marathon that saw El Paso improve to 14-8 while remaining tied for the PCL's Pacific Southern Division lead.
Center fielder Abraham Almonte (.298) was 3-for-6 with a home run, a steal and two runs scored. Left fielder Alex Dickerson (.333), from Poway High (Calif.), was 2-for-5 for the Chihuahuas.
Starting right-handed pitcher Daniel McCutchen (3.18 ERA) allowed one run on four hits and a walk with three strikeouts in 4 1/3 innings. Right-hander Leonel Campos (0.68 ERA) allowed a hit and two walks with two strikeouts in 1 2/3 scoreless innings.
Right-hander Stephen Kohlscheen (1-0, 5.40 ERA) allowed two hits with three strikeouts in three scoreless innings. Right-hander Jay Jackson (0.00 ERA) allowed a hit with a strikeout in two-thirds of an inning to get his first save with the Chihuahuas, after Sacramento scored twice in the bottom of the 13th against left-handed reliever Scott Elbert.
There were several key events in the Padres' organization on Friday night.
Outfielder Donavan Tate was 1-for-4 with an RBI in his season debut for Class A Advanced Lake Elsinore. It was Tate's first appearance in a game since the end of the 2013 season.
Right-handed Padres reliever Shawn Kelley began his rehab assignment with Lake Elsinore and allowed a walk with two strikeouts in a hitless inning.
Right-handed pitchers Aaron Cressley and Colby Blueberg were promoted from the rosters of Class A short-season Tri-City to Class A Fort Wayne. Blueberg, 21, had a 0.50 ERA in 20 relief appearances covering 32 2/3 innings last summer after being the Padres' 24th-round pick out of the University of Nevada-Reno.
To make room for Blueberg and Cressley, the Padres shifted right-handed starter Walker Lockett (0-3, 7.98 ERA in four starts) and left-hander Taylor Aikenhead (1-1, 7.63 ERA in four games, two starts) from Fort Wayne to Eugene.
Right-handed reliever Cory Mazzoni returned to Triple-A El Paso when the Padres recalled right-handed reliever Nick Vincent from the Chihuahuas.
Around the farm
DOUBLE-A SAN ANTONIO (8-13): MISSIONS 8, Midland 6 -- San Antonio scored seven runs in the bottom of the seventh. Starting pitcher Justin Hancock (2-1, 3.41 ERA) allowed two runs on six hits and a walk with four strikeouts in seven innings. Third baseman Diego Goris (.305) was 3-for-4 with two doubles and two RBIs. First baseman Luis Domoromo was 2-for-4 with a triple and two RBIs. Catcher Griff Erickson (.344), from Westview High (San Diego), was 2-for-4 with an RBI. Designated hitter Hunter Renfroe (.200) was 2-for-4 with a double. Right fielder Yeison Asencio was 2-for-4. Center fielder Travis Jankowski (.345) was 1-for-5 with a double, his 11th steal and two runs scored.
CLASS A ADVANCED LAKE ELSINORE (10-12): STORM 6, High Desert 2 -- Starting pitcher Zech Lemond (1-1, 4.00 ERA), 22, the Padres' third-round pick in last June's Draft, allowed one unearned run on five hits and no walks with six strikeouts over seven innings to get the win. Right-handed reliever Luis Hernandez (3.27 ERA) allowed an unearned run on a hit with a strikeout in the ninth. Shortstop Jose Rondon (.289) had a double and triple in four-at-bats with an RBI and two runs scored. Center fielder Auston Bousfield (.291) was 2-for-4 with an RBI. Second baseman Fernando Perez, out of Otay Ranch High (Calif.) had two doubles in four at-bats.
CLASS A FORT WAYNE (6-13): SOUTH BEND 11, Tin Caps 5 -- Left fielder Nick Torres (.329) was 2-for-5 with his second homer and two RBIs. First baseman Trae Santos was 2-for-4 with a double and an RBI. Starting pitcher Ernesto Montas (3.26 ERA) allowed three runs (two earned) on eight hits with two strikeouts in six innings. Righty reliever Wilson Santos (0-2, 4.50 ERA) allowed four runs on three hits and two walks in two-thirds of an inning to take the loss.