Travis returns to lineup after collarbone injury
Outfielder not cleared to throw; rookie Travis returns to lineup on Saturday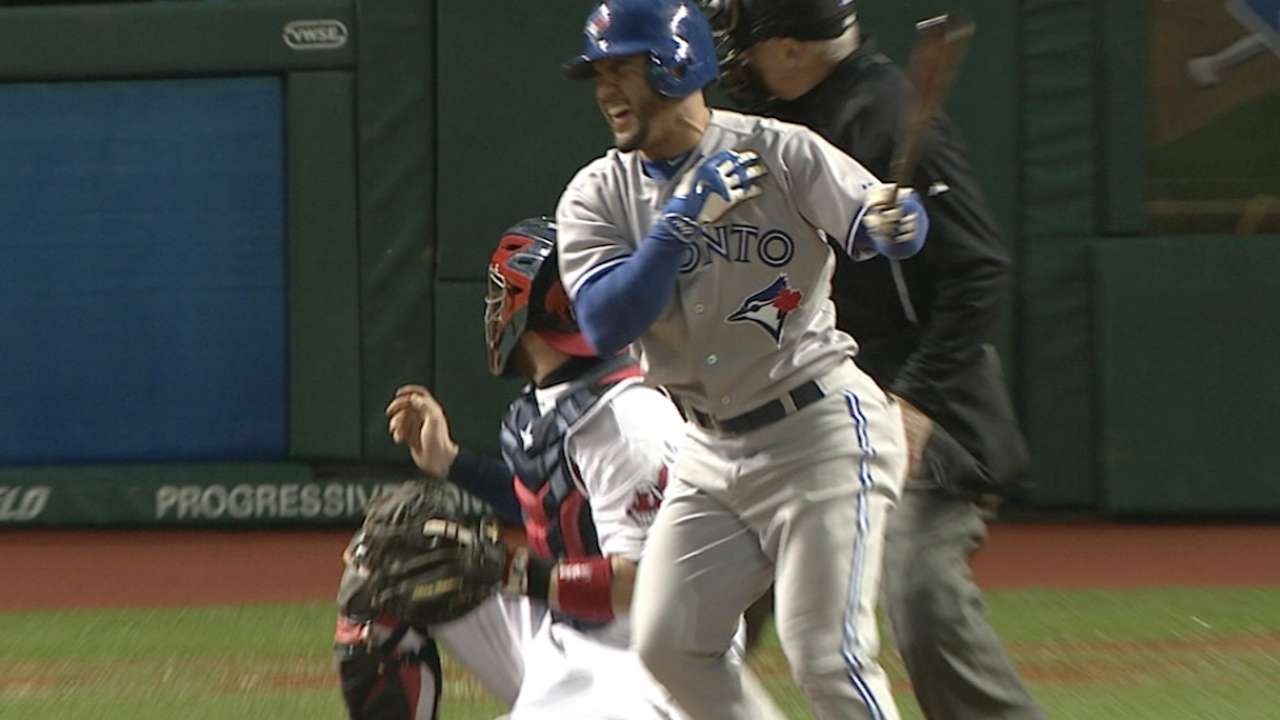 CLEVELAND -- Devon Travis is back atop the Blue Jays lineup on Saturday after missing one game with a collarbone injury sustained on Thursday night.
Travis was playing in shallow right field as part of a defensive shift with Indians lefty Brandon Moss at the plate, and took a batted ball off the collarbone on his left side on a well-hit ball that bounced once before striking him.
When Travis swung the bat later in the game, he was in visible pain.
After the game, the Blue Jays feared the collarbone was cracked, and the initial X-ray was inconclusive. A secondary CAT scan revealed no further damage, but the Blue Jays held Travis out of Friday's lineup for precautionary reasons.
Travis missed 39 days in the Minor Leagues last year with a right oblique strain, and 26 days in 2012 after undergoing surgery for a hernia.
During his one-game absence, Josh Donaldson thrived in his first career start as replacement leadoff hitter. Donaldson went 2-for-3 with a leadoff homer, two walks and two runs scored. But he will gladly relinquish the role to Travis, who has a team-best .393 on-base percentage and 180 OPS+ in his rookie year, with six homers and a steal in his first 22 games.
"Yeah, he said he's a little tender but he's good enough to play," manager John Gibbons said of Travis. "He's a tough kid, he understands we're out here to win. But yeah, I don't think there's going to be a problem."
Lingering Bautista injury causing trickle-down effect
After missing five games between April 22 and April 26 with a sore right shoulder, Jose Bautista has been back in the lineup for the last five games, serving as the designated hitter. The Blue Jays, of course, are glad to have Bautista's dangerous bat back in the lineup, but the injury is still affecting the team in other ways.
With Bautista unable to throw, he's relegated to designated hitter duty -- typically Edwin Encarnacion's role. To keep Encarnacion's bat in the lineup, the Blue Jays are forced to play him at first base, despite his poor defensive reputation. That keeps Justin Smoak -- who is a better defender and has swung the bat well this year -- out of the lineup.
"I haven't talked to [head trainer George] Poulis about it yet, but hopefully [Bautista] maybe starts tossing by tomorrow or Monday, I would guess," Gibbons said. "We need to get him back on the field to get Smoak back in there."
Worth noting
Gibbons spoke with the media about the demotion of prospect and Opening Day center fielder Dalton Pompey, which occurred after Friday night's game.
"He was struggling here," Gibbons said. "Go down there and get back on track. Just like [Daniel] Norris. It's not the first time that's ever happened and guys end up being great Major League players."
"I was starting to see that he was losing his confidence. And don't forget, too, that he's done some good things while he's been here. That's the risk you run. You don't want to get to the point where, hey, now he's really starting to doubt himself. Just go down there and play, and play your way back here."
August Fagerstrom is an associate reporter for MLB.com. This story was not subject to the approval of Major League Baseball or its clubs.