Aggressive baserunning pays off for Cardinals
Peralta leads double steal, then scores game-tying run in seventh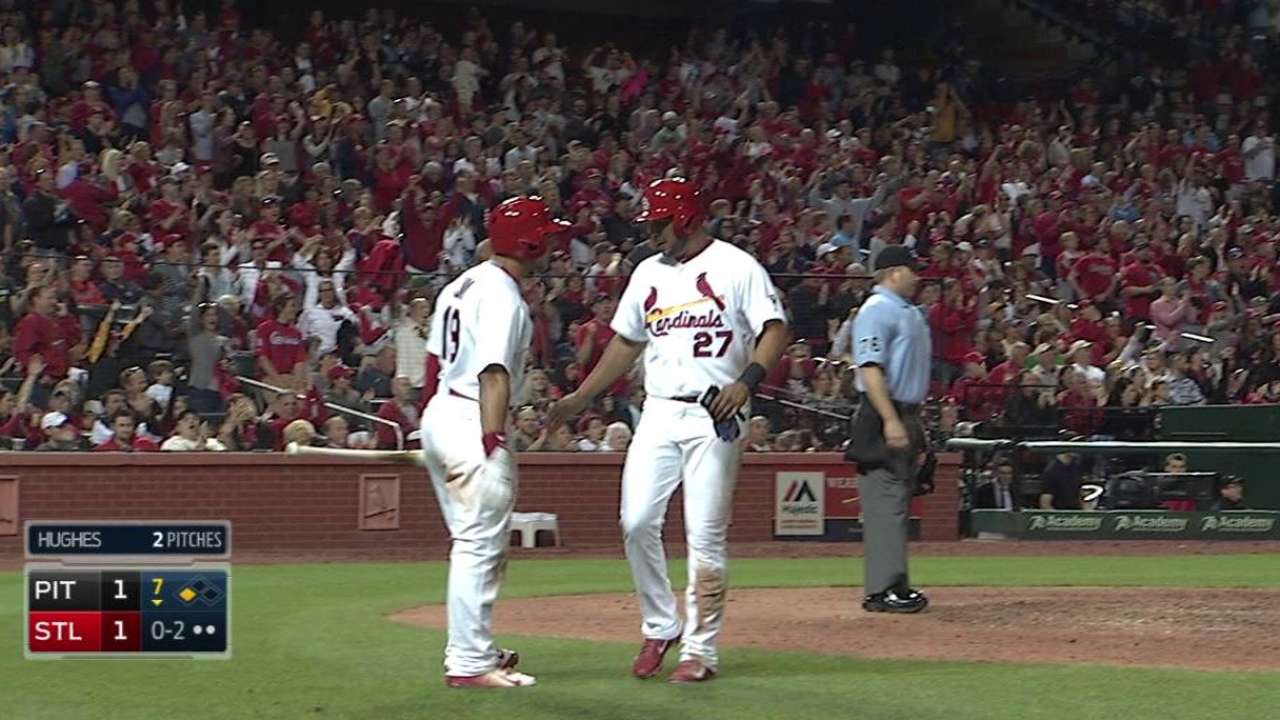 ST. LOUIS -- With just 17 steals in his 13 years in the Majors, Cardinals shortstop Jhonny Peralta wasn't the most likely candidate to be the lead runner in a double steal with the game on the line.
But Peralta did just that Friday night against the Pirates. The steal in the seventh inning led to Peralta scoring the game-tying run and sent the game into extra innings, where the Cardinals won, 2-1, in the first game between two teams expecting to challenge for the National League Central crown.
Cardinals manager Mike Matheny said he went back and forth on whether to send Peralta, especially after Pirates catcher Francisco Cervelli had thrown out two would-be basestealers earlier in the game.
"We were seeing some things that were lined up, and Jhonny, we kind of alerted him," Matheny said. "We do that to guys sometimes -- 'Start getting your timing, we're thinking about this.' We let him know that in the middle of the play, and if it looks like he's got a good chance of making this happen, we let him go. Fortunately it worked out, because we wouldn't have scored that run to tie the game."
Peralta's steal came on strike three to Kolten Wong, and he came home on Mark Reynolds' infield single with two outs.
The Cardinals' lineup configuration led to Peralta staying in the game. Matheny has elected to go with an extra arm in the bullpen, leaving the Cards with four bench players instead of five.
"After that we've only got a few guys on the bench, and we've got a pitcher that needs to be hit for soon and we've got two guys and not a lot of flexibility," Matheny said. "I think it just delays some of the aggressive moves we might make if we had five guys on the bench, but I'll still take the arms."
The Cardinals have replaced aggressive lineup juggling with aggressive baserunning.
The double steal is another affirmation of the Cardinals' commitment to being more assertive on the basepaths this season. Through the first 22 games, the Cardinals were tied for ninth in the Majors with 14 steals. Last year, they were 28th with 57 steals.
But Pirates manager Clint Hurdle said the Peralta steal was on the Bucs.
"They do have a lot more team speed, and can use it aggressively," Hurdle said. "But last night they had a double steal led by Jhonny Peralta, and that's not speed. That's our inability to control the running game. Francisco Cervelli has been very competitive at throwing guys out, when we've been giving him a chance."
Joe Harris is a contributor to MLB.com. This story was not subject to the approval of Major League Baseball or its clubs.