MLB.com Columnist
Tracy Ringolsby
Turner the latest prospect to prompt rule change
Padres infielder expected to go to Nats once one-year post-signing period ends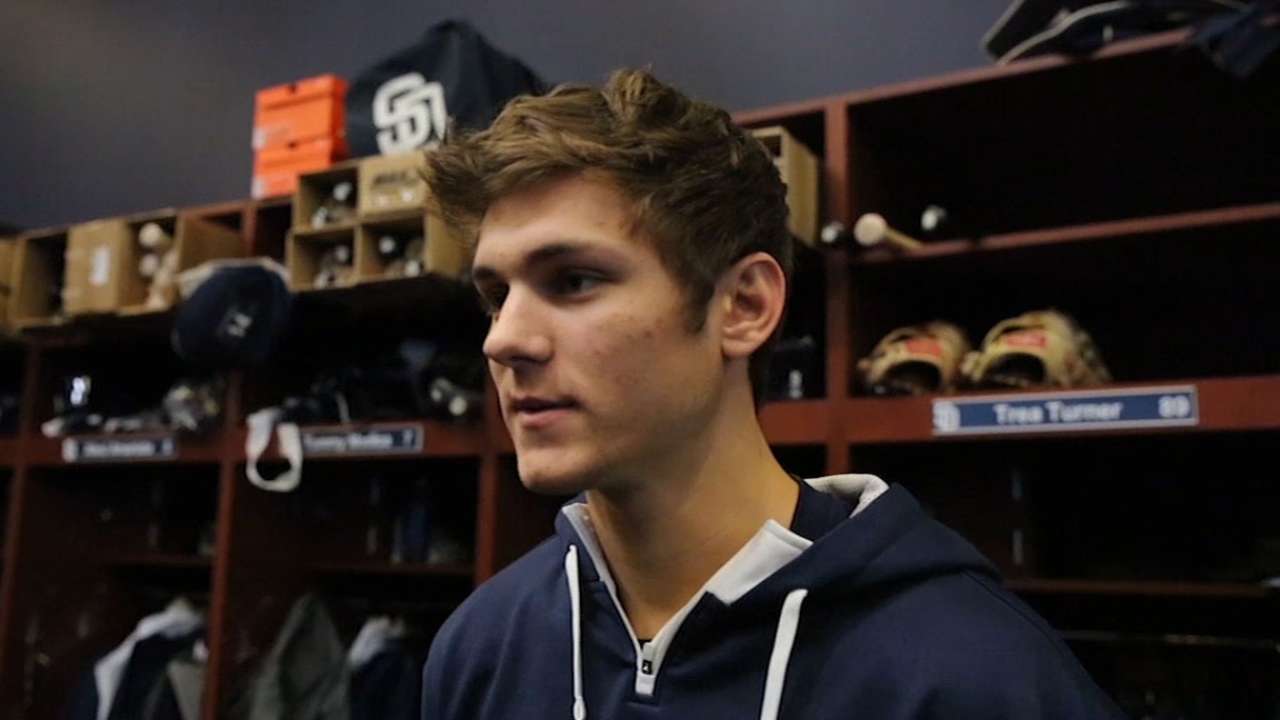 In working out the details of the three-team trade with the Nationals and Rays that brought outfielder Wil Myers to the Padres during the offseason, San Diego agreed to send a player to be named to Washington.
The problem was that most everybody in the game knew the name of that player -- Trea Turner, a shortstop out of North Carolina State, who was the Padres' first-round Draft choice last June and the 13th player taken overall.
Turner has been in limbo since, because of a rule that prohibits teams from trading a Draft pick until one year after he signs a contract. Turner went to Spring Training with San Diego, and he was hitting .284 for the Padres' Double-A affiliate in San Antonio heading into Saturday.
After next month's First-Year Player Draft, that will change. Turner will be announced as the player to be named, and he will report to the Nats.
There has been such an uproar over Turner's situation, that Major League Baseball informed teams this week that the rule is being changed, and beginning this year, any player selected in the Draft will be eligible to be traded at the conclusion of the World Series.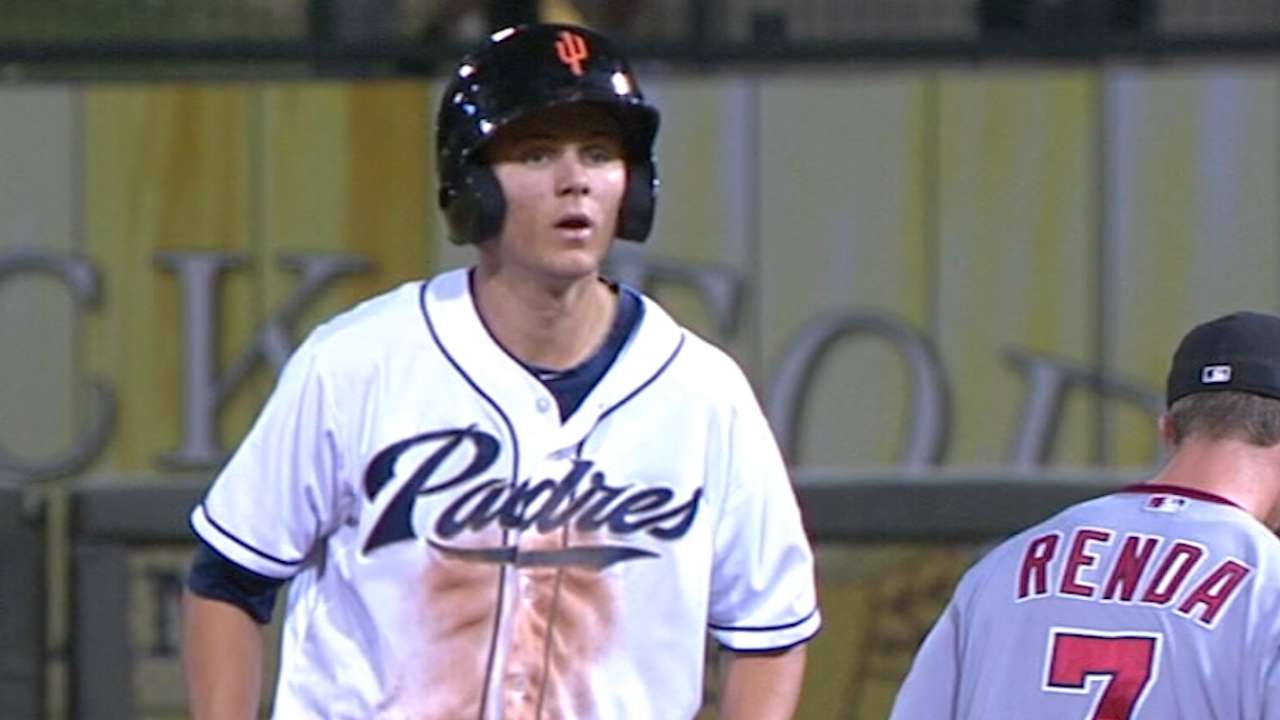 Name game
Call it the Trea Turner Rule. That's how it will be known in scouting circles, just like the rule that is being altered, which kept Turner in the Padres' system so far this year, has been known as the Pete Incaviglia Rule.
Incaviglia was the Montreal Expos' first-round Draft choice in 1985 and the eighth player taken overall. Incaviglia would not back off his demand for a big league contract, and the Expos, finally convinced they would be unable to sign Incaviglia, dealt him to the Texas Rangers in November 1985 for infielder Jimmy Anderson and right-handed pitcher Bob Sebra.
Anderson was let go by Montreal the following spring, and he played for the Dodgers at Triple-A Albuquerque in 1986 in what was his final season. Sebra went 11-20 with a 4.12 ERA in two seasons with the Expos before being dealt to the Phillies for right-handed pitcher Travis Chambers, who never made it to the big leagues.
Incaviglia, meanwhile, went straight to the Majors, and he hit cleanup for the Rangers on Opening Day in 1986. He spent 12 years in the big leagues with the Rangers, Phillies, Orioles, Astros, Tigers and Yankees.
Foreign affair
It's not unusual that a turn of events with one player will create a major overhaul in the Draft process.
Juan Nieves, a native of Puerto Rico, attended Avon Old Farms School in Connecticut, and after his senior year in 1983, he received a $110,000 deal from the Brewers. In the aftermath, baseball approved a new rule which stated that all players who attend high school or college in the United States are subject to the June First-Year Player Draft.
In 1988, the Atlanta Braves signed a 16-year-old outfielder from Puerto Rico, Melvin Nieves, for $103,000. In 1989, baseball adopted a rule which provides that any player born in a United States territory is subject to a the Draft. And shortly thereafter, Canada was added to the list.
Canal zone
Phillies pitcher Severino Gonzalez made his big league debut on Tuesday. With Carlos Ruiz behind the plate for the Phillies, Gonzalez and Ruiz became the first all-Panamanian starting battery in Major League history. Gonzalez became 22nd Panamanian to pitch in the big leagues, according to Baseball-Reference.com.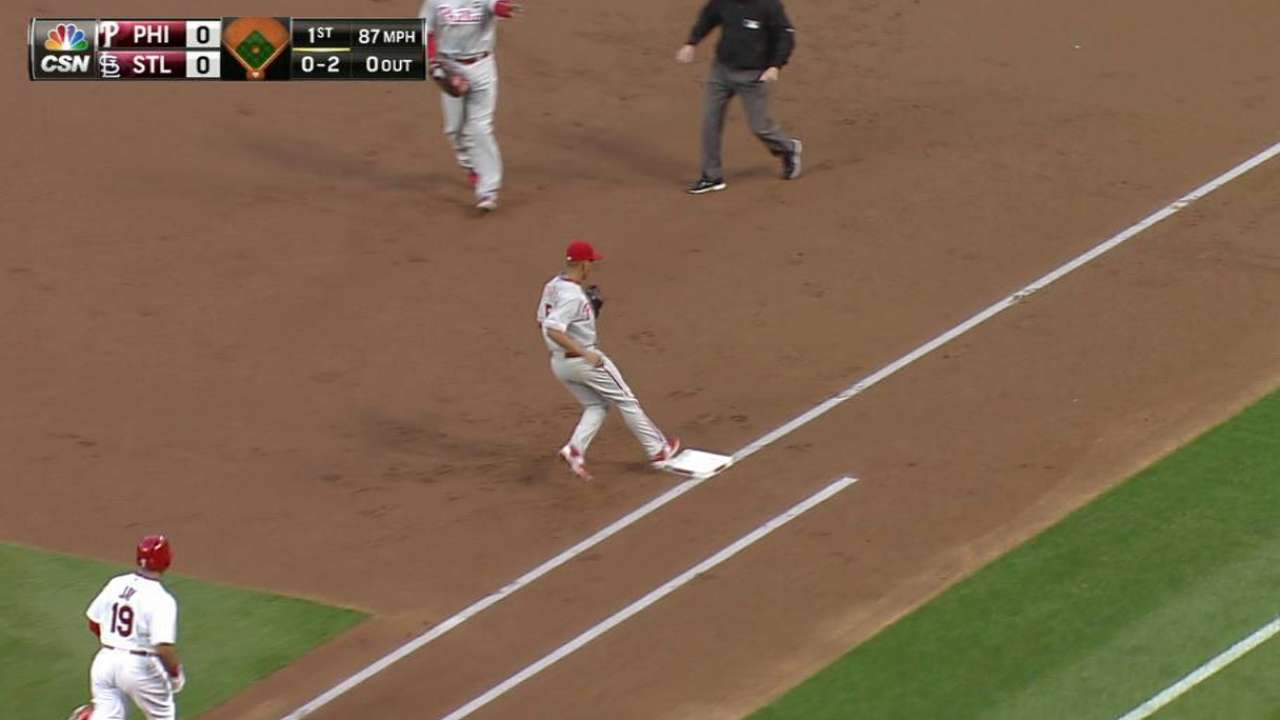 Bruce Chen (82-80) and Mariano Rivera (82-60) share the record for big league victories by a Panamanian pitcher, but Rivera also had a Major League-record 652 saves in his career. Rivera, in his second year of retirement, should eventually join Panamanian Rod Carew in the Hall of Fame.
Ruiz and Gonzalez are among six natives of Panama in the big leagues this year, and Gonzalez was the second Panamanian to make his big league debut this season, joining D-backs right-hander Enrique Burgos. Other Panamanians on big league rosters this season are right-hander Randall Delgado of the D-backs, Braves catcher Christian Bethancourt, and Mets middle infielder Ruben Tejada.
Happy anniversary
Tommy Lasorda is in the Hall of Fame for his managerial excellence with the Dodgers. He, however, first joined the Dodgers as a left-handed pitcher, and Tuesday will be the 60th anniversary of his Major League debut as a starter in which he tied an MLB record with three wild pitches in an inning. Lasorda appeared in 26 big league games -- including six starts -- spread over three seasons, and he never did earn a win. He was 0-4 with a 6.48 ERA. In 22 seasons as a manager, however, Lasorda took the Dodgers to five World Series, winning three championships.
And then there was Babe Ruth. Wednesday will mark the 100th anniversary of the first of the 714 home runs he hit in his career. A pitcher with the Red Sox at the time, Ruth connected off Yankees pitcher Jack Warhop, who also gave up Ruth's second big league home run 27 days later.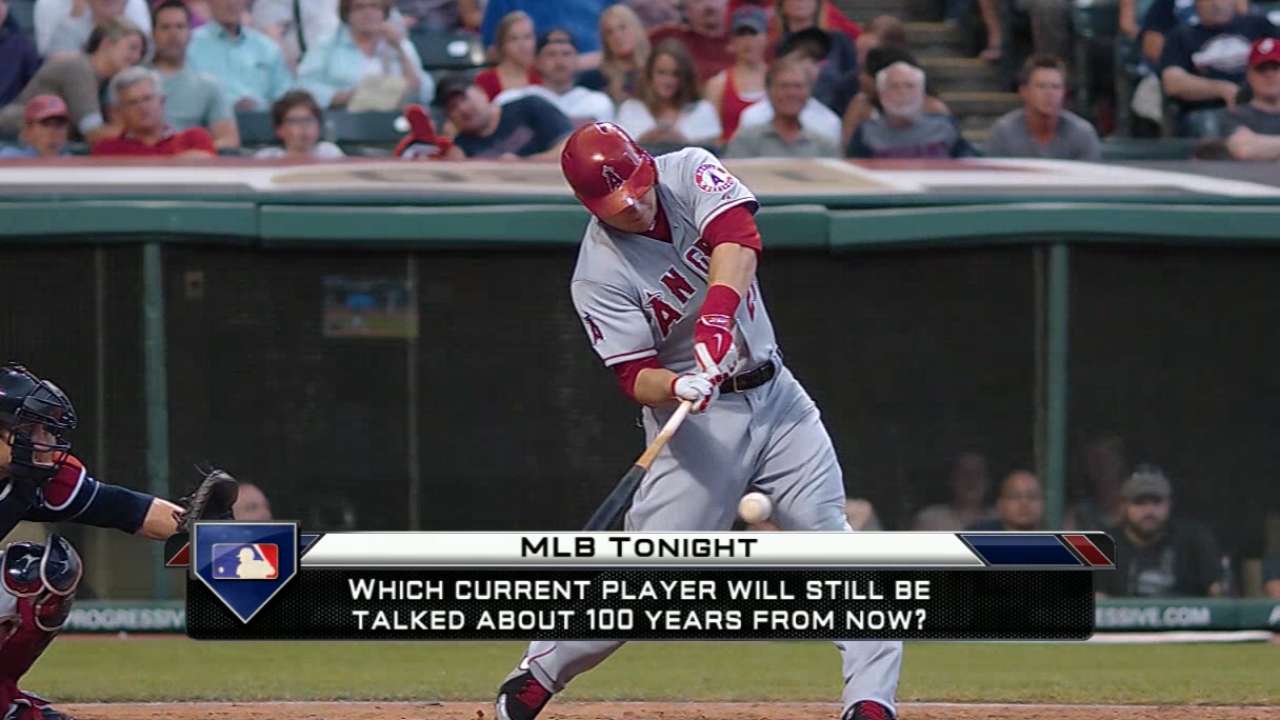 Quick hits
• Pirates right-hander A.J. Burnett is 0-1 in his first five starts this season, but it's not all his fault. He has a 1.45 ERA and has allowed two or fewer runs in each of his starts.
• Home-field advantage? Hall of Famer Wade Boggs was a career .369 hitter at Fenway Park, 63 points higher than his combined total in other big league stadiums.
• The Rangers (7-15, .318) and Brewers (5-18, .217) went into Saturday with the worst records in the big leagues, and also as the only two teams that have not won back-to-back games this season.
Tracy Ringolsby is a reporter for MLB.com. This story was not subject to the approval of Major League Baseball or its clubs.