Napoli frustrated by lack of results at plate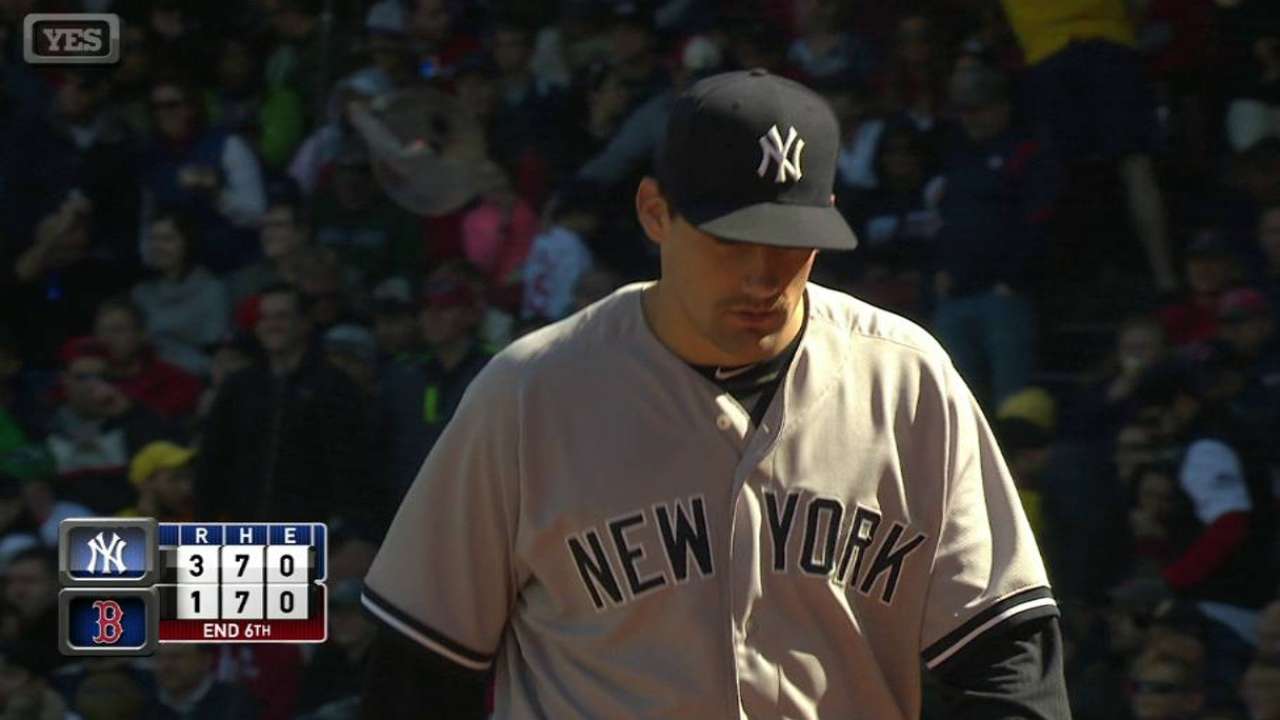 BOSTON -- Mike Napoli's body language after his final at-bat in Saturday's 4-2 loss to the Yankees said it all.
Slamming his bat down in disgust after striking out in the bottom of eighth inning, the Red Sox first baseman finished the day 0-for-4 and stranded a total of five runners.
"You have to let it out sometimes. You can't always hold it in," Napoli said. "I'm working hard every day to get results. I'm confident. I'm not panicking. I'm trying to fight through it."
The Red Sox had Nathan Eovaldi on the ropes in the fourth inning with the score tied at 1 when Napoli grounded into a double play with runners on first and second to end the threat.
Napoli missed another opportunity in the sixth inning, when he flied out to right field with runners on first and second and two out.
"There's been times where he's expanded the strike zone a little bit more than we've seen in the past," Red Sox manager John Farrell said. "A couple of opportunities in the middle innings today that unfortunately he was unable to cash in on. When he's going right, or as he's capable, it makes our lineup completely different, and he's important to us."
Napoli's numbers in Saturday's contest are a small sample of his overall struggles one month into the season. Through 21 games, Napoli has a slash line of .160/.267/.253.
While Napoli began to find his rhythm in Spring Training, he's been unable to carry that success into the season.
"I'm just working hard to get back to where I was," Napoli said. "I'm doing that every day in batting practice and trying to have it carry over into the game. I'm just missing pitches when I get one to hit."
Napoli's been putting in extra work with hitting coach Chili Davis to make sure he's using his hands and that his front side is closed.
"It is coming along, but you can only work on one thing," Napoli said. "One day isn't going to correct it all. I have to get that muscle memory, and I am here every day working on it."
Quinn Roberts is a reporter for MLB.com. This story was not subject to the approval of Major League Baseball or its clubs.