Panik starts Giants' May on right foot
SAN FRANCISCO -- Having posted a 9-13 April record, their worst for the season's first month since 1991 (8-12), the Giants needed to open May in rousing fashion.
They accomplished that with their third consecutive walk-off home triumph, a 3-2 Interleague decision over the Angels furnished by pinch-hitter Joe Panik's two-out, bases-loaded single in the ninth inning.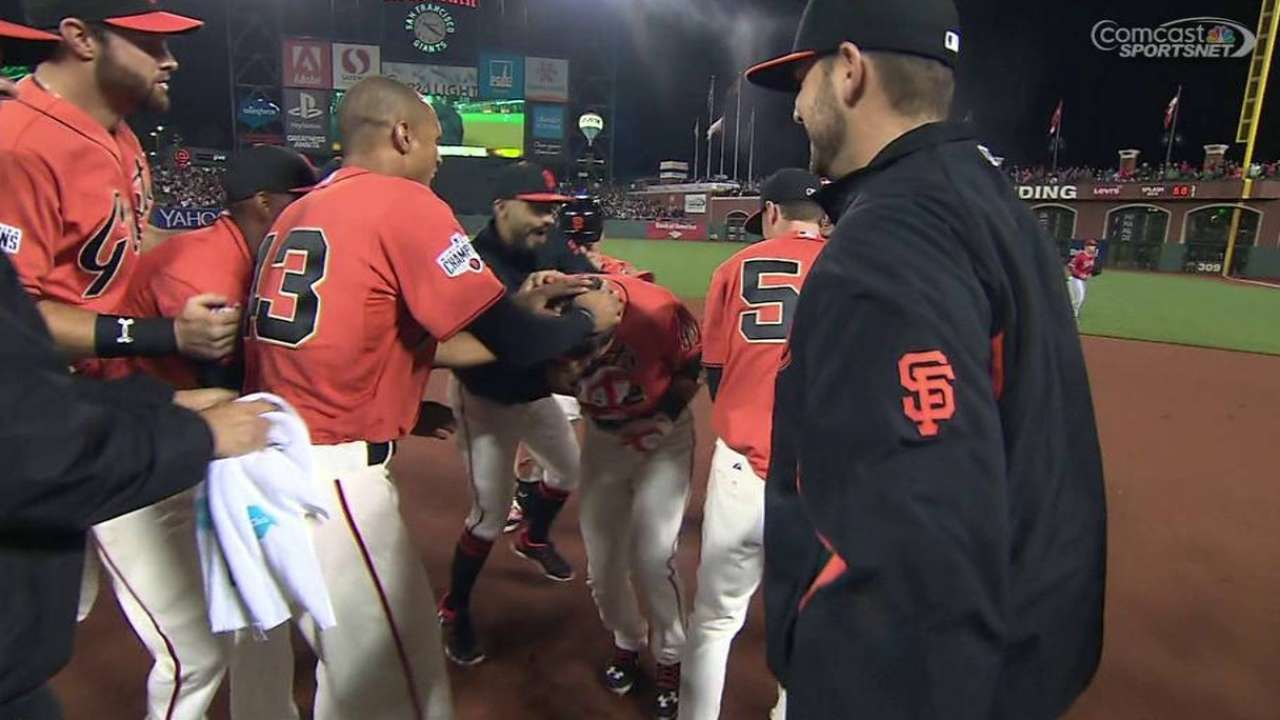 "We weren't happy with our April," said Panik, who added that Thursday's scheduled off-day coupled with this victory "kind of cleans the slate."
Panik began the AT&T Park walk-off streak with a bases-loaded sacrifice fly on April 22 against the Dodgers, so his clutch hit wasn't completely unexpected. But an analysis of the Giants' winning rally reveals how unlikely most of it was.
With the score tied, 2-2, Buster Posey christened the Giants' ninth with an infield single off Angels reliever Joe Smith. Though speed isn't considered one of Posey's numerous skills, he capitalized on the relatively slow pace of the grounder he hit up the middle by rushing from the batter's box to first base.
"Hats off to Buster for busting it down the line," Giants right fielder Justin Maxwell said.
Maxwell claimed some credit for himself by recording his first sacrifice bunt in 980 Major League plate appearances. It advanced pinch-runner Gregor Blanco to second base. The 6-foot-5 Maxwell focused on technique to overcome his lack of bunting experience.
"Since I'm tall, I have to get down into my legs and set the [bat] angle early," he said.
Andrew Susac walked on a 3-2 pitch, which stopped play for several minutes as ball four struck plate umpire Bill Miller squarely in his left knee. Miller gamely remained at his post. Ignoring the distraction, Smith retired pinch-hitter Brandon Belt on a called third strike, then intentionally walked Brandon Crawford to set up a force play at every base.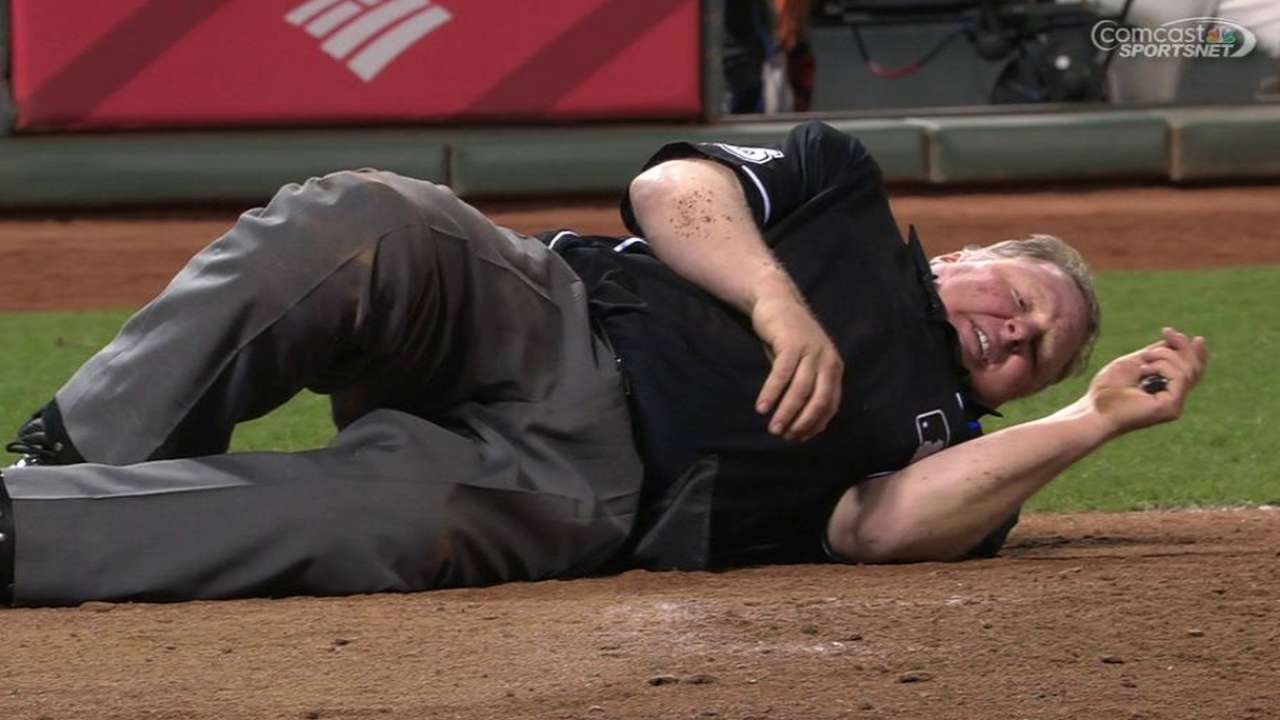 Up came Panik to bat for Joaquin Arias. Though Arias was 72 hours removed from becoming the first Giant to rap three hits off Dodgers ace Clayton Kershaw, San Francisco manager Bruce Bochy reasoned that the left-handed-batting Panik could cope with Smith's sidewinding delivery more easily.
"That guy is tough on righties," Bochy said of Smith, "so it was a no-brainer for me."
Panik rewarded Bochy, his teammates and the zealots remaining in the stands by smacking a 1-1 pitch on a low line drive into center field. The Giants improved to 7-3 in one-run decisions while winning for the fifth time in their last six home games.
"I knew the pressure was on the pitcher," Panik said, "because with the bases loaded, he had to put the ball over the plate. I knew I was going to get a pitch I could handle."
Panik relished the opportunity to thrive in a tense situation.
"You have to enjoy it," he said. "With the game on the line like that, a chance to win it for your team, you wouldn't be here if you didn't want to be in that spot."
Chris Haft is a reporter for MLB.com. Read his blog, Haft-Baked Ideas, and follow him on Twitter at @sfgiantsbeat. This story was not subject to the approval of Major League Baseball or its clubs.