Fiers strikes out 12 as Brewers even series with Cubs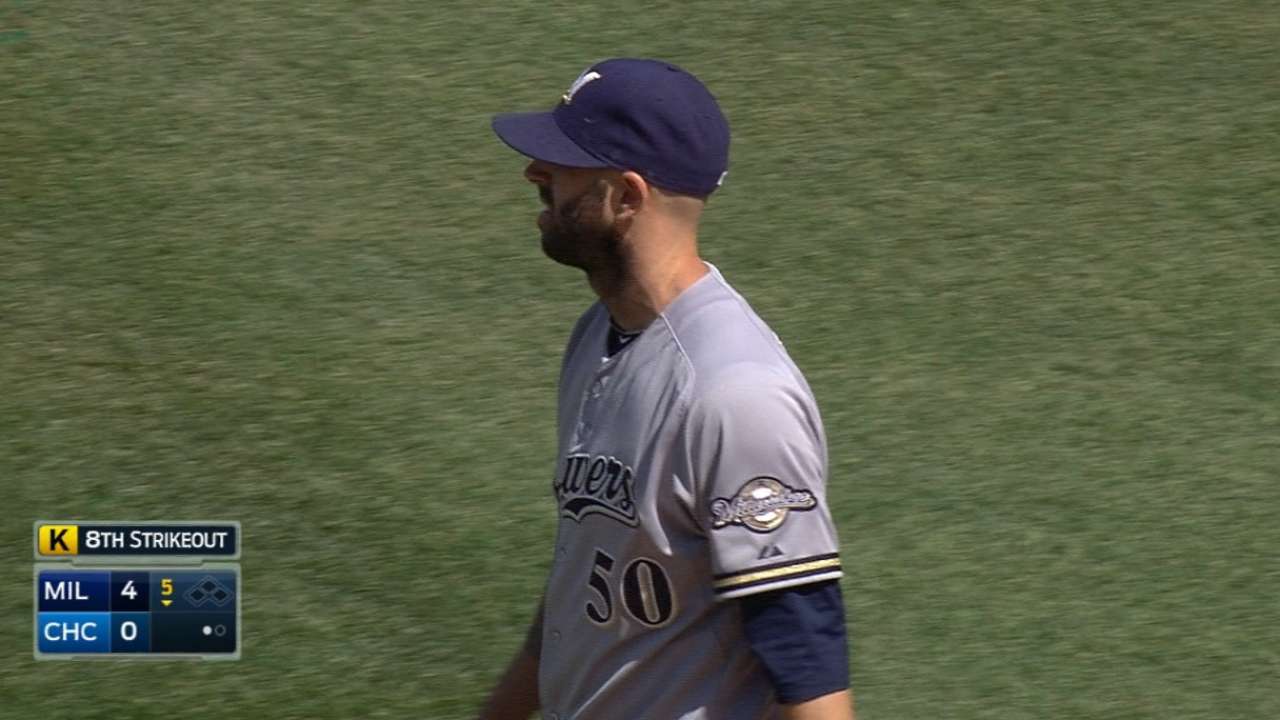 CHICAGO -- Mike Fiers struck out 12 batters over six innings, Ryan Braun smacked a two-run homer and Jean Segura had four hits, including an RBI triple, to lead the Brewers to a 6-1 victory over the Cubs on Saturday and even the series.
Fiers walked two in the first, but did not give up a hit until Chris Denorfia singled with one out in the fifth. He also served up Anthony Rizzo's solo homer with one out in the Chicago sixth. The 12 K's were a season high, and helped the Brewers notch their third road win in 11 games.
"The home run by Braun set the tone for them," Cubs manager Joe Maddon said. "We were just unable to answer anything.[Fiers] pitched really well. I know his numbers coming in weren't that glorious. But he has good stuff and knows what he's doing. He's a good pitcher and he had a good day against us."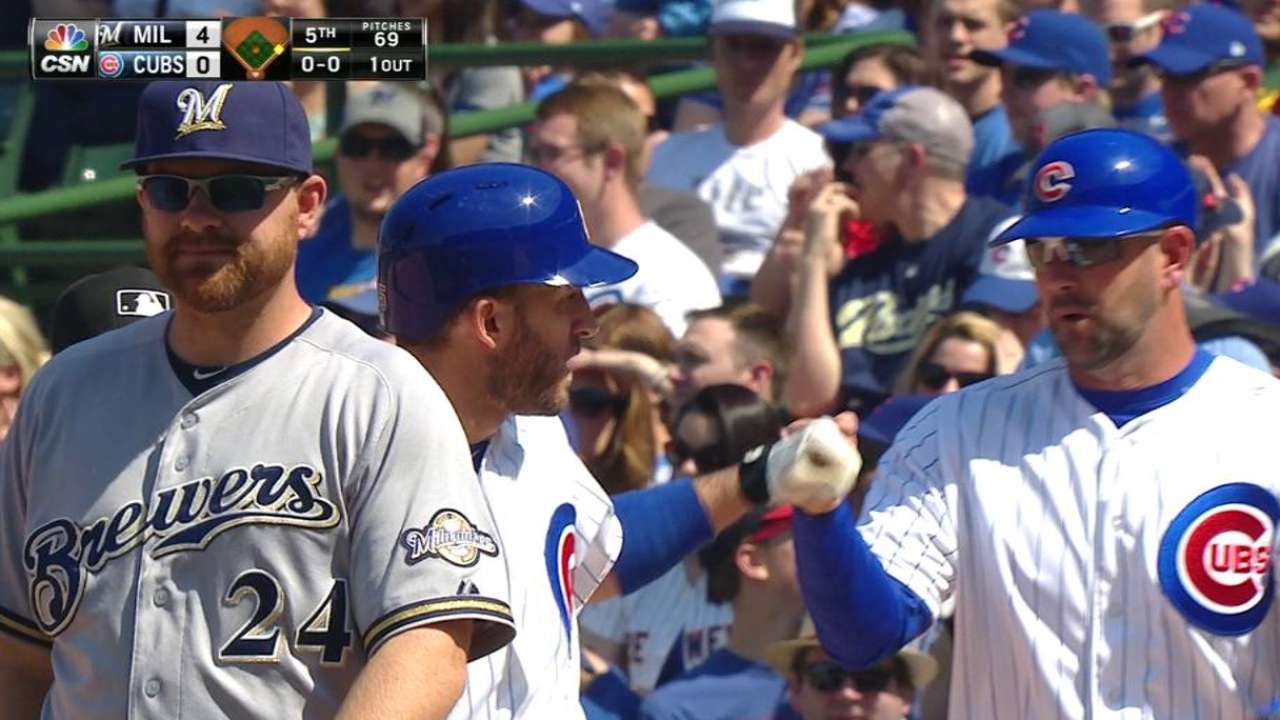 The wind was blowing out at Wrigley Field for the first time this season. Braun connected off Cubs starter Jake Arrieta, who was lifted after throwing 90 pitches over five innings.
In the ninth, the Brewers' Logan Schafer took advantage of two errors to score. Shortstop Starlin Castro fielded Schafer's ball, but his throw was wild, and Rizzo's relay also was off target. Schafer didn't hesitate and scored on the play.
"We're starting to get some breaks, which, for a long time, we got nothing," Brewers manager Ron Roenicke said. "The other teams have outplayed us, too, but the breaks are important to get."
From the Cubs' perspective, "It looked awful, and it was," Maddon said. "But it just comes down to a play that we normally should make."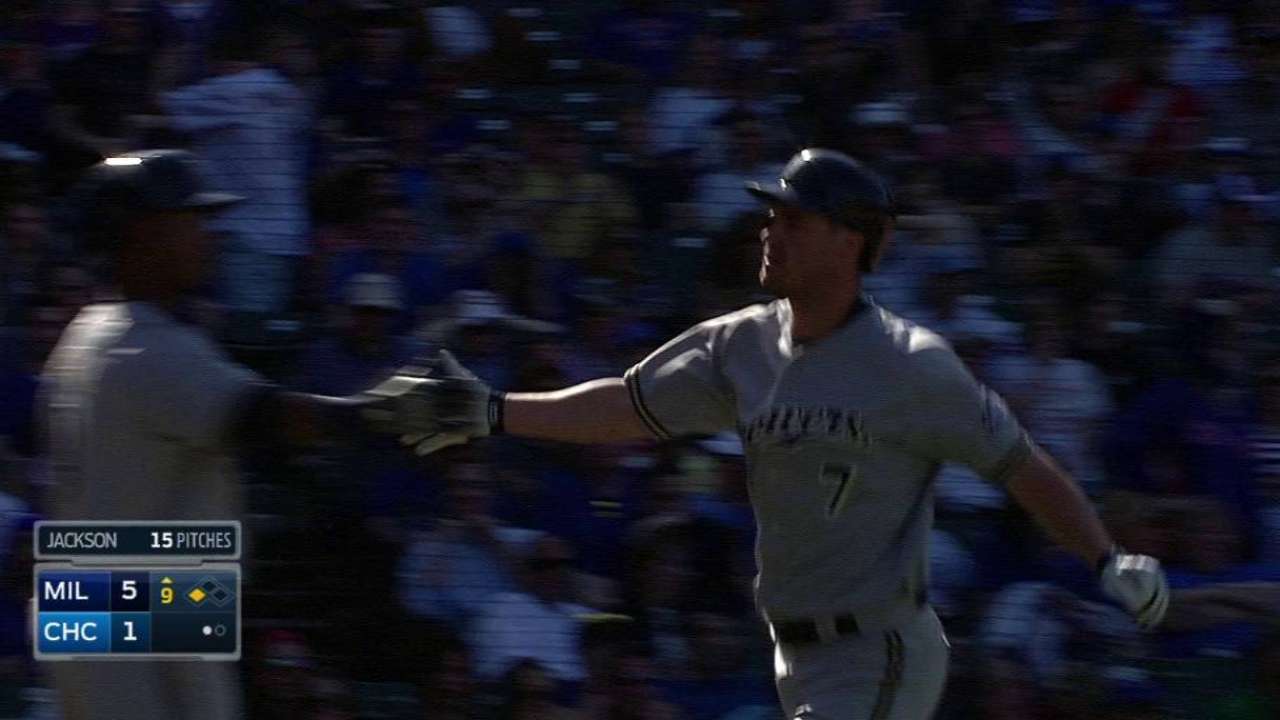 MOMENTS THAT MATTERED
Braun blasting off: Arrieta had surrendered only one home run in his first four starts, but Braun doubled that figure in the top of the first inning by connecting with a first-pitch fastball for a two-run homer. After sitting out two games earlier in the week with an undisclosed ailment, Braun has hit four home runs in his last four games, including a two-homer effort on Wednesday in Cincinnati.
"I've seen good from him for a long time," Roenicke said. "He hasn't had anything to show for it. The balls he squared up early in the season, if half of those had fallen, his numbers would look really good."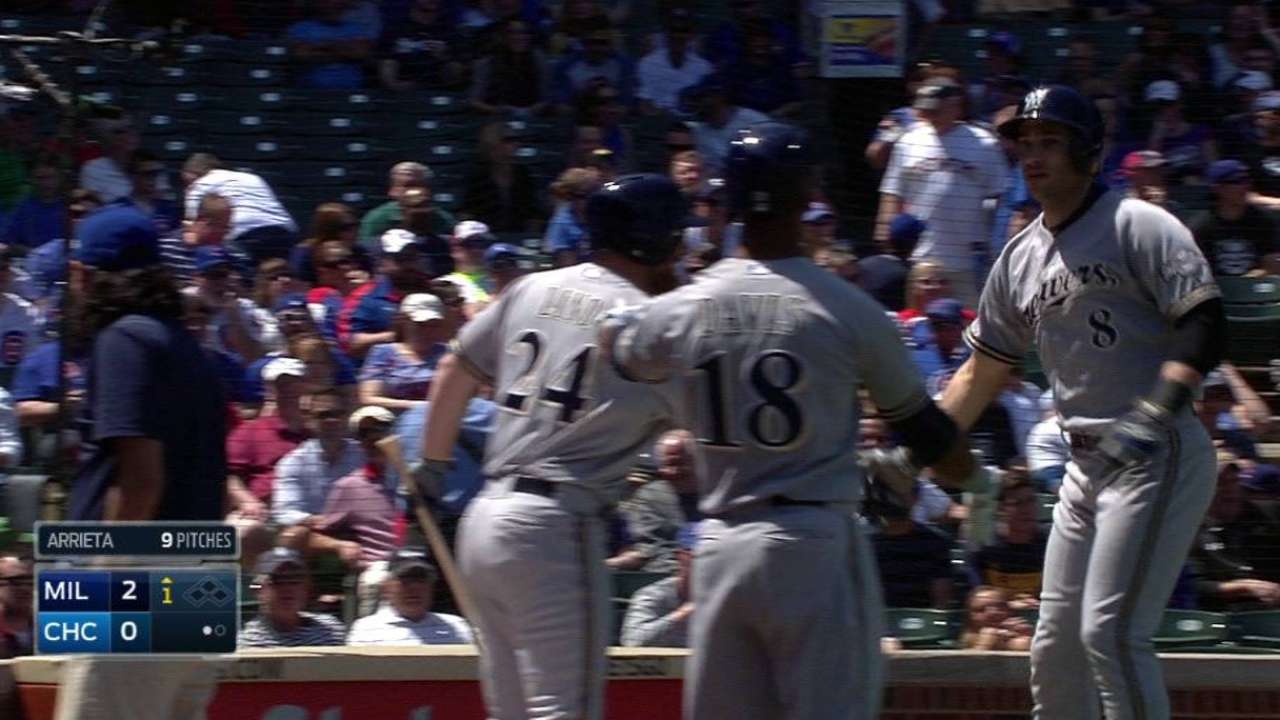 Quality outings: Arrieta had not given up more than three earned runs in any of his last 15 starts at Wrigley Field but that ended Saturday as the Brewers scored four off the right-hander in five innings. Milwaukee also ended Arrieta's stretch of quality starts this season at four. His streak of 15 consecutive quality starts at Wrigley was the longest for a Cubs starter at home since Travis Wood went 19 straight having allowed three or fewer earned runs in 2012-13.
"I just wasn't very good today, plain and simple," Arrieta said. "I didn't do a good enough job. We need more out of our starter and I didn't give us the effort I intended to today." More >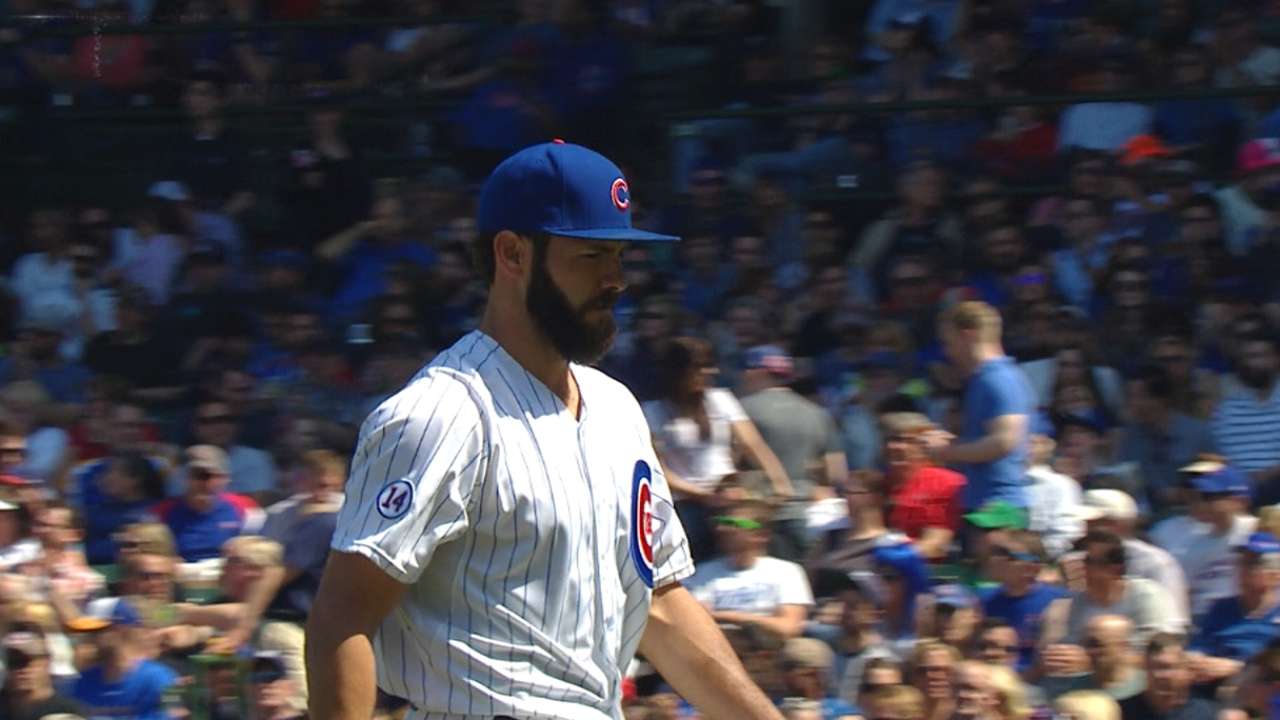 Gomez off and running: Brewers center fielder Carlos Gomez made his presence felt after being activated from the disabled list on Saturday morning. He blooped a two-out RBI single in the second inning, then stole second and third for his first two swipes of the season, a good sign that Gomez's right hamstring is fully healed, positioning Segura for a run-scoring single off Cubs shortstop Starlin Castro's glove that made it 4-0.
"I feel 100 percent to play my game, so you see it today," said Gomez, who exited after six innings per the Brewers' pregame plan. More >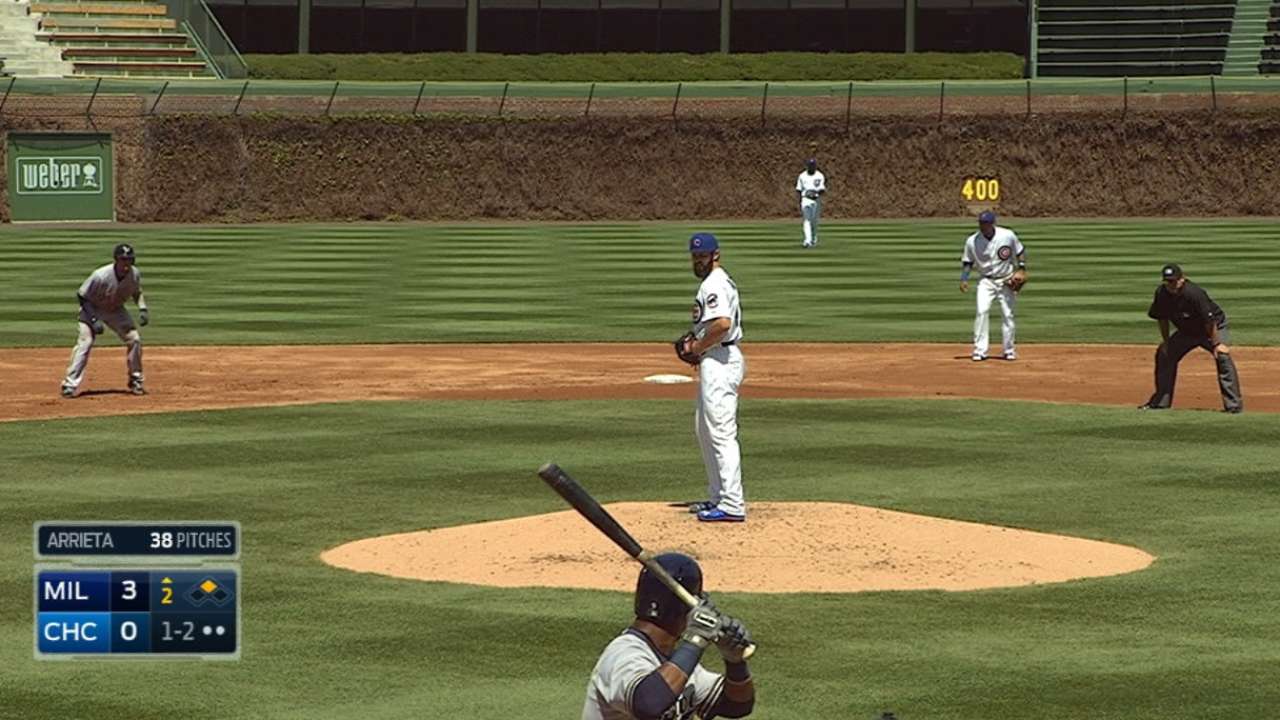 Close call: The Cubs survived a scary moment in the Brewers' second when Rizzo and second baseman Addison Russell collided in shallow right chasing Gomez's RBI single. The two infielders tumbled to the ground and were shook up, but both stayed in the game.
"That was full speed," Rizzo said. "Luckily, it was more bodies colliding than heads." More >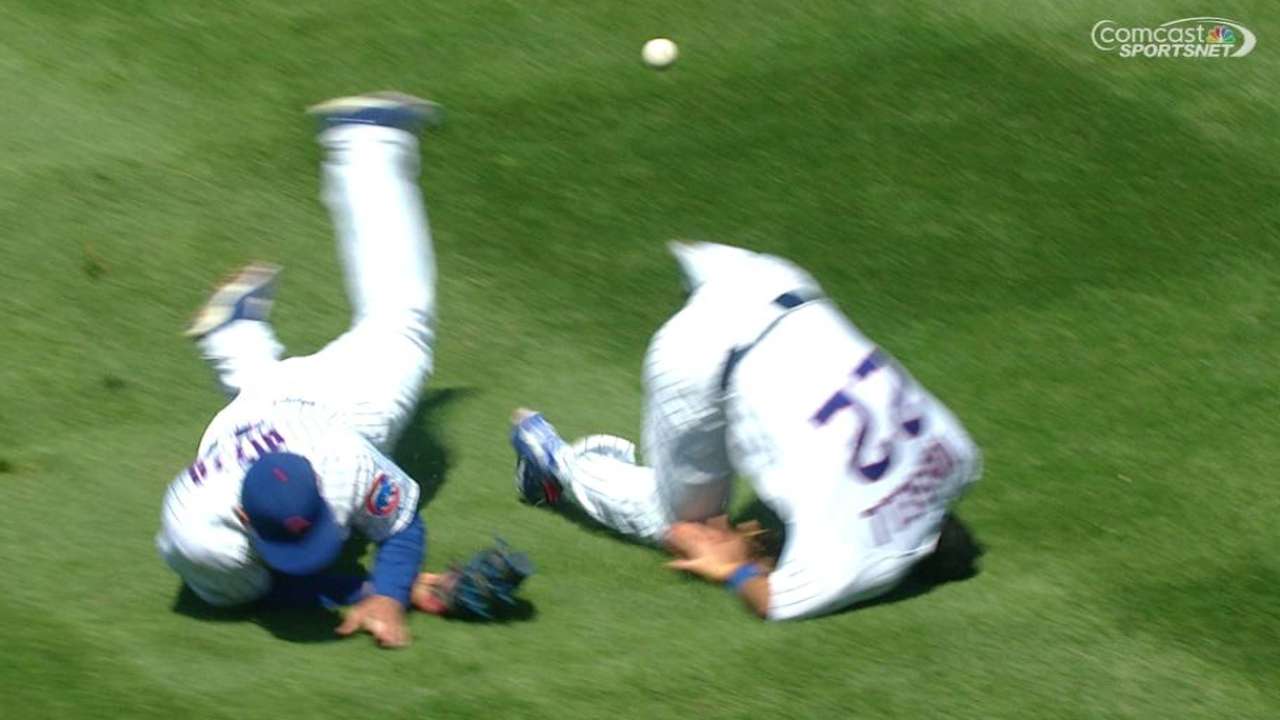 QUOTABLE
"Everything went well today. It's not because I'm in the lineup. Fiers threw amazing today, the bullpen came strong, and Ryan's big home run. Little things today made us take the W. It's not me." -- Gomez, downplaying the impact his return played in a rare Brewers win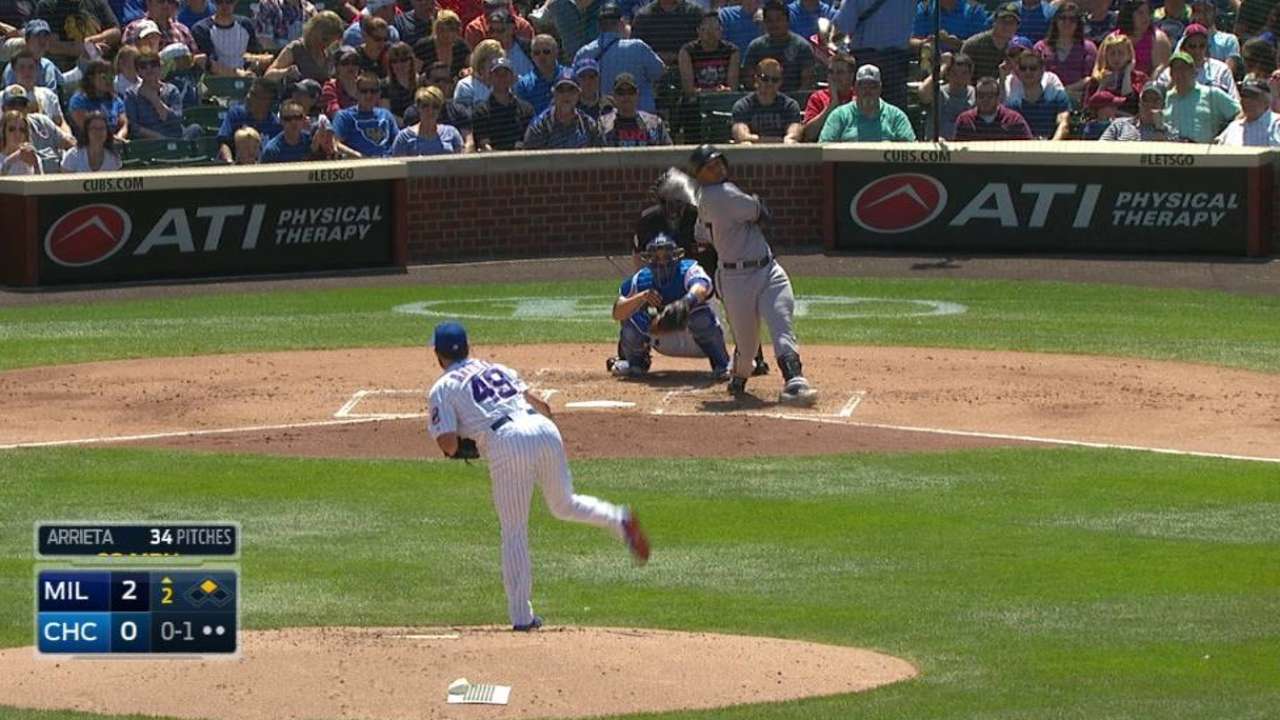 SOUND SMART WITH YOUR FRIENDS
He's not exactly Kerry Wood, but Fiers is on a strikeout streak at Wrigley Field. Last August, he struck out 14 Cubs batters in six innings of a Brewers win.
In his return to the Friendly Confines on Saturday, Fiers worked six innings again and struck out 12 batters this time. He recorded multiple strikeouts in five of those six innings, striking out the side in the first and the fifth.
According to the Elias Sports Bureau, Fiers is the first visitor with 10 or more strikeouts in consecutive starts at Wrigley since another Brewers right-hander -- Yovani Gallardo -- in August 2010 and June 2011.
The only other pitcher to record 26 or more strikeouts over consecutive starts at Wrigley Field was Hall of Famer Sandy Koufax, who had three such combined performances in his career.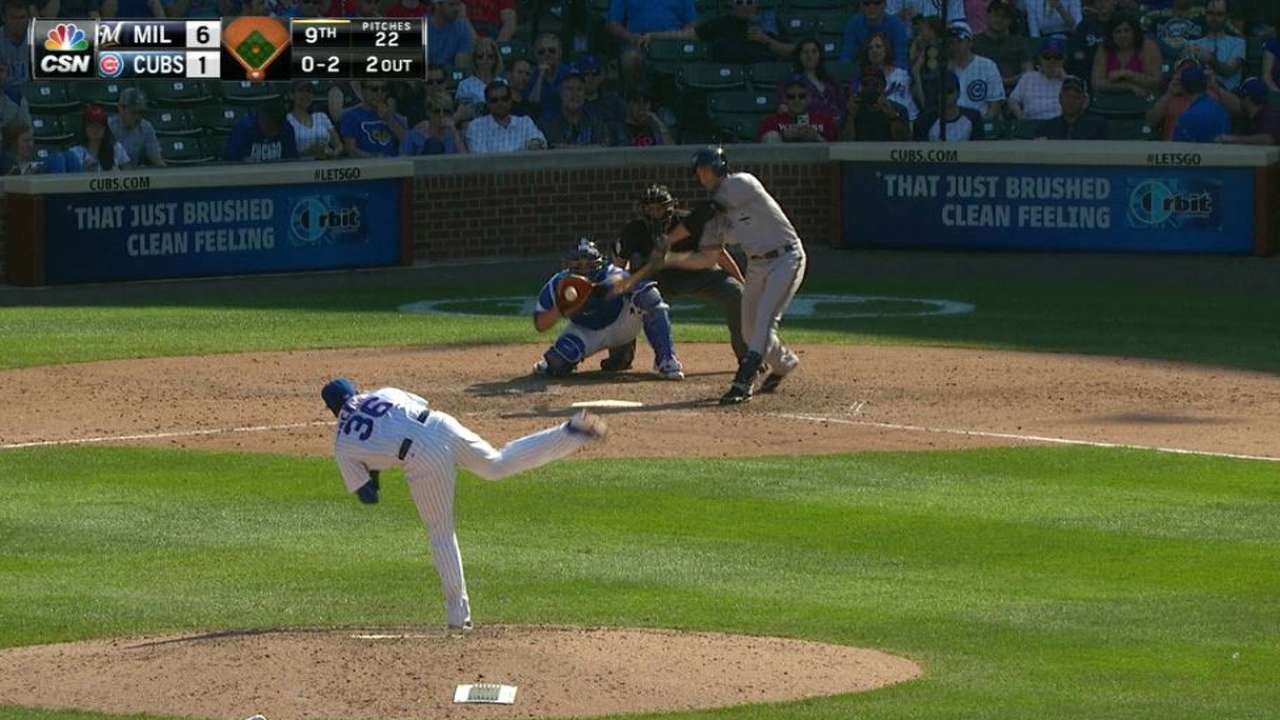 The Cubs whiffed a season-high 18 times, the first time they've struck out that many times since Aug. 14, 2011, against the Braves. Chicago has struck out 10 or more times in 10 of 22 games this season.
The 18 strikeouts for the Brewers tied a franchise record for strikeouts in a nine-inning game. The last time the Brewers saw that happen was when Ben Sheets struck out 18 Braves on June 16, 2004.
WHAT'S NEXT
Brewers: Jimmy Nelson was a bright spot for the Brewers over his first three starts before hitting a serious speed bump in Cincinnati. Nelson walked five batters and surrendered six hits while allowing seven earned runs in only 2 1/2 innings. He's winless in four games against the Cubs, including two starts.
Cubs: Jason Hammel closes the Cubs' series against the Brewers on Sunday at Wrigley Field. Hammel is coming off solid outing against the Pirates in which he threw eight scoreless innings. He is 5-0 with a 1.85 ERA in six career starts against Milwaukee. First pitch is scheduled for 1:20 p.m. CT.
Watch every out-of-market regular season game live on MLB.TV.
Adam McCalvy is a reporter for MLB.com. Follow him on Twitter at @AdamMcCalvy. Carrie Muskat is a reporter for MLB.com. She writes a blog, Muskat Ramblings, and you can follow her on Twitter @CarrieMuskat. This story was not subject to the approval of Major League Baseball or its clubs.