Costly replay call sticks in Scioscia's craw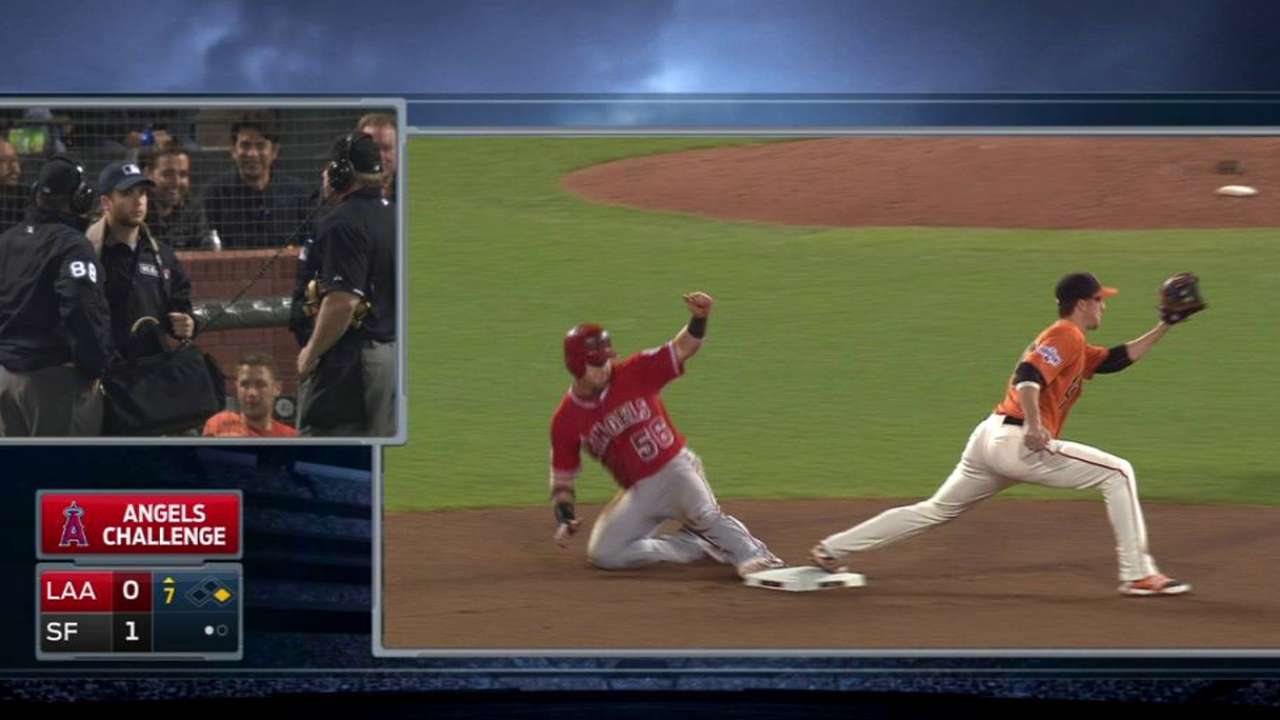 SAN FRANCISCO -- Toward the back of the visiting clubhouse at AT&T Park, the Angels' temporary home for this Interleague series, sit two replay monitors used to determine which calls will be challenged. Those two sets provide every angle available, and late Friday night -- after a bitter 3-2 walk-off loss to the Giants -- one particular image stood out.
It was a freeze frame of Kole Calhoun's left foot on second base while the baseball was still visibly outside second baseman Matt Duffy's glove.
It was a reminder of a controversial replay review the Angels never really got over.
"I don't think there's anybody in the world who's going to see that replay and doesn't think Calhoun was safe," Angels manager Mike Scioscia said of the play, which came in the seventh and ultimately prevented his team from taking the lead. "That just baffles me. It is 100 percent obvious that Kole was safe, and that's the frustrating part about replay. I don't know how that call was not overturned. He was safe."
If Scioscia elects to pinch-hit for C.J. Wilson later in the seventh, or if Brandon Crawford isn't intentionally walked in the ninth, or if Chris Iannetta isn't crossed up on a key pitch, or if the Angels do better than 1-for-8 with runners in scoring position, or if Joe Smith doesn't leave a fastball up to walk-off hero Joe Panik, everything changes.
But it was a replay review that wasn't overturned that particularly vexed the Angels.
With Calhoun on first, none out and the Angels trailing, 1-0, in the seventh, Giants third baseman Casey McGehee booted a grounder from David Freese, but Crawford picked it up and fired to second for the forceout. Calhoun appeared to beat the throw with his slide but was called out. Scioscia challenged, but umpires analyzing video at the Replay Command Center in New York determined there wasn't conclusive evidence to overturn the call, allowing it to stand. The Angels scored only one run that inning.
"I don't know where they're dropping the ball there in New York, but it's something that needs to be worked on," Scioscia said. "They're getting the angles, everything we're seeing. I don't know how they don't come to the same conclusion everybody would come to on that play."
Scioscia had his own questionable calls, though.
With runners on the corners and two outs after the Angels had tied the game in the seventh, Scioscia let Wilson -- with all of 32 career plate appearances -- come to bat despite a nearly full bench. Wilson, who had thrown only 70 pitches by that point, flied out to center and then gave up a go-ahead run in the bottom of the inning, on a two-out dribbler up the middle by Andrew Susac.
"We'd already tied the game and he's throwing the ball great," said Scioscia, who added that Albert Pujols still wasn't available because of a tight hamstring. "We've talked about our 'pen being a little stretched. We have a whole lot of baseball ahead of us."
Then came the bottom of the ninth, with the score knotted at 2.
Buster Posey reached on an infield single against Smith, Justin Maxwell executed a sacrifice bunt and Iannetta got crossed up on a full-count pitch, expecting a slider but getting a fastball that hit home-plate umpire Bill Miller on the knee and put runners on the corners with one out.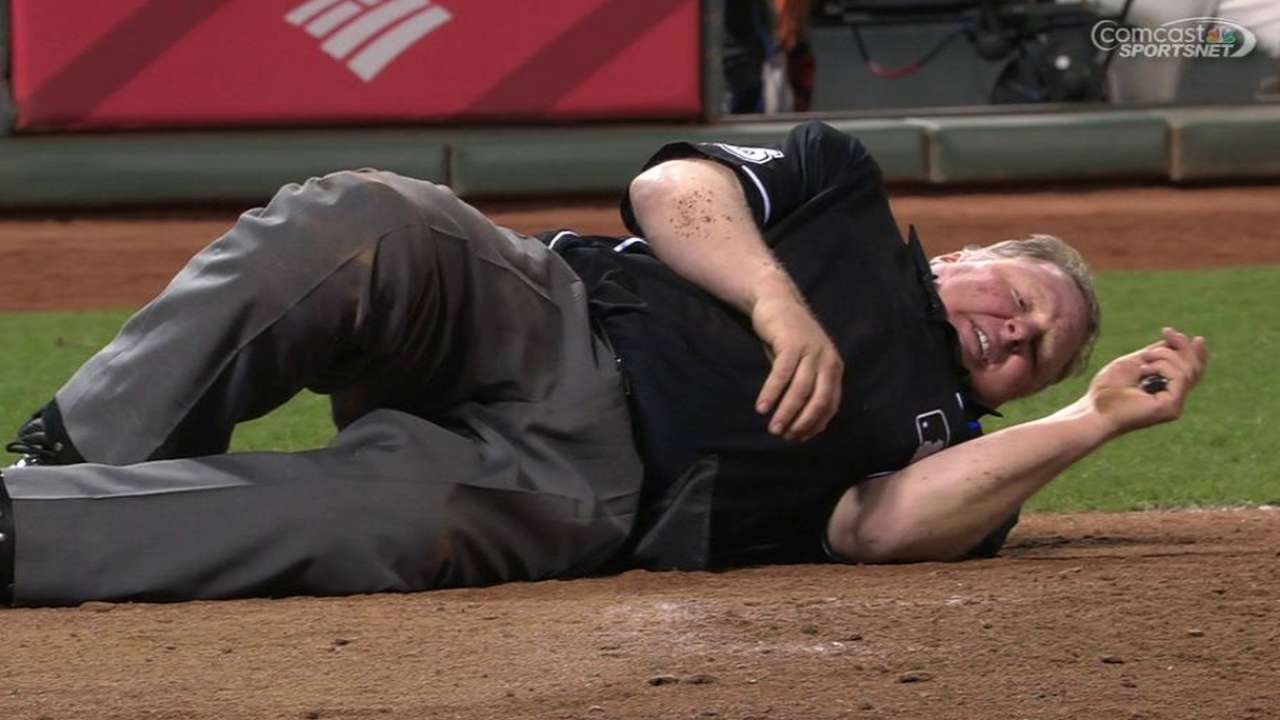 After getting pinch-hitter Brandon Belt to strike out looking, Scioscia elected to intentionally walk the left-handed-hitting Crawford to pitch to the right-handed-hitting Joaquin Arias, prompting Giants manager Bruce Bochy to counter with the left-handed-hitting Panik.
Scioscia figured Bochy would do that, but liked his chances nonetheless.
"Crawford hit the ball hard a couple times today," Scioscia said, "and we felt better with someone coming off the bench."
The inning ended with Panik lining Smith's 1-1 pitch up the middle.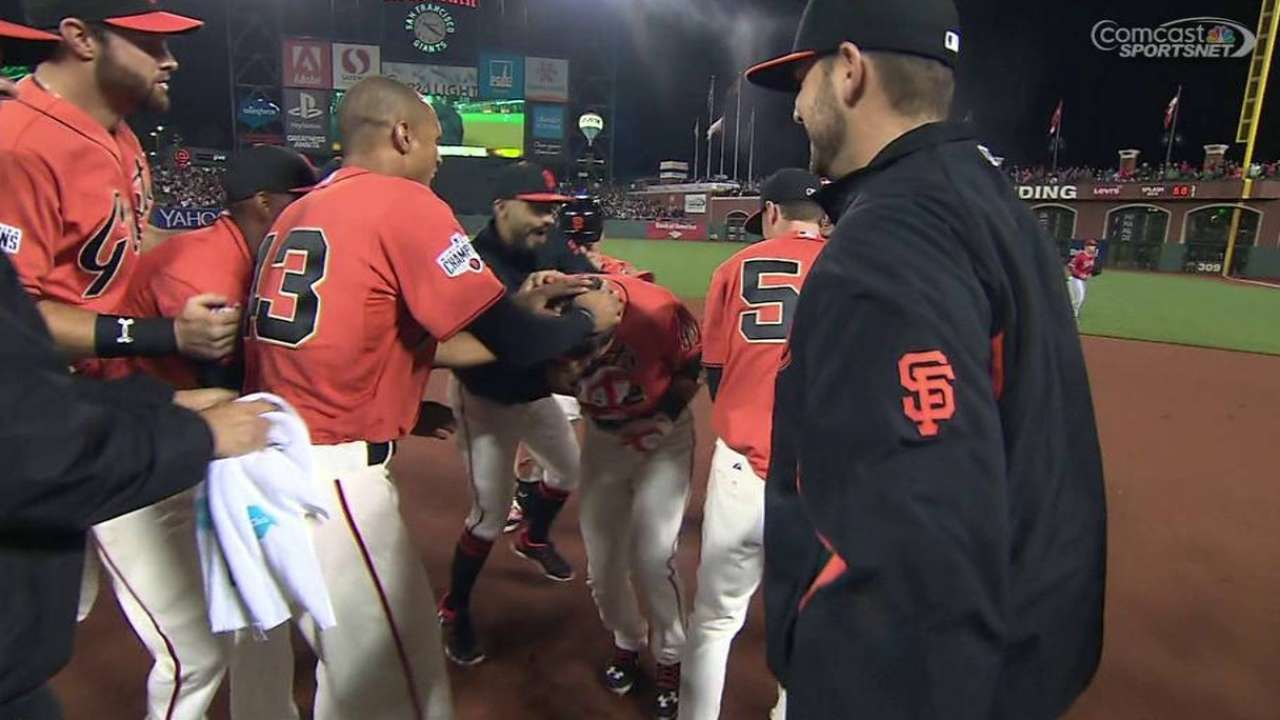 It began with Miller telling Smith the string on his glove was too long and making him cut it.
It was an eventful bottom of the ninth, and a bizarre night.
"I have over 500 appearances in this game and all my gloves are the same," Smith said. "He just wanted to be on TV, I guess. It's Little League, dude. It's Little League. Let us play. … They're worried about strings on a glove, and yet we have a replay that shows Kole's safe and we can't get that right."
Alden Gonzalez is a reporter for MLB.com. Read his blog, Gonzo and "The Show", and follow him on Twitter @Alden_Gonzalez. This story was not subject to the approval of Major League Baseball or its clubs.