Pederson's big 'bop' a war hero's dream
Dodgers rookie had pregame chat with wounded veteran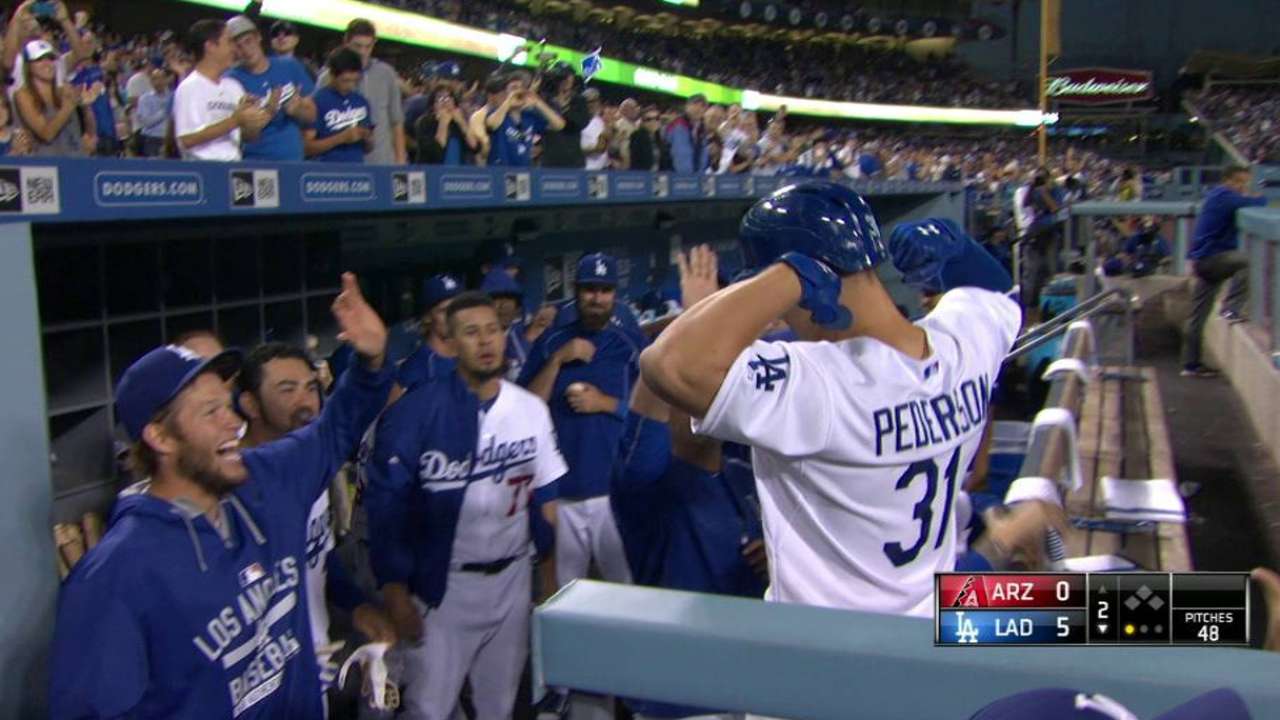 LOS ANGELES -- Joc Pederson's Friday night was even more amazing than you think.
Before the Dodgers-D-backs game, he had an arranged phone call with Sgt. Nick Becker, a wounded veteran of wars in Iraq and Afghanistan, who is undergoing treatment at Columbia Hospital in New York. Becker's girlfriend set up the call because Pederson is his favorite player.
"He told me he saw the home run I hit the other night and I said I hope I give you something special to cheer about tonight," said Pederson, who crushed his first career grand slam in a five-run second inning and made a running catch in the ninth to preserve the shutout in an 8-0 Dodgers rout of Arizona.
"I'm glad it worked out and I hope he was watching. Those guys are fighting for their lives and we're playing a game for a living. It puts life in perspective."
Here's what it's also like to be Pederson. Even if the club PR machine has already cranked up the Rookie of the Year campaign, to his veteran teammates he's still a rookie and a rich target for hazing.
So when Pederson stepped to the plate for that second-inning at-bat that ended so gloriously, it began with his walk-up music being hijacked. Instead of the usual hip-hop he prefers, one of his teammates subbed Hansen's pop hit "MMMbop."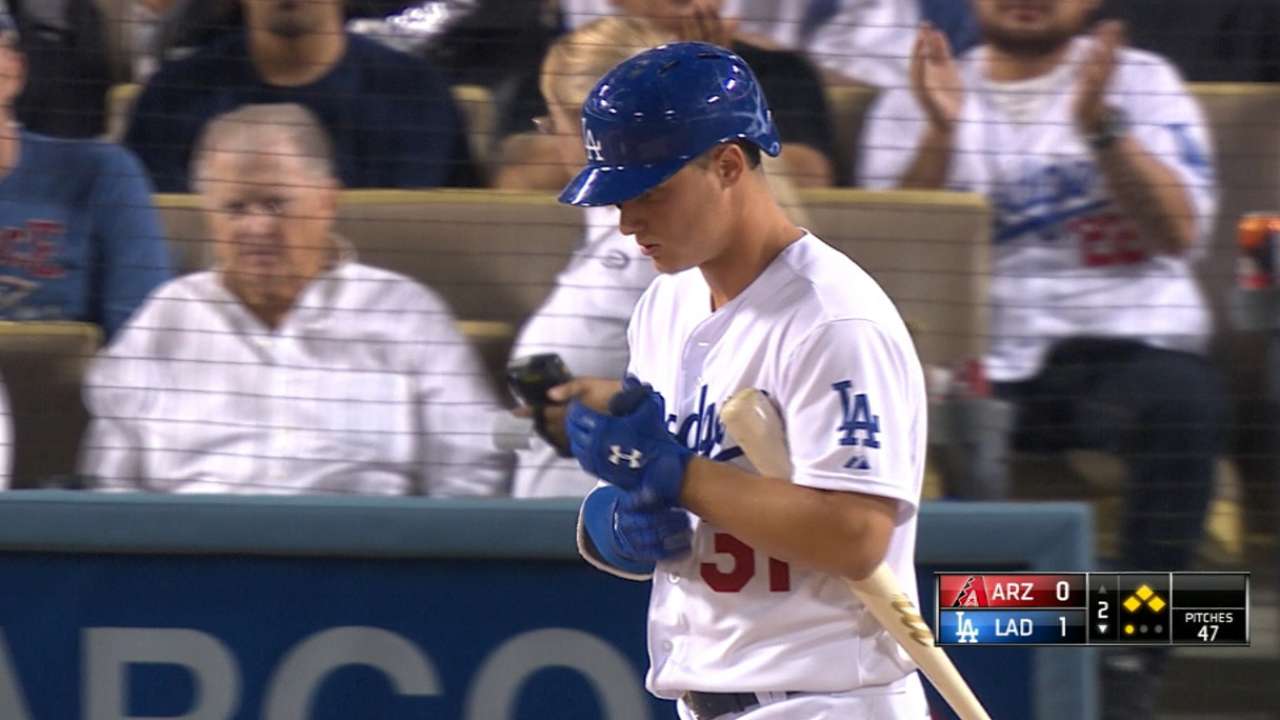 "I walked up to the plate laughing," said Pederson, still wearing a Wounded Warriors Project shirt. "We've got jokesters on this team. I told the catcher and the umpire, they got me pretty good. They were all laughing when I got back to the dugout. It was pretty funny."
It's good times at Dodger Stadium these days, where the ball now jumps (Justin Turner and Andre Ethier also homered) and the rookies are making the most of their chances.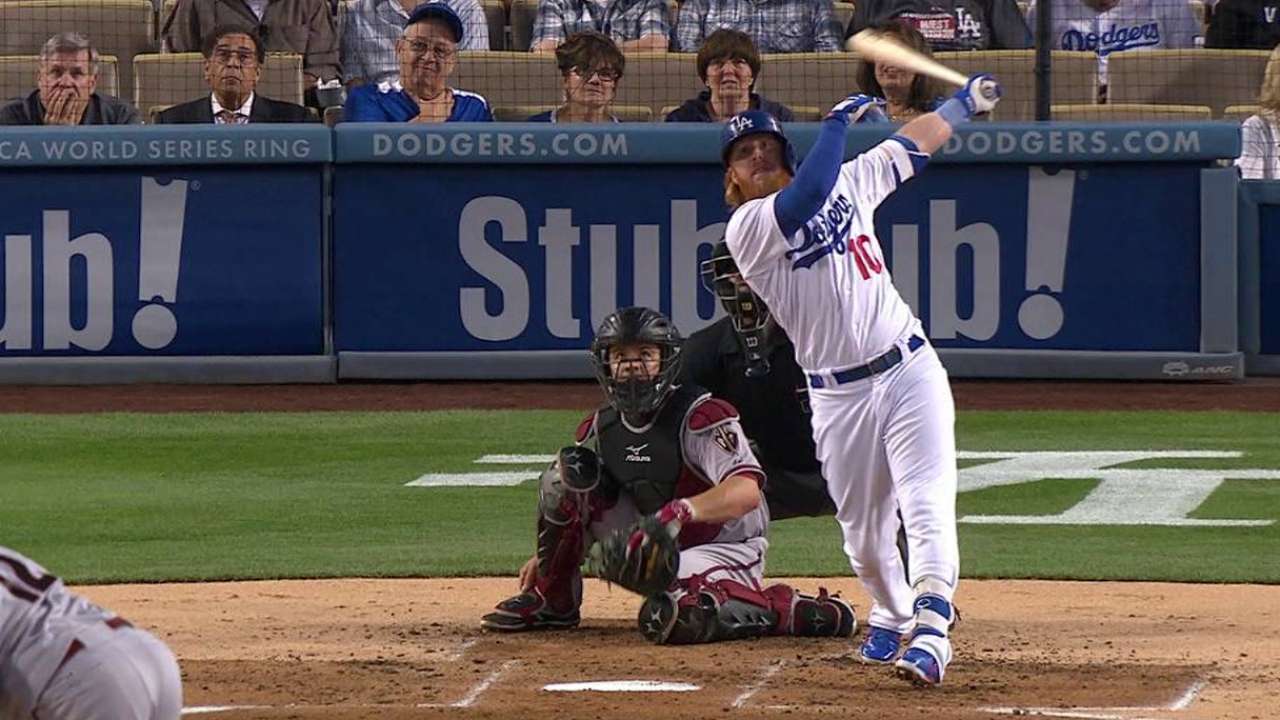 Along with Pederson, the Dodgers were led by rookie pitcher Carlos Frias, who threw 5 1/3 innings of shutout ball against former Minor League teammate Rubby De La Rosa before hitting empty. But that was good enough for manager Don Mattingly to say Frias will get a second shot at being the replacement for injured starter Brandon McCarthy, who had Tommy John surgery Thursday and is out until mid-2016.
When Frias ran out of gas with two on and one out, fellow rookie Pedro Baez first retired Paul Goldschmidt, then overcame a Jimmy Rollins fielding error that loaded the bases to escape the jam and keep the shutout intact.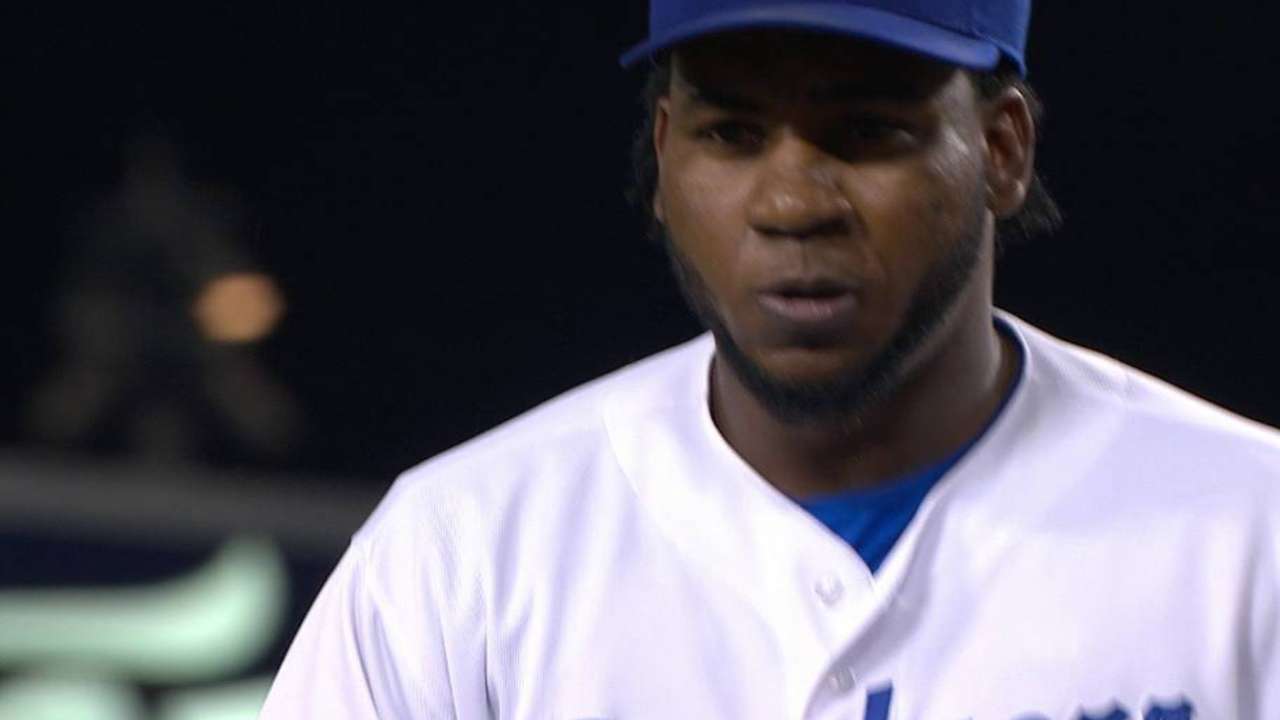 Baez also pitched a perfect seventh inning that ended with a 99-mph fastball strikeout of Nick Ahmed.
Turner started at third base instead of Juan Uribe because of what Mattingly said was the matchup. Ethier has been the primary right fielder with Yasiel Puig on the DL and Mattingly is enjoying his resurgence.
"I'm happy for him and happy for us," he said. "It's the best swing I've seen from him in years. He seems dangerous to me. He was in great shape in the spring, said he wanted to play a lot and he's going to get to play a lot."
Ken Gurnick is a reporter for MLB.com. This story was not subject to the approval of Major League Baseball or its clubs.