MLB.com Columnist
Terence Moore
Reds recall memories of Big Red Machine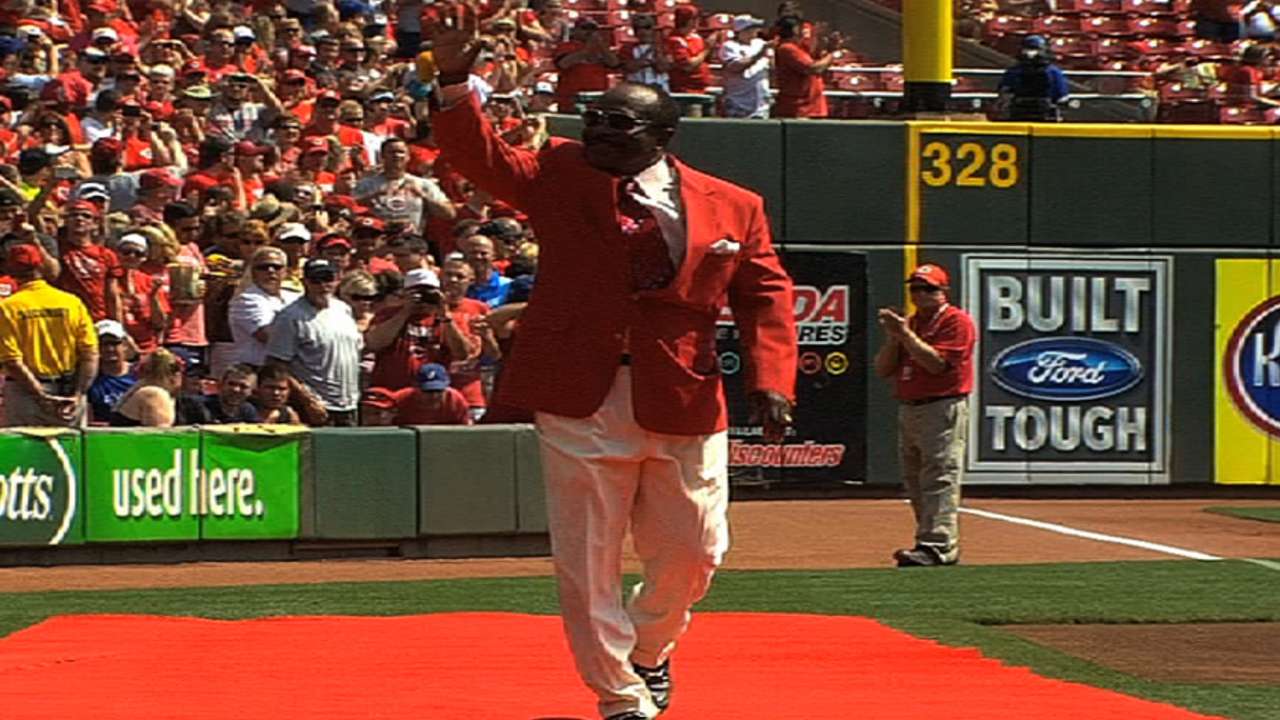 This is the 40th anniversary of the first of consecutive World Series titles for the Big Red Machine. We're talking about baseball's greatest team. Then again, as its all-time biggest fan, I'm biased.
I lived in Cincinnati during its birth during the late 1960s and I covered it years later as a local journalist. So, given that none of the current Reds players were born when the Machine lost its final sparkplugs, I'm wondering some things.
What do the 2015 Reds players think when they drive toward Great American Ball Park along Pete Rose Way or Johnny Bench Way? Do they get tingly at the sight of the Joe Morgan statue?
Surely they genuflect whenever they walk into the Reds Hall of Fame Museum and see that bronzed moment of Cincinnati players going bonkers at Riverfront Stadium after George Foster scored the winning run of the 1972 National League Championship Series.
"It all becomes routine. It definitely does, because at the end of the day, Pete Rose Way, for instance, it's just a street," Cincinnati right fielder Jay Bruce said.
I mean, was Bruce saying the magic of the Big Red Machine didn't travel from the home clubhouse of Crosley Field to that of Riverfront Stadium before settling inside the one at Great American Ball Park? No, he wasn't saying that at all.
When it comes to the lack of pixie dust surrounding the Big Red Machine for his generation of players, Bruce was referring only to the constant viewing of those symbolic things. That's opposed to the real things. Since more than a few members of the Big Red Machine are alive, well and visible, Bruce suggested that it is always Disney World along the Ohio River for current Reds players whenever those icons come around the ballpark.
"It's during those times that the statues begin to enter your mind, because you think about the impact that the Johnny Benchs and the Joe Morgans had on the organization -- just to have a statue erected of them -- and then you think about getting the opportunity to talk to them, because they are around, and that whole thing becomes pretty crazy, you know?" said Bruce, grinning as much as I used to after one of the Big Red Machine members did something beyond spectacular, which was often.
"Not many people with statues are still around to allow you to get a chance to pick their brains and stuff like that. Those are the types of things you don't take for granted."
Nobody should. For one, the Big Red Machine was outrageously gifted both collectively and individually. Those Reds players helped the franchise grab more victories during the 1970s than anybody, and they did so leading baseball in virtually every offensive category in most years. They also were swift on the bases and splendid on defense.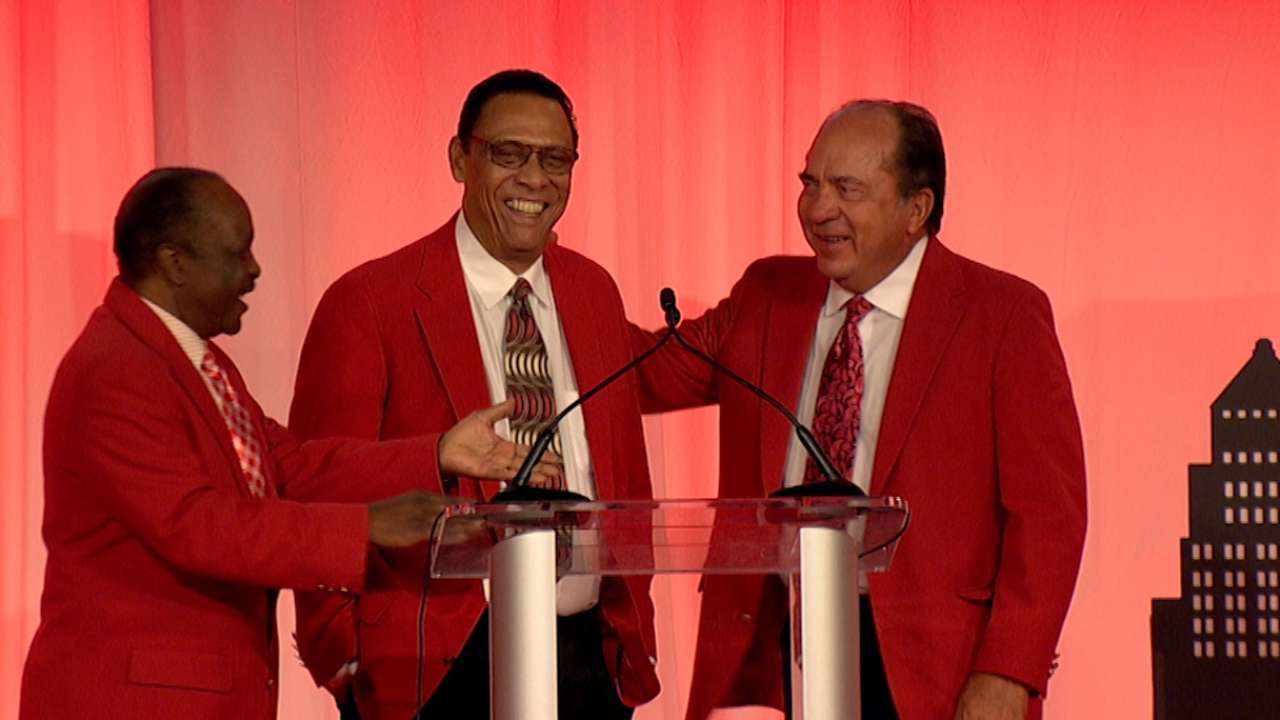 As for specific cogs of the Big Red Machine, manager Sparky Anderson and first baseman Tony Perez join Bench and Morgan in the Baseball Hall of Fame. While Bench caught, Morgan played second. Then there was Rose, the game's all-time hits leader. After years as an All-Star outfielder, he was the third baseman for the 1975 and '76 World Series championship teams. Dave Concepcion was the perennial Gold Glove shortstop, and Cesar Geronimo was the perennial Gold Glove center fielder. Elsewhere, George Foster, with his potent black bat, was in left, and Ken Griffey Sr. was a three-time All-Star in right. They are called The Great Eight.
Billy Hamilton nodded, but not because he ever saw them play. Definitely not in person and barely in videos.
"You got to remember, I grew up in Mississippi, and we only cared about following the Braves, so I didn't really know anything about [the Big Red Machine] until I was drafted by the Reds," Hamilton said. "What I know about those guys now [on the Big Red Machine], they were amazing. They were dedicated 100 percent every day to what they wanted to do. They played hard every single game, no matter what the situation. They had each other's back. Just the few of them that I met, those guys were just awesome."
This is equally awesome: Like Bruce, Hamilton becomes a sponge around baseball royalty in Red.
Said Hamilton, "I'm asking them, 'What did you all do when you were playing? What was your thought process in this situation? What was your mentality when that happened?'
"They are all like, 'We wanted to win, and we were going to fight, fight, fight until the end of the game. If we were down 10 runs, we were going to fight until that last out.' There's one thing about those guys, and that is they had heart, man."
With every word, Hamilton threatened to get goose bumps the size of the Reds' 1975 and '76 World Series rings combined. While Hamilton is one of the youngest players on Cincinnati's roster these days, Marlon Byrd is the senior citizen at 37. Even so, he was born the year after the Big Red Machine began to dismantle.
Byrd first became aware of the Big Red Machine while playing high school baseball in the Atlanta area during the early 1990s. Remember, too, he was a Braves fan back then. This was when chopping and chanting turned into the fad around northern Georgia with the Braves in the early stages of their run toward a record 14 straight division titles.
"During one of those high school baseball tournaments, George Foster came to speak to us," Byrd said. "He started talking about how he played for the Big Red Machine, and how he won an NL MVP Award [in 1977], and I looked up the numbers. That's when I realized how dominate they were. The Braves had their big three in pitching, but the Reds had pitching, and they also had some thumpers. The Big Red Machine just ran through people."
A few years later, Byrd played in the Minor Leagues with Pete Rose Jr., and he added, "I used to see Griffey Sr., all the time when I played for the Phillies, and Johnny Bench comes to games, and you see Joe Morgan (a Reds executive), of course. It's nice being around them and hearing that knowledge."
Enough knowledge to fill Cooperstown.
Terence Moore is a columnist for MLB.com. This story was not subject to the approval of Major League Baseball or its clubs.