Statcast: Ellsbury motors for grab at Fenway
Yankees center fielder reels in line drive hit by Red Sox catcher Hanigan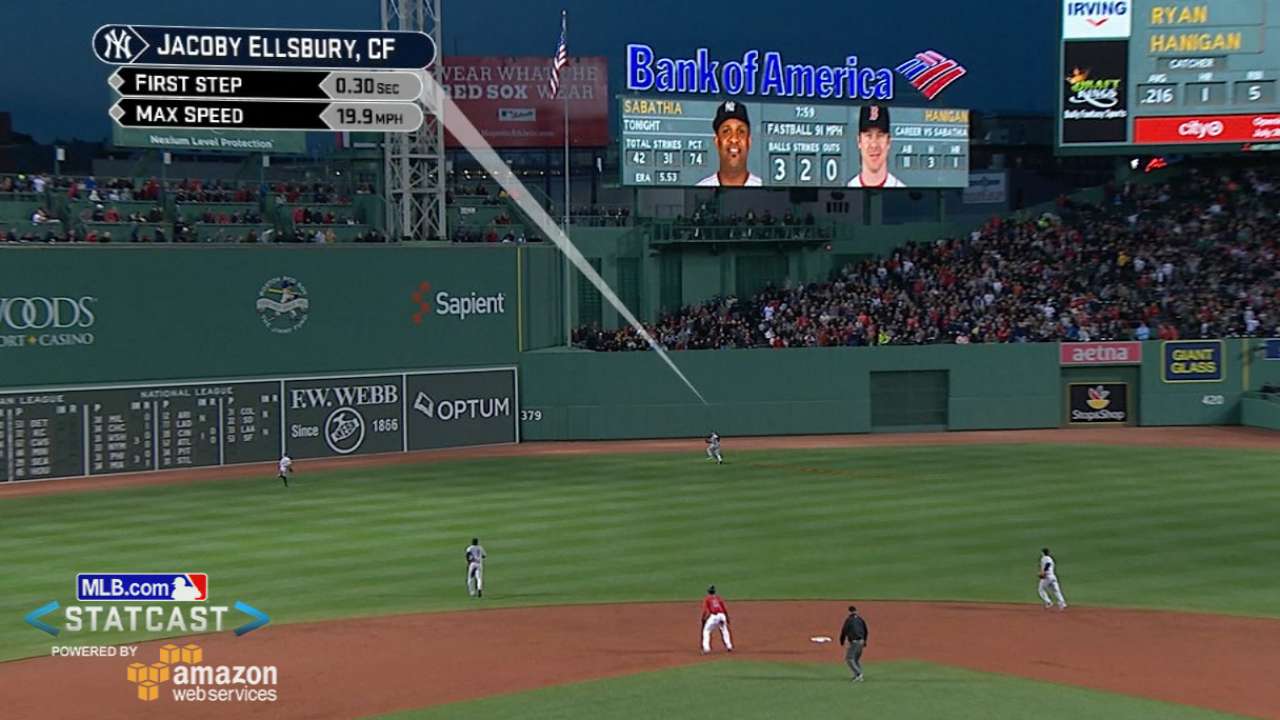 Jacoby Ellsbury spent parts of seven seasons patrolling center field at Fenway Park. The Yankees center fielder still knows the territory well, as Statcast helped show during New York's 3-2 win over Boston on Friday night.
With the Yankees leading by one run, Red Sox catcher Ryan Hanigan came to the plate with a man on second and no outs in the third inning. He ripped the 11th pitch of his at-bat, a 90-mph fastball from CC Sabathia, deep toward the left-center-field wall.
Ellsbury reacted quickly, taking his first step in 0.30 seconds, according to Statcast, the revolutionary tracking technology, and dashed toward the line drive.
Ellsbury ran toward the track and reached a maximum speed of 19.9 mph before reeling in the ball.
Ellsbury's athletic play saved one run immediately, as Xander Bogaerts could only advance to third. Bogaerts wound up scoring on Mookie Betts' sacrifice fly.
The numbers compare favorably to a few plays the Yankees' speedy outfielders made last week in Detroit, which Statcast also tracked.
During that series, Brett Gardner reached a maximum speed of 17.2 mph while tracking down a Victor Martinez fly ball at the wall. And Ellsbury actually topped his work Friday night by sprinting at a max speed of 21 mph and taking a nearly perfect route to snag another Martinez fly ball.
Ellsbury's first step Friday night also lines up with some of the other top grabs Statcast has tracked this season, as Cardinals outfielder Jon Jay's reaction time clocked in at 0.30 seconds on a diving catch that robbed Nationals outfielder Jayson Werth of a hit earlier this season.
Adam Berry is a reporter for MLB.com. Follow him on Twitter at @adamdberry. This story was not subject to the approval of Major League Baseball or its clubs.