Crazy eighth: A's battle back with 7-run inning
Lawrie delivers go-ahead double off Texas' closer; Canha's HR sparks rally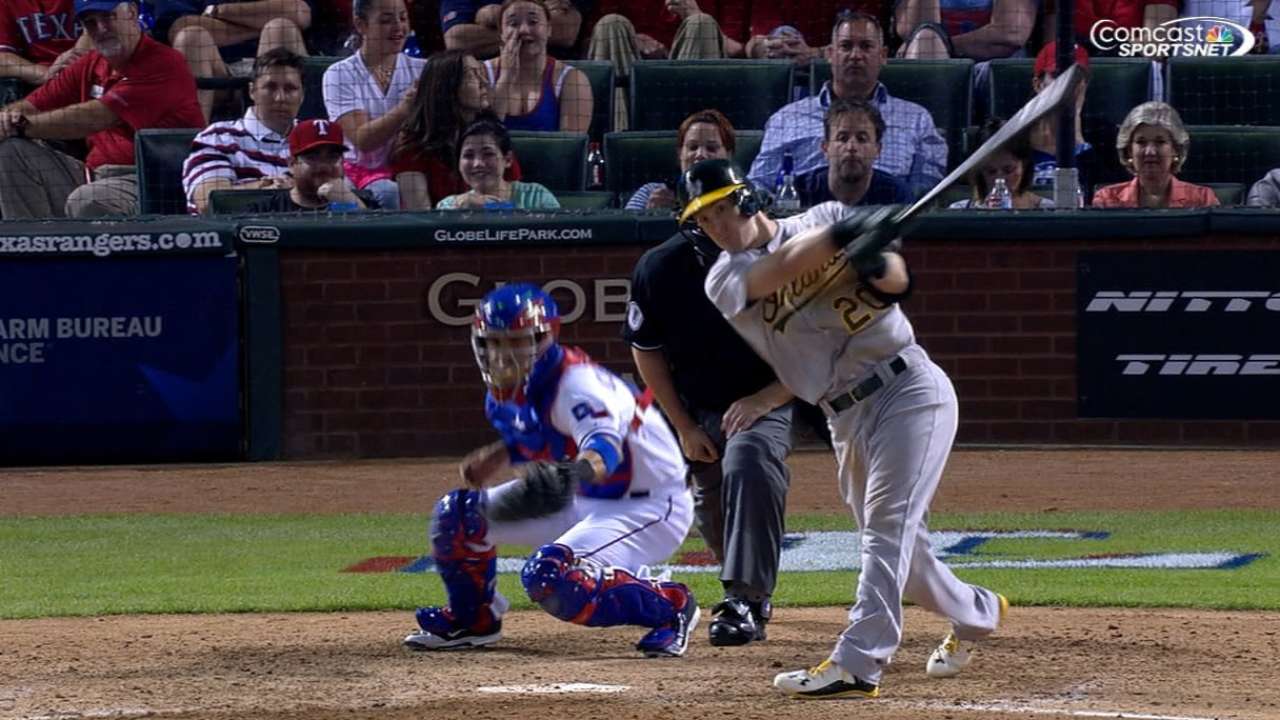 ARLINGTON -- The A's staged a comeback for the second time in as many days Friday. Only on this night, they completed it.
Their 7-5 victory over the Rangers to jumpstart a 10-game road trip was badly needed for a club that had dropped six of its last seven games. That it came in such spirited fashion only made it sweeter.
The A's were six outs away from being shut out before plating seven runs in the eighth inning -- their most in any frame this season -- against the Rangers' bullpen, after tallying just two hits through seven.
The late-inning hit parade came just one day after the A's came inches short of a walk-off win over the Angels, who watched Mike Trout snag a potential game-winning hit from Ike Davis in center field.
"A win was what we needed," said A's manager Bob Melvin. "We've done this a few times, come back when it looks like the game has already been decided. So keeping that attribute even though we've been beat down a few games with some losses is something that will serve us well in the future."
"Wins like that are how streaks start," said starter Scott Kazmir, who allowed three runs in six innings.
The inning featured six hits, starting with a solo home run from Mark Canha, who also notched an RBI single in the frame. But the biggest at-bat arguably belonged to Brett Lawrie, who put the A's on top with a two-run double off of Rangers closer Neftali Feliz, the result of an intense nine-pitch at-bat.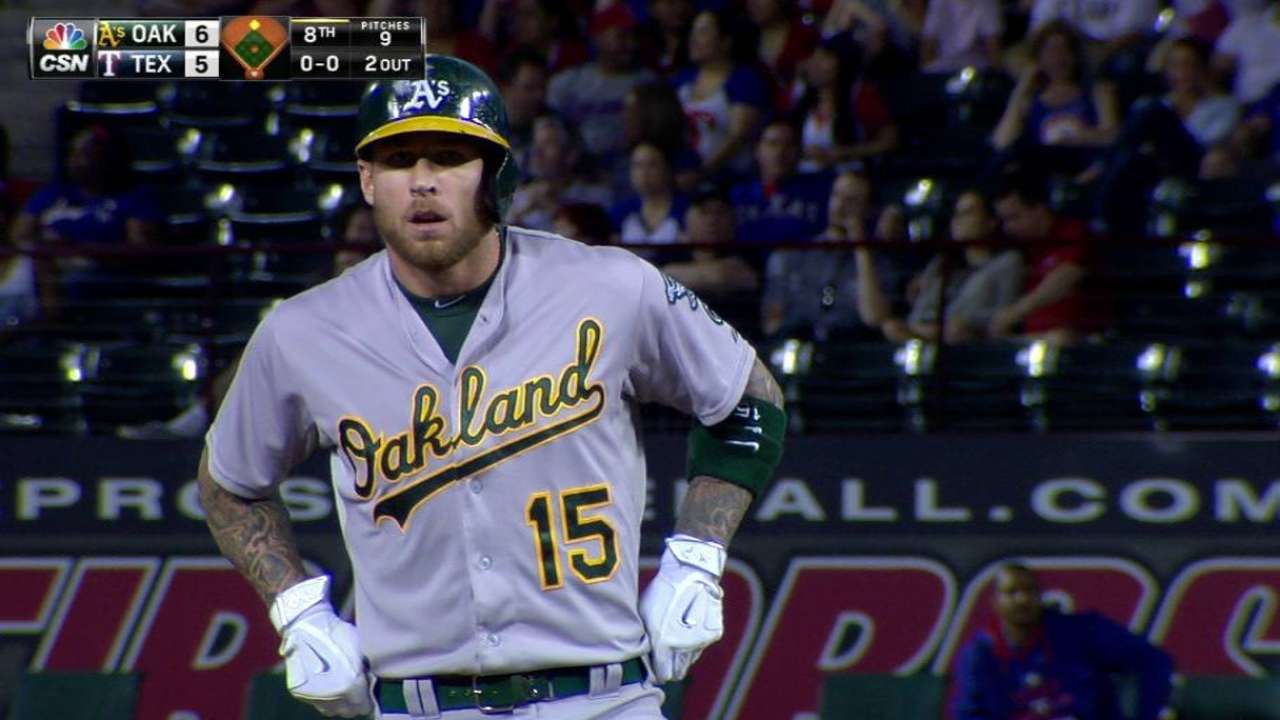 Lawrie let a slider go by him for ball one, before fouling off four of the next six pitches -- ranging from 79 to 93 mph -- to bring the count to 3-2 ahead of a 94-mph fastball he drilled to right field.
"Battled and battled. That was the whole at-bat," Lawrie said. "I'm just trying to put the ball in play, try to move the runners. He was quick-pitching me a couple times, a couple fastball quick-pitches, a couple slider quick-pitches, and then just back to regular windup. So that's one of those at-bats where you just kinda got to lock it in and keep fouling pitches off and fouling pitches off and just keep grinding."
"The tenacity in each of his swings, and he's looking back at the dugout, and it's one of those at-bats where you felt like he's not going to be denied," Melvin said.
A's catcher Stephen Vogt called it an "unbelievable at-bat."
"I think you probably could have heard the sigh when Lawrie hit the ball down the line, such a great exhale for us after yesterday and getting ourselves right back in that same situation and Brett coming through for us," Vogt said. "Up and down the lineup in that inning, we needed that."
Equal praise was awarded in the clubhouse to rookie Max Muncy, who worked a two-out walk against right-hander Roman Mendez to set up Josh Reddick's two-run single ahead of Lawrie.
"Good to see everyone taking good at-bats," Reddick said. "Muncy was a huge at-bat, and maybe one of those that gets overlooked because it didn't drive in a run, but it kept the inning going, and that's not easy for a young guy in a pinch-hit situation.
"It's a good start for a new month. April is over. We got to forget that and build off this as much as we can."
Jane Lee is a reporter for MLB.com. This story was not subject to the approval of Major League Baseball or its clubs.