Deduno, bullpen piece together Astros win
Fields stands out, recording all four of his outs via the strikeout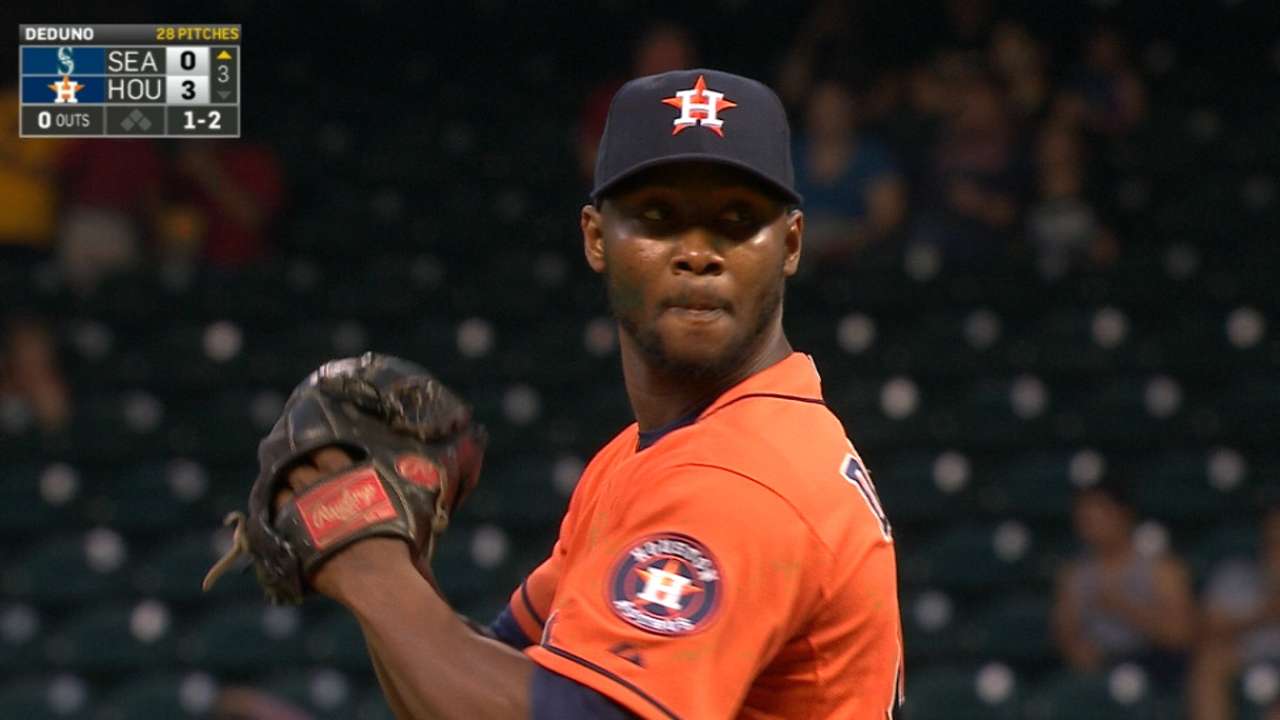 HOUSTON -- When the Astros revamped a maligned bullpen this offseason, they probably had a game like this in mind.
With spot starter Samuel Deduno limited to four innings, it was the relatively rare sight of bullpen-by-committee that lifted a home-run heavy offense to a 4-3 win Friday night, the Astros eighth in a row.
"Coming into the game, I think everybody knew, this was going to be a game a lot of people would have to contribute," said manager A.J. Hinch. "They did their job."
While it might have been a fun ride relying on six different pitchers in a nine-inning game -- again, relatively abnormal at this level -- Hinch isn't clamoring for many more like it. For one night, it'll do.
"I don't want to make that too much of a habit," Hinch joked. "That's a recipe for less success than we want over a long period of time."
Friday's success started with Deduno, who was a starter in title only and functionally served as the long reliever he's been this season. Four innings of one-run, four-strikeout ball against a lefty-heavy and powerful Mariners unit is nothing to scoff at, though.
"Just had a fastball and the breaking ball working, it all felt good," Deduno said, adding that he hoped to get another chance to claim the coveted fifth spot in the rotation.
Hinch said he could have extended Deduno with a modest pitch count, opting instead to cobble the win together inning by inning after that.
Remember, this was a unit that had a MLB-worst 4.80 ERA a year ego, the clear weak spot on a team that otherwise was near league-average in every other facet.
Chad Qualls, Tony Sipp and Josh Fields are the only fixtures remaining from that group. Friday's four innings of shutout work before closer Luke Gregerson's hairy ninth inning was the clearest sign yet of a 'pen better equipped for contention. This is all after a month when the relievers went 6-1, posted a 2.18 ERA and saved seven games during Houston's 15-7 April debut.
It carried over into the first night of May. Fields immediately set the tone, striking out the side in the fifth (two of them looking) and setting down another in the sixth. From there, recent call-up Kevin Chapman pitched a perfect inning while wiggling out of a mini-jam Fields left.
"Just try and get outs since they all count the same," Fields says. "Stayed with that same approach tonight."
One of those heralded offseason signees was Pat Neshek. While his ERA may still be suffering due to one poor outing in Oakland, Seattle looked lost against him for the second night in a row. He needed just seven pitches to get a pair of outs in the seventh inning.
Qualls produced a perfect eighth, setting up Gregerson with as comfortable a cushion as a closer gets in a save situation with a three-run lead. Two solo shots later, and the cushion was gone.
And really, there's no shame in allowing a solo shot to MLB home-run leader Nelson Cruz, who hit a 469-foot shot, as tracked by Statcast, off the train tracks in left-center field. Hinch was happier anyway with the way his closer responded when the pressure increased.
"It's an uncomfortable inning coming into the middle of the order against the Mariners," Hinch said. "He had to earn it. [Luke's] not going to be happy with the two homers, but what he is happy with is the handshakes after a win and a save."
For one night, at least, the Astros managed to secure both in unusual fashion.
Chris Abshire is a contributor to MLB.com. This story was not subject to the approval of Major League Baseball or its clubs.