Cishek dodges bullet in ninth to secure win
Reliever barely misses being beaten again by a late homer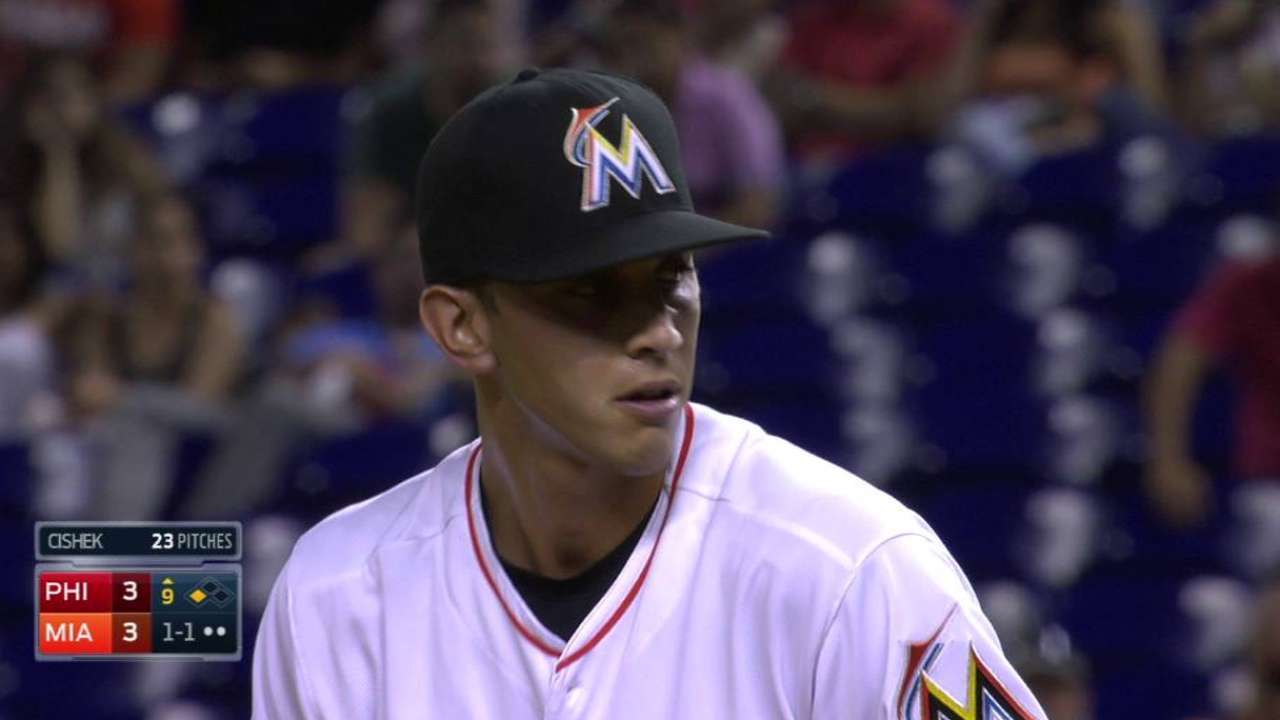 MIAMI -- The range of emotions swung in a matter of seconds for Marlins closer Steve Cishek in the ninth inning on Friday night. The right-hander logged two quick outs, but then held his breath on Cody Asche's triple to right-center.
Off the bat, Cishek was thinking it was a routine fly ball. But with the Marlins Park roof open, the ball traveled a bit further than normal, and it nearly left the yard.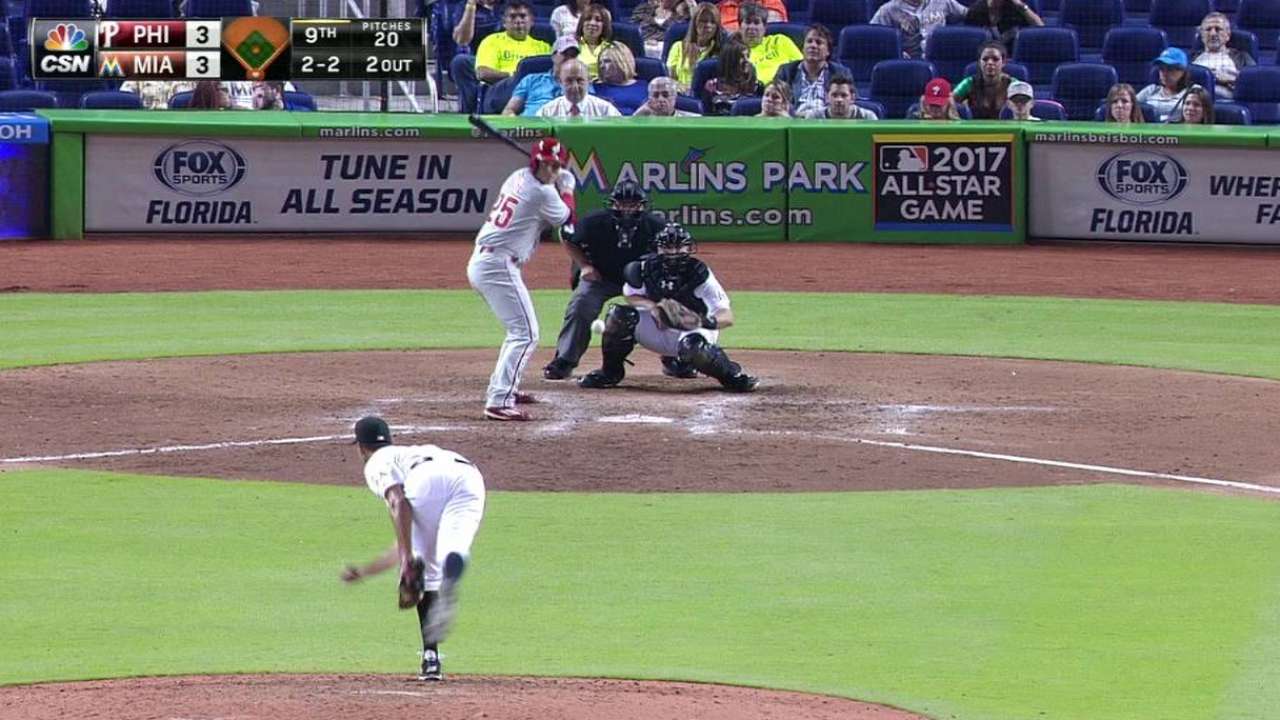 With the potential go-ahead runner on third, Cishek regrouped and got Carlos Ruiz to tap to second. Keeping the Phillies off the board meant closer Jonathan Papelbon didn't enter, and Miami was able to win, 4-3, on Marcell Ozuna's walk-off double.
For a brief moment, Cishek thought history was about to repeat itself. On Monday, in a 3-1 loss to the Mets, the 28-year-old surrendered a three-run homer in the ninth to Daniel Murphy.
Against Asche, Cishek was nearly victimized by a changeup that caught too much of the plate.
"I was mixing in some changeups, and I just left that one up in the zone," the closer said. "I threw a good one earlier to him, so I figured I'd throw one again. When he hit it, I didn't think he got it that good. When I looked up, I was like, 'Oh, shoot.' It hit the wall.
"I tried to will it back into the park, because I didn't want to go through that again."
Lefties have a .375 on-base percentage against Cishek, compared to .294 for right-handers.
The side-arm thrower is throwing his changeup more to lefties to keep them off his slider and fastball.
"Just to put it in the back of their mind, to let lefties know I have a third pitch," Cishek said. "Especially in the NL East, where we see these guys all the time. They know what I'm going to do. I'm going to stay down and away, and for the most part just sliders, sliders, sliders to lefties. Just to be able to have a third pitch in my back pocket to show them."
Against the right-handed-hitting Ruiz, Cishek used a fastball away to get a soft third out.
"I was just happy to see a righty," he said.
Joe Frisaro is a reporter for MLB.com. He writes a blog, called The Fish Pond. Follow him on Twitter @JoeFrisaro. This story was not subject to the approval of Major League Baseball or its clubs.