Tigers hitters still baffled against KC's Young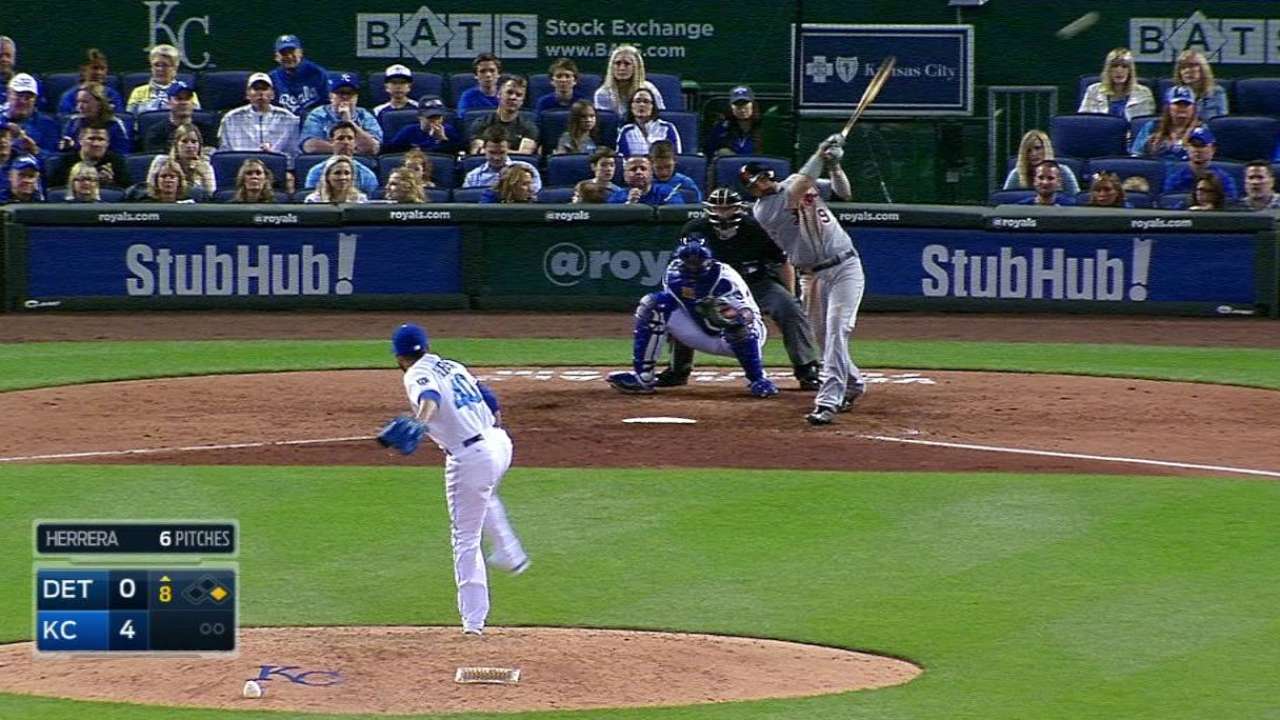 KANSAS CITY -- Chris Young stands 6-foot-10, tall enough that he was a center for Princeton University's basketball team years ago before making baseball his full-time career. He literally and figuratively towers over the Tigers.
Young won the American League Comeback Player of the Year Award last year with a 12-win season that included two victories against the Tigers, quieting the AL's most productive offense for 12 innings of two-run ball on seven hits with 10 strikeouts. As unusual as that seemed, his five hitless innings on Friday for the Royals in a 4-1 loss for the Tigers seemed baffling.
For Detroit, it was. Young racked up nine strikeouts in just 18 batters.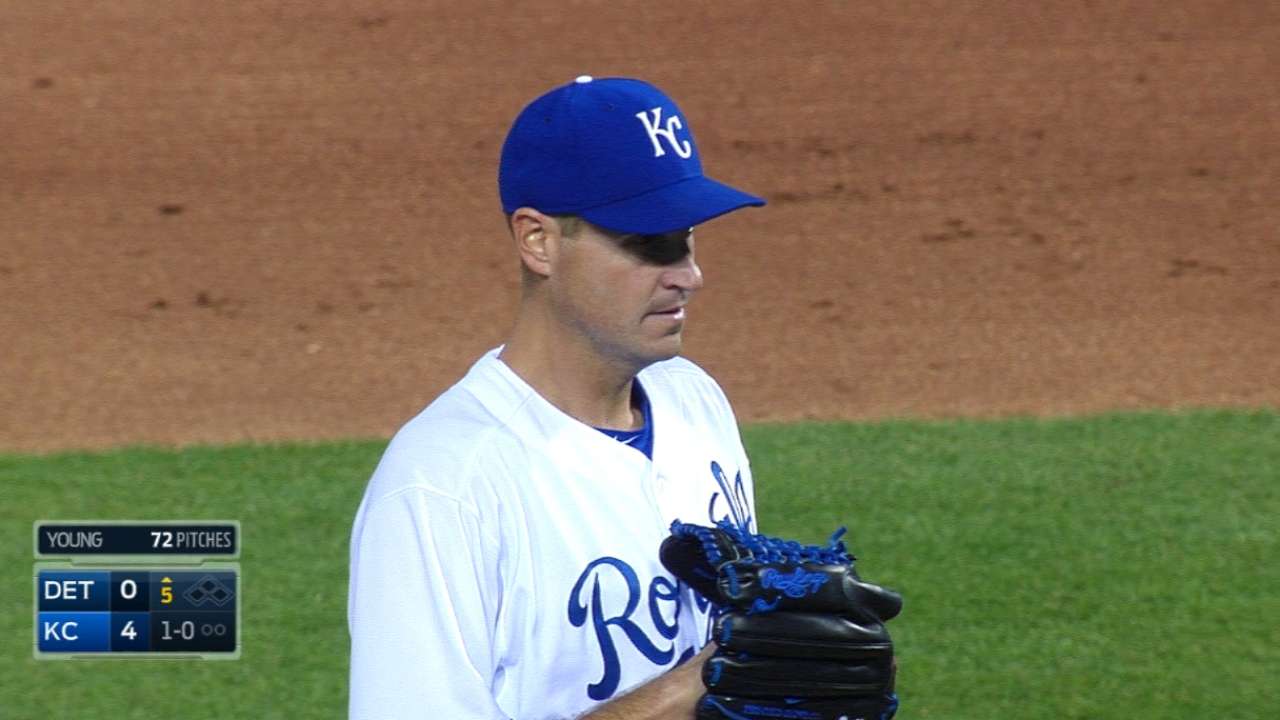 "He's big," catcher Alex Avila said. "He throws 88 miles an hour, but it looks like it's 90s. He's deceptive. He's tough to pick up. Some guys just have your number."
Young made a spot start because Edinson Volquez was finishing his suspension from last week's Royals-White Sox incident. In the end, the only opponent Young couldn't beat was his pitch count. The same Detroit lineup that had hard-throwing Kelvin Herrera on the ropes in the eighth inning, tracking his pitches, had just three walks against Young, whose slider kept right-handed hitters lunging all night.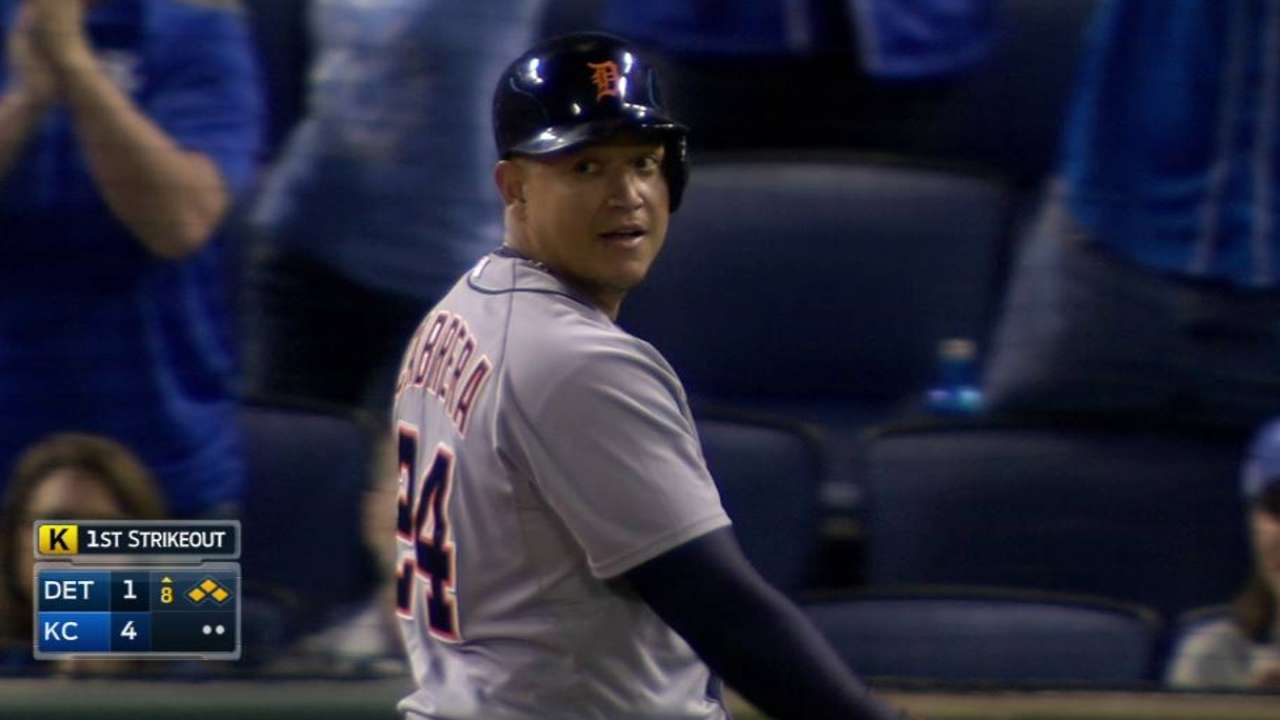 "I don't know if patience was the issue," Tigers manager Brad Ausmus said. "I think our hitters had trouble picking up his slider was the biggest thing, trouble picking up the rotation on the slider."
Part of what makes it such a difficult pitch for them, hitters said, was the angle. Where most pitchers with that frame generate power out of it, the 35-year-old Young is all about deception. His style is so unique that they have little reference.
"Sometimes when a pitcher throws slower, you expand the strike zone, just because there's a little bit less velocity and you think you can get to it," Nick Castellanos said. "But just because you think you can get to it doesn't mean you should get to it. He got me with a high fastball that I could get to, but what did I do? I popped it up. He's made a pretty good career off of doing that. He pitched pretty well today."
Moreover, Castellanos said, Young stuck to his game plan, only attacking the strike zone when he had to.
"It's a different angle," Ian Kinsler said. "But on top of that, we weren't disciplined tonight. That plays into the whole thing also."
Castellanos flied out to left field twice against Young before singling off Herrera. He was the only Tigers hitter who didn't strike out on Friday. The only other batter that Young didn't fan was Miguel Cabrera, who flied out and walked.
"Yeah, the angle," Cabrera said, agreeing with teammates. "He threw a lot of offspeed today. He did a very good job."
Jason Beck is a reporter for MLB.com. Read Beck's Blog and follow him on Twitter @beckjason. This story was not subject to the approval of Major League Baseball or its clubs.