Fan interference takes away potential Sox run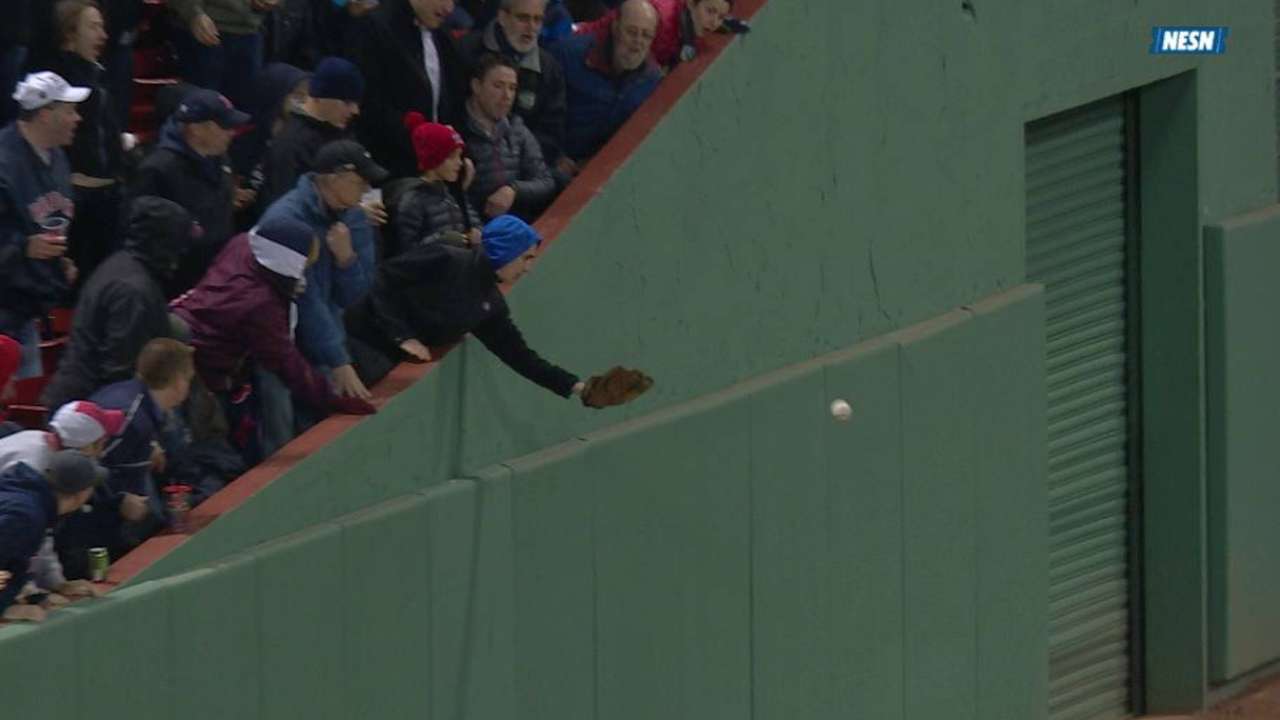 BOSTON -- For baseball fans, the setting at Fenway Park might have been perfect. For the Red Sox, however, one particularly enthusiastic patron might have spoiled their night.
On Friday, as Boston held a tenuous one-run lead over the rival Yankees in the fourth inning, catcher Ryan Hanigan belted a double down the left-field line that should have scored Xander Bogaerts and put the Red Sox up, 3-1. But as it bounced off the dirt and up toward the seats beneath the Green Monster, an overzealous fan reached out, glove extended, touching the live ball.
"I just saw somebody stick their hand out and hit the ball," said Mookie Betts, who was taking cuts in the on-deck circle.
The brief intervention proved enough for the umpires to rule fan interference, making Hanigan's hit a ground-rule double and effectively robbing the Red Sox of a run. Betts grounded out in the following at-bat, and the Yankees went on to win, 3-2, thanks to a pinch-hit home run by Alex Rodriguez in the eighth inning.
"He cost us a run I would say, because I think I had [home plate]," Bogaerts said, shrugging. "What to do?"
Perplexed by the call because of how close Bogaerts was to home plate, Red Sox manager John Farrell ventured onto the field to confer with the umpiring crew.
"Bogey's placement in the basepaths was beyond the 45-foot mark and had a full head of steam," Farrell said. "The explanation on the field is we can't guarantee that's going to be a safe call at home plate if the play were to continue. It's a judgment call of the home-plate umpire."
In a season notable for the Red Sox benefiting from a few fortunate bounces -- they have already scored 24 unearned runs in 23 games -- Friday's loss marked a strange stroke of bad luck.
"It's just an unfortunate situation," Betts said. "I think we've done a great job this season of handling those situations. Unfortunately, we came up a little short tonight."
Alec Shirkey is an associate reporter for MLB.com. This story was not subject to the approval of Major League Baseball or its clubs.