Carrasco settles down after early struggles
Right-hander fans six over six innings, shows no ill effects fielding comebacker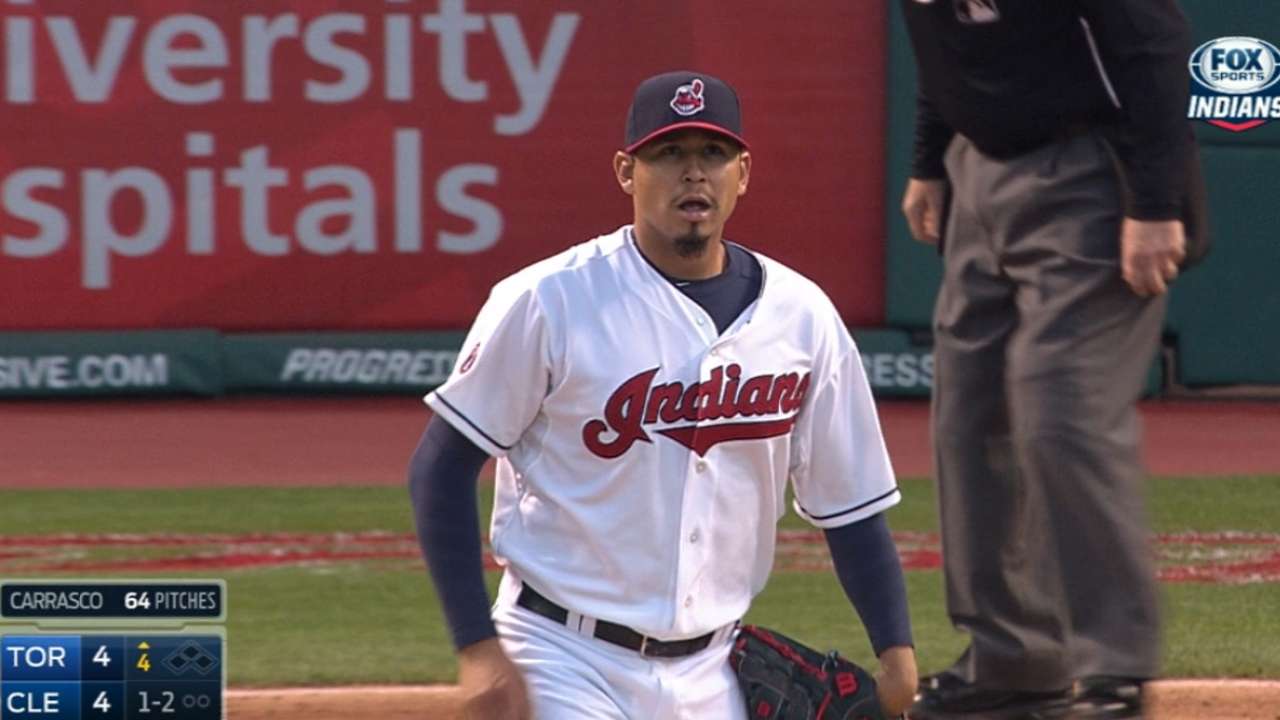 CLEVELAND -- Carlos Carrasco watched from the mound as Blue Jays outfielder Dalton Pompey made hard contact with a fastball and sent it sharply up the middle. The pitcher quickly moved to his left, stabbed at the ball and gloved it cleanly.
Carrasco gathered himself, threw to first base for an out and put the final touch on a solid six-inning effort.
"That felt good," Carrasco said after the Indians' 9-4 win on Friday.
The chopper was more significant than a routine ground ball. It marked the first comebacker that Carrasco fielded since taking a line drive off his face in an April 14 start against the White Sox. In the aftermath of that incident, which only resulted in an extra handful days of rest and a swollen jaw, it was easy to wonder if there would be any lingering issues for the pitcher.
Friday's play showed that Carrasco has no hesitation.
Indians manager Terry Francona did not expect Carrasco to have any mental hurdles to overcome after the scary moment two-plus weeks ago. When Pompey hit the ball back to Carrasco in the sixth, the manager said the previous incident did not even cross his mind.
"I guess what's good is I didn't even think about it," Francona said. "I don't think Carlos is thinking about that."
In his six innings, Carrasco allowed four runs on six hits, ending with six strikeouts and three walks en route to his third win of the season. The big right-hander allowed four runs in the first three innings, but allowed just one hit to the final 11 batters he faced following a two-run triple by Toronto's Kevin Pillar in the third inning.
That impressive run came after a visit by pitching coach Mickey Callaway, who was emphatic in his instructions on the mound.
"He never talked to me like that," Carrasco said. "He came to me and talked to me, I don't want to say he was mad, but it was something like that. So, I felt something special. He was trying to help me, and that's what I did. I remembered everything I did last year and I came back."
Jordan Bastian is a reporter for MLB.com. Read his blog, Major League Bastian, and follow him on Twitter @MLBastian. This story was not subject to the approval of Major League Baseball or its clubs.