Altuve's 9th straight multi-hit game ties record
Second baseman joins Astros Hatcher, Alou in impressive feat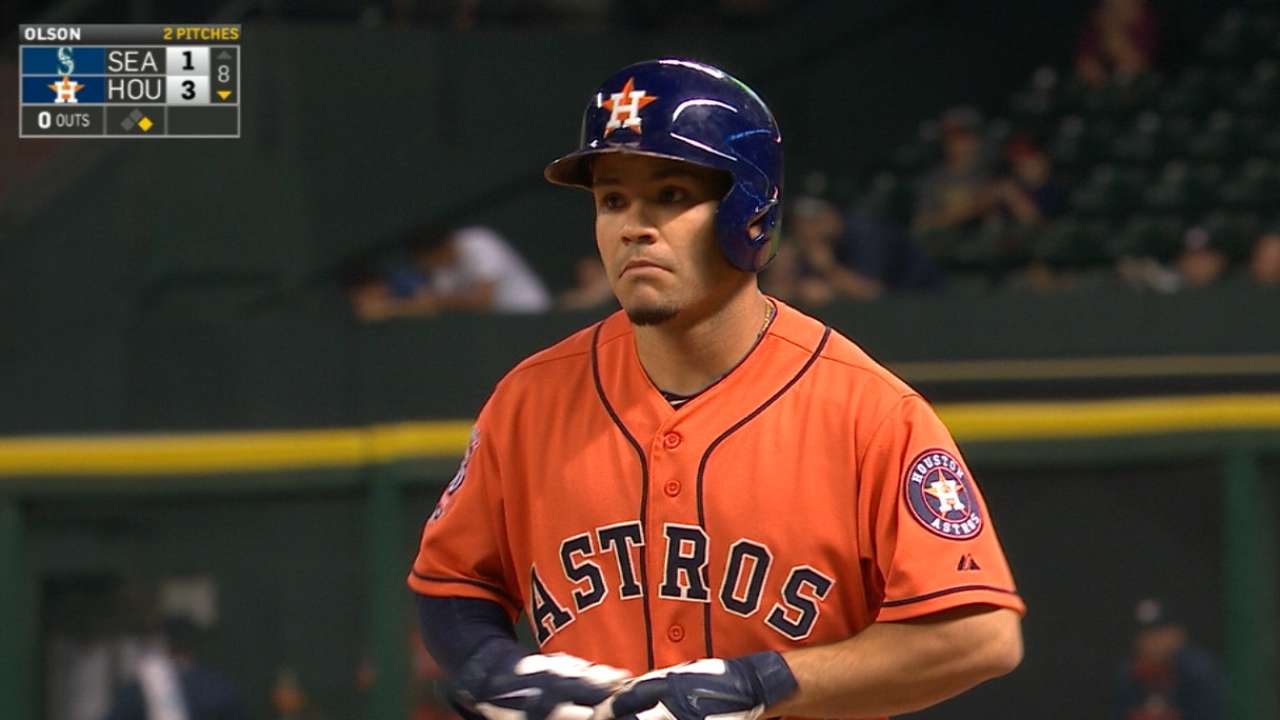 HOUSTON -- Jose Altuve keeps finding his way into the Astros' record books.
The second baseman recorded two more hits in Friday night's 4-3 win against Seattle, giving him nine consecutive multi-hit games, tying the franchise record.
Altuve matched the feats of former Astros Billy Hatcher in 1987 and Jesus Alou in 1969. Neither reached the double-digit mark, but Altuve seems unstoppable right now. The streak is just the latest sign Altuve isn't slowing down after a breakout 2014, when he won the AL batting title and made his second All-Star team.
He's already off to a hot start this spring, something he couldn't say in recent years. His average is a healthy .376, a far cry from his .269 mark through 23 games last year. Even accounting for a dozen or so days off during the season, his 38 hits leave him easily on pace to break his own newly-minted club record for hits (225 in 2014) in a season.
The Mariners, who have bore the brunt of Altuve's hit parade so far, even tried a shift in his final at-bat by moving Robinson Cano to the left side of the infield. It proved futile, as Altuve redirected a single right to the second-base hole for his second hit on Friday night. Altuve said that was the first major shift he could remember a team implementing in one of his at-bats.
"That's just a case of him being amazing," said manager A.J. Hinch. "One of the easiest parts of my job is to watch his at-bats and see what else he can do, just like a fan."
Beyond this streak alone, Altuve has recorded 13 total multi-hit games in 23 chances, tops in the Major Leagues in 2015. The Astros have an 8-1 record during his impressive streak and remain baseball's surprise team through four weeks, sitting atop the division with a 16-7 record.
"[This accomplishment] feels really, really good, and that's mostly because I feel like that's how I'm helping this team play like this, win a lot of games," Altuve said.
Chris Abshire is a contributor to MLB.com. This story was not subject to the approval of Major League Baseball or its clubs.