Month of May welcome sign for Indians' lineup
Team breaks out with three home runs in Friday's win over Blue Jays
CLEVELAND -- The Indians had been waiting for this day. As the offense continued to drag deeper into April, Cleveland's players were looking forward to a symbolic clean slate. The players were ready for the first month of the season to officially shift to the rear-view mirror.
"I can't tell you how much a different calendar month does for a baseball player's psyche," Indians second baseman Jason Kipnis said. "When you say it turns a page, it really does."
It has only been one day, and eight offensive innings, but Cleveland welcomed May with open arms on Friday night. The lineup issues of the past four weeks were pushed to the side, as were the team's persistent problems against left-handed pitching, and the result was a much-needed 9-4 victory over the Blue Jays at Progressive Field.
The Indians are not going to pretend that this one game has cured all that ailed them in April, but the team definitely enjoyed what took place.
"We've put up good at-bats. We've hit the ball hard. Stuff just hasn't been falling," Indians third baseman Lonnie Chisenhall said. "It was certainly a fun night all-around. It's May now. April is over."
Facing veteran lefty Mark Buehrle, the Indians faced a 1-0 deficit in the first inning and a 4-1 deficit in the third. At both turns, the offense answered Toronto's outbursts. Josh Donaldson hit a leadoff homer in the first inning, and then Kipnis did the same for the Tribe. The Blue Jays struck for three runs in the third, and then Cleveland did the same in the bottom of the frame.
The Indians had nine runs on 13 hits, including a trio of home runs (Kipnis, Michael Brantley and Brett Hayes). Cleveland headed ito the evening with a .226 average and .330 slugging percentage on the season against left-handed pitchers (to go along with a 1-8 record versus lefty starters). On Friday, the Indians hit .387 (12-for-31) with a .742 SLG against lefties Buehrle and Andrew Albers.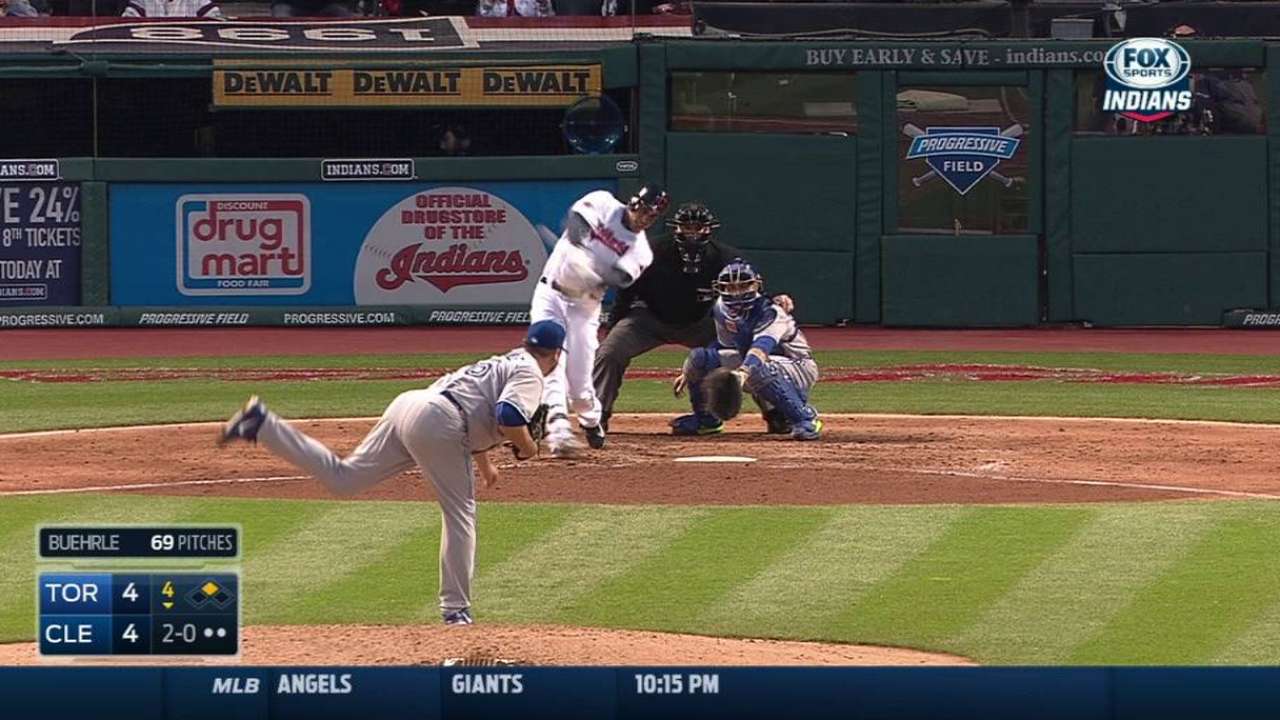 "I thought we did a good job of sustaining our offensive attack," Indians manager Terry Francona said. "The way [Buehrle] pitches, you're always one pitch from rolling over into a double play, because he adds and subtracts so well. We really stayed after him really good."
Each member of Cleveland's starting lineup collected at least one hit in the win. Four players (Kipnis, Brantley, Mike Aviles and Ryan Raburn) had two hits apiece. The Tribe finished 4-for-13 (.308) with runners in scoring position.
This showing came after the Indians (8-14) scored only 79 runs (3.8 runs per game) in April.
"We can beat a lefty. It has been done before. It will be done again," Kipnis said with a smirk. "Guys have been taking good swings and having good at-bats. We even out-hit them in the first game [Thursday]. We just couldn't come up with the big hit with runners in scoring position.
"Today it was contagious and guys were feeling good and there was a loose environment in the dugout."
Jordan Bastian is a reporter for MLB.com. Read his blog, Major League Bastian, and follow him on Twitter @MLBastian. This story was not subject to the approval of Major League Baseball or its clubs.