Miggy loses fierce battle with Royals' Herrera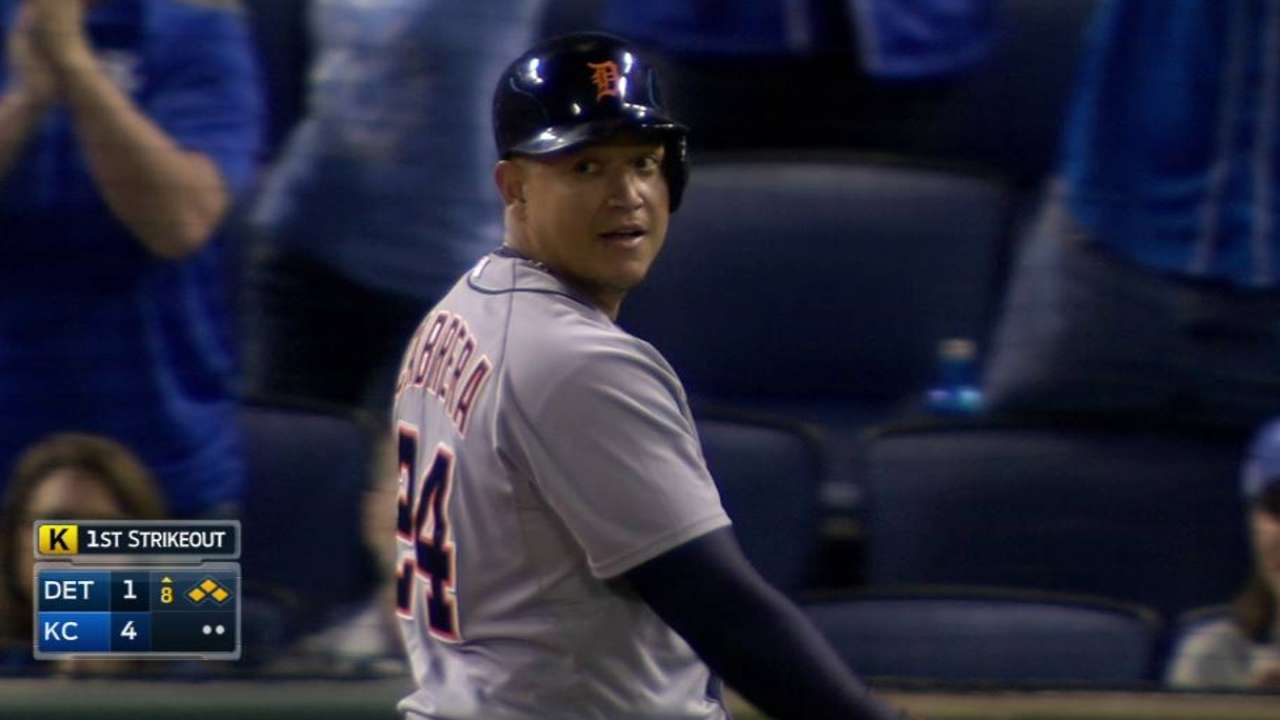 KANSAS CITY -- The long-anticipated championship boxing match isn't until Saturday night in Las Vegas. The heavyweight battle came together in the Tigers' 4-1 loss on Friday night at Kauffman Stadium.
Miguel Cabrera-Kelvin Herrera won't show up on the undercard for Floyd Mayweather-Manny Pacquiao. Yet on a night when Chris Young and Ryan Madson no-hit the Tigers for seven innings, it set up as the main event.
"You've got a guy throwing 100 mph, and you've got the best hitter in the game," Tigers manager Brad Ausmus said, "so it was a good at-bat."
For 10 pitches in the eighth inning, Herrera and Cabrera traded their best shots -- Herrera's overpowering fastball against Cabrera's explosive swing, seemingly destined for a knockout. Either Herrera would get a pitch past him for a strikeout, or Cabrera would send a pitch towards the outfield waterfalls for a go-ahead grand slam.
Nine pitches registered at 97 mph or above. Cabrera fouled off six, each seemingly giving him better timing on the next.
"As a fan, I mean, that's ideal right there -- bases loaded, power vs. power," Tigers catcher Alex Avila said. "It was fun to watch."
The one pitch Cabrera completely missed was the last. Effectively, it was the at-bat that gave Kansas City back-to-back victories in the four-game set between American League Central rivals.
"He won the battle," Cabrera said afterward.
It was a battle that Herrera entered teetering. Where Young and Madson took advantage of aggressiveness, Herrera struggled to find the strike zone. He followed up a leadoff walk to Avila with a first-pitch fastball that Nick Castellanos lined into left field for Detroit's first hit, then an infield single for Jose Iglesias.
With Ian Kinsler up, a run in, first base open and one out, Herrera threw four fastballs in nearly the same location, up and in, setting up Cabrera.
Cabrera was 2-for-10 with a walk for his career vs. Herrera, but he had never struck out. Eight meetings ended on the first or second pitch. Their previous clash here last Sept. 21, lasted eight pitches, Cabrera as the potential tying run in the eighth inning of a 4-2 game, swinging and missing twice, working the count full and eventually grounding out to short.
Cabrera wasn't thinking about that at-bat as he stepped to the plate on Friday. He was thinking of Kinsler's four-pitch walk.
"The weirdest thing is that the at-bat before, he threw four balls," Cabrera said. "At that time, I was like, 'I'm going to make this guy throw strikes.' And he did."
Cabrera fouled off both of them, putting him in an 0-2 hole. From there, he had to avoid chasing while fouling off anything close. He took a 100-mph fastball just off the corner, close enough to get a reaction from the crowd of 38,186.
"It looked like a strike," Herrera said. "But the umpire gave me opportunities, too."
Cabrera shrugged off a rising fastball, then just missed another over the middle of the plate.
After a changeup in the dirt ran the count full, Cabrera fouled off three straight fastballs at 100, 97 and 98 mph. One hit the wire behind home plate hard enough to land midway up the first-base box seats.
"He is such a good hitter," Herrera said. "I threw a couple of sinkers, middle and middle in, he just fouled them off. Other hitters, you might get them there."
Asked if there was any pitch he just missed, Cabrera said, "Yeah, I missed like three or four pitches. That's the way it is in the big leagues. You can't miss your pitch. You have to hit it."
Just when Cabrera felt like he had the fastball timed, the 10th pitch wasn't his pitch.
"I was feeling good, trying to hit my pitch and trying to swing at strikes, trying to make something happen," Cabrera said. "Finally, he threw me a fastball away, like a cut fastball. Finally, he got me."
Jason Beck is a reporter for MLB.com. Read Beck's Blog and follow him on Twitter @beckjason. This story was not subject to the approval of Major League Baseball or its clubs.