Hanigan breaks right hand; Swihart called up
With starter out several weeks, MLB's top catching prospect to share duties with Leon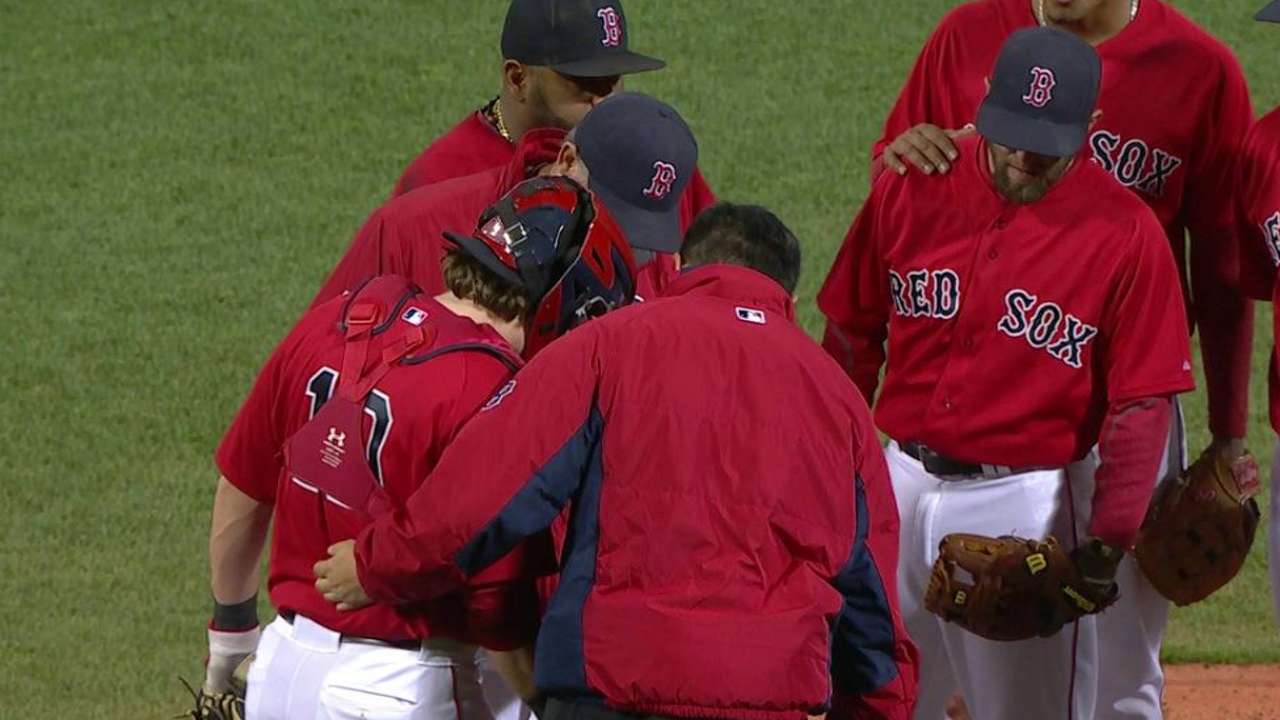 BOSTON -- Already without Christian Vazquez for the season, the Red Sox suffered another substantial blow to their catching depth on Friday night when Ryan Hanigan suffered a fracture to the fifth metacarpal in his right hand.
Blake Swihart, ranked as baseball's No. 1 catching prospect and the Red Sox's No. 2 prospect by MLB.com, was recalled from Triple-A Pawtucket and is in the starting lineup at backstop Saturday, batting ninth vs. the Yankees. Hanigan was placed on the DL to make room for Swihart on the roster.
The Red Sox haven't decided yet if Swihart will be up for the short term or the long term, as the club will exhaust all available avenues to replace the void left by Hanigan.
The injury -- which occurred in the seventh inning of a 3-2 loss to the Yankees -- will sideline Hanigan for at least several weeks, as surgery is expected.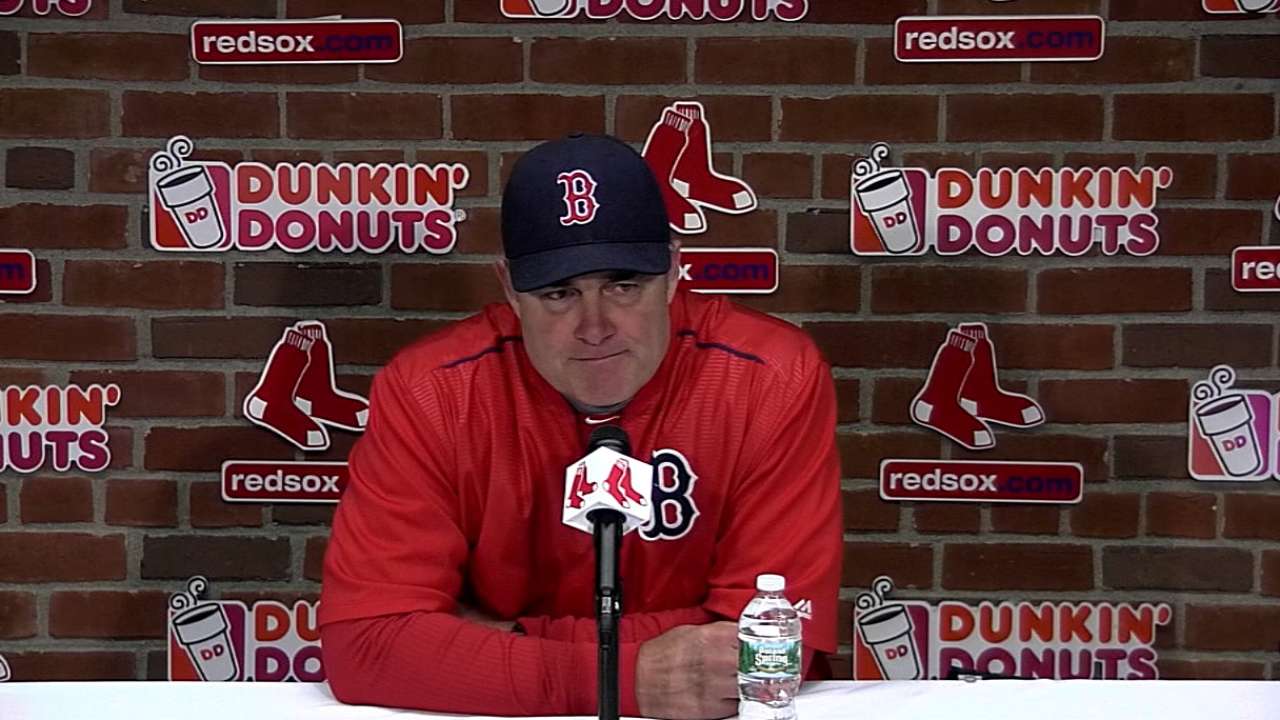 It happened when Red Sox lefty Tommy Layne hit Mark Teixeira on an inside fastball that ricocheted off the first baseman's right hand and torso and struck Hanigan's right hand. After briefly conferring with teammates and manager John Farrell on the mound, Hanigan was replaced by backup Sandy Leon behind the plate.
Hanigan, the pride of Andover, Mass., is in his first season with the Red Sox and had done a nice job taking over the starting catching duties after Vazquez had to undergo Tommy John surgery late in Spring Training.
"Don't know yet," Farrell said when asked how long Hanigan will be out. "Substantial amount of time, though, with a fracture, and likely surgery. I don't know the exact length of time, but it's going to be lengthy."
Swihart led Pawtucket with a .338 average in April. This will be his first stint in the Major Leagues.
Leon, who was acquired during the last week of Spring Training following the injury to Vazquez, will share catching duties with Swihart for the time being. It remains to be seen how Farrell will divvy up the playing time.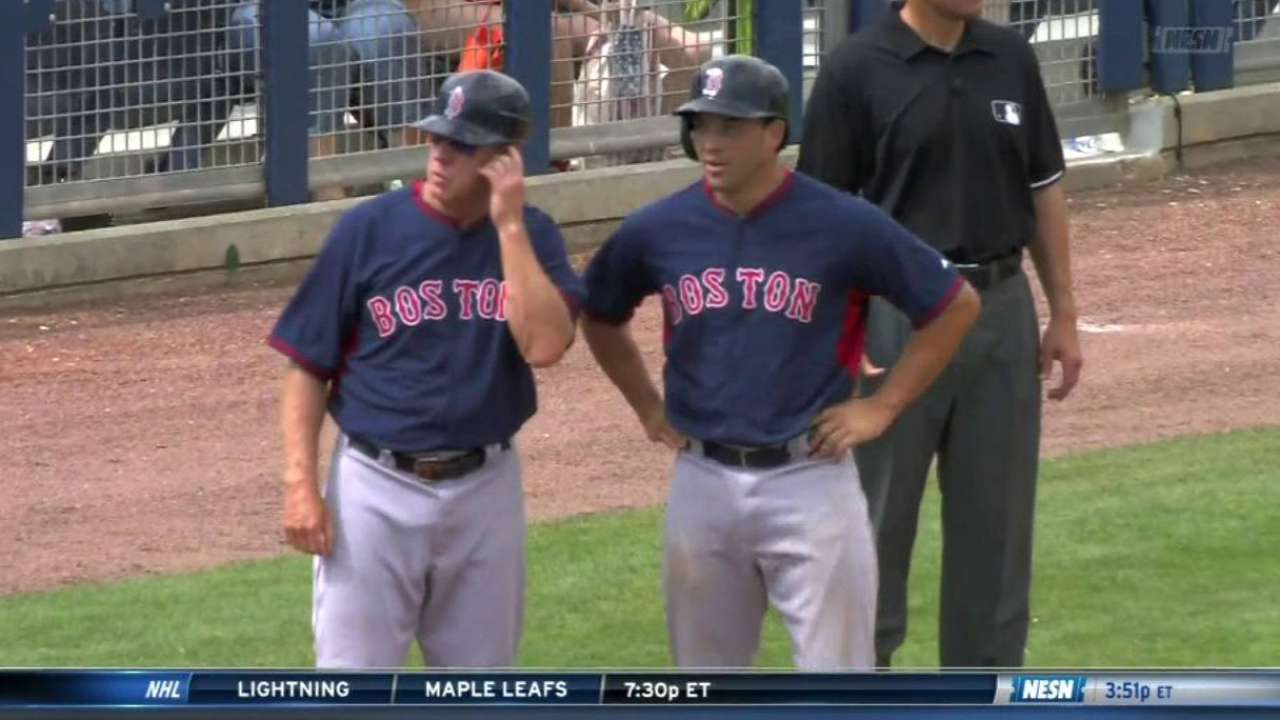 "I wasn't expecting it," Leon said of the injury to Hanigan. "I don't know anything about it right now. I just feel pretty bad. I didn't see it. I was in the 'pen. [Reliever Edward] Mujica just told me to get ready and start stretching. I didn't see it."
Former Red Sox catcher Jarrod Saltalamacchia was designated for assignment by the Marlins earlier this week and could be acquired in a trade. But a source told MLB.com that a reunion between the Red Sox and Saltalamacchia is unlikely.
"We've got to kind of get together and talk through the options that might be available, internal, external, and any available option that's there for us," said Farrell. "With Ryan leading the pitching staff, things were starting to gain some traction. He's put up a lot of competitive at-bats, including a couple here tonight. We'll miss his presence behind the plate, but we as a group have to be resilient in times like this and look to fortify the position."
The pitchers will face the biggest adjustment.
"It's a couple of tough blows, but on the bright side of it, Sandy's good back there, too, and he'll hold it down for however long he's got to hold it down," said right-hander Clay Buchholz. "I've thrown to him a couple of times. Ryan worked his butt off to get to know the guys, the staff and know what they do and how they do it. To see that go down the drain for a little bit, yeah, it's not good. That's baseball. We have to find a way to deal with it and get through it."
The Red Sox had looked forward to a Vazquez/Hanigan duo this season, and now they must go back to the drawing board.
"It's bad, but it's part of the game," said Vazquez. "That happens, injuries. The staff here, they're going to be on the same page. No worries. Injuries are tough, but you have to deal with them."
Ian Browne is a reporter for MLB.com. Read his blog, Brownie Points, and follow him on Twitter @IanMBrowne. This story was not subject to the approval of Major League Baseball or its clubs.