Ozuna's walk-off sends Marlins over Phillies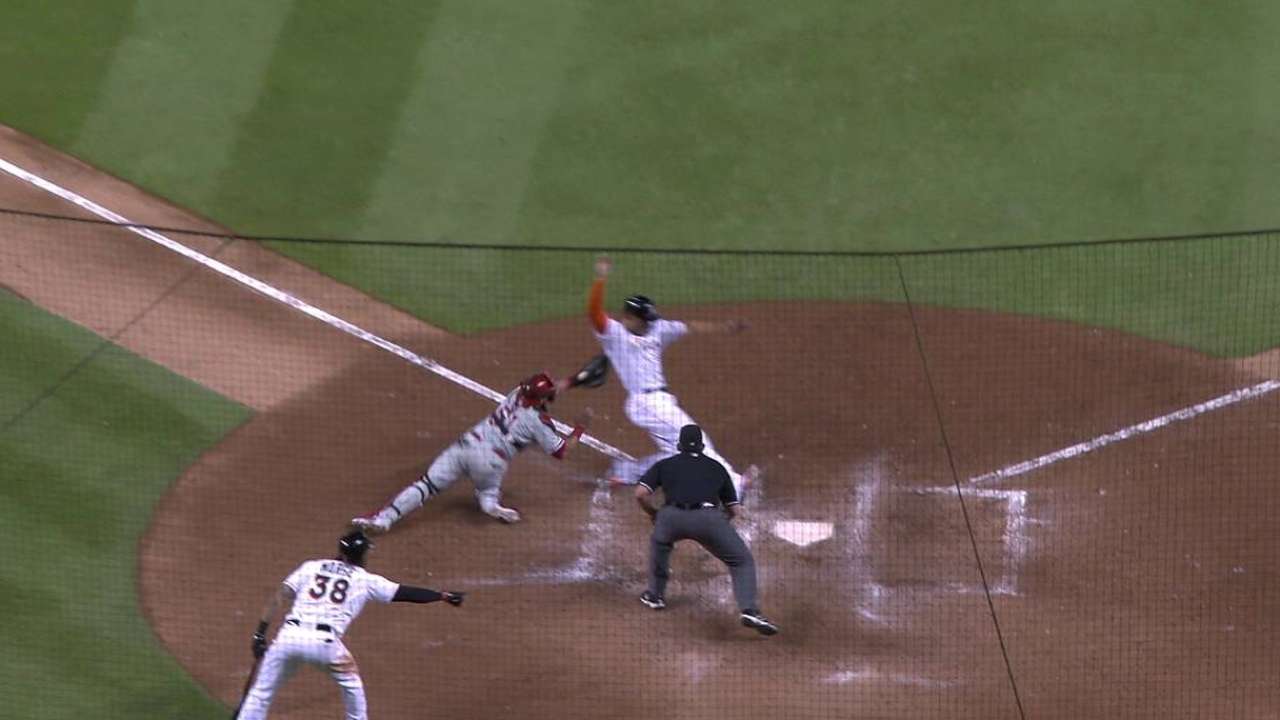 MIAMI -- The Marlins squandered chances all night, leaving 11 on base heading into the ninth inning. But they were finally able to break through and edge the Phillies, 4-3, in walk-off fashion on Marcell Ozuna's RBI double off Ken Giles.
Ozuna's third double of the night scored Giancarlo Stanton, who had walked, from first base. The decisive run didn't come without drama. The crew chief reviewed the play to see if catcher Carlos Ruiz tagged Stanton before he touched home.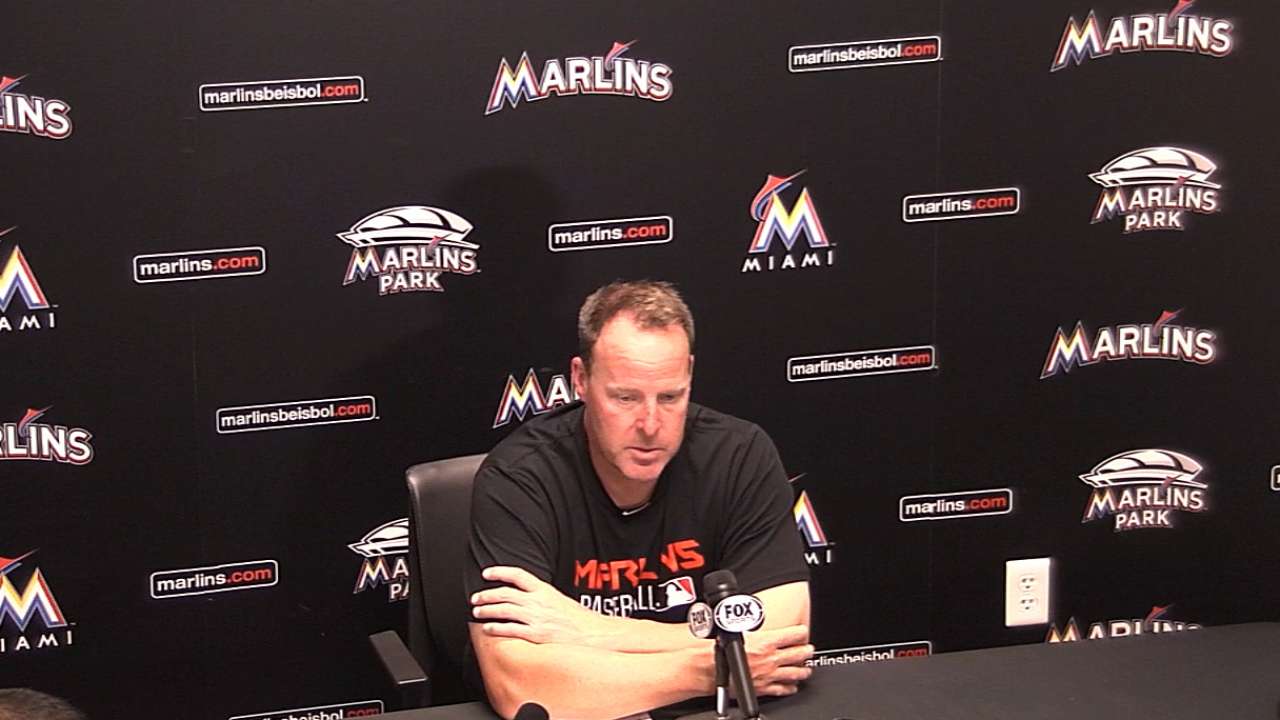 The review lasted one minute, 39 seconds before Stanton was called safe, giving Miami its second walk-off of the season. The Marlins have won eight of nine, and six of seven on the homestand.
"They were out of challenges so I didn't think they would review it," Miami manager Mike Redmond said. "I thought it was over."
Marlins right-hander Tom Koehler was perfect through three innings, but in the fourth the Phillies broke through. Ben Revere singled to center and moved to third on Odubel Herrera's hit-and-run single to right. Chase Utley then belted a three-run homer to right, making it 3-1. Utley's shot traveled 364 feet, as tracked by Statcast, and the drive's exit velocity was 97 mph.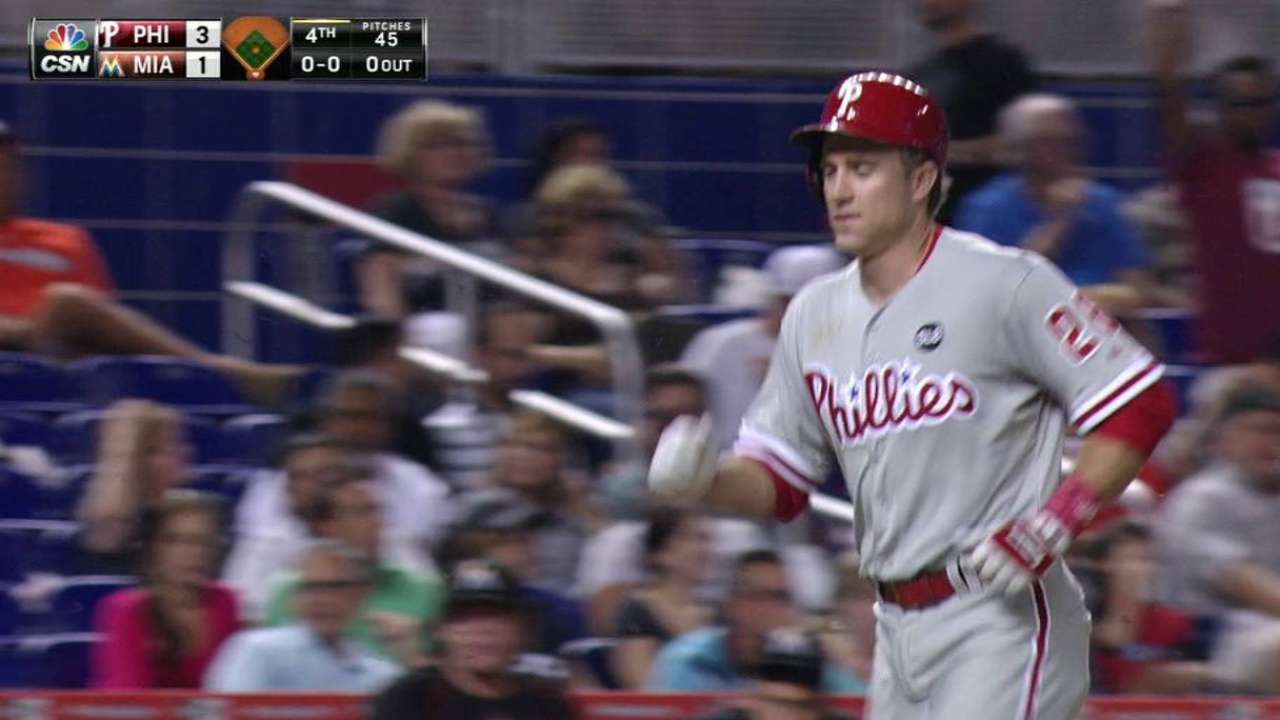 Miami pulled even at 3 in the fifth inning, cashing in on Martin Prado's RBI single and Stanton's run-scoring double off Phillies starter Jerome Williams. According to Statcast tracking, Stanton's double was clocked at 120 mph, the highest exit velocity recorded this season. The Marlins initially led by a run in the second inning on Ozuna's double and J.T. Realmuto's sacrifice fly to right.
MOMENTS THAT MATTERED
Utley ends drought: Utley, who finished April with a .114 average for the lowest mark of his 13-year career, turned on Koehler's first-pitch fastball for the go-ahead, three-run homer to right in the fourth. Prior to that at-bat, Utley had gone 3-for-46 (.065) with just four RBIs since April 15. He also hadn't hit a home run in 14 games. More >
Brignac starts comeback: Down two runs in the fifth inning, the Marlins pinch-hit Reid Brignac for Koehler. Brignac walked and it started Miami's two-run rally. Dee Gordon reached on an infield single, and Prado slapped an RBI single to center. Stanton's double to left evened things at 3.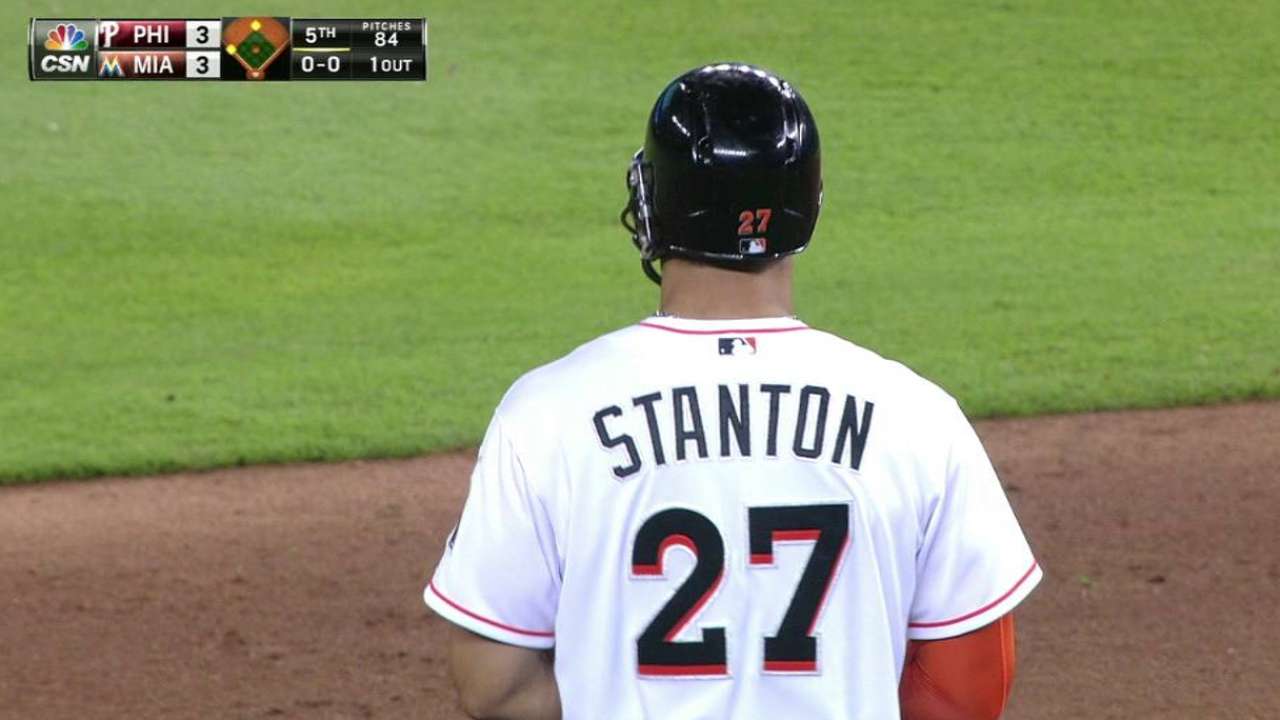 Walk pays off: With a pair of runners in scoring position and one out in a 3-3 ballgame in the sixth inning, the Phillies elected to intentionally walk Gordon to load the bases. Jeanmar Gomez induced a 5-4-3 groundout by Prado to escape any damage. It marked the second double play turned by the Phillies on the night.
Cishek's escape: After two quick outs to start the ninth, Steve Cishek surrendered a triple to Cody Asche off the right-center-field wall. With the go-ahead run 90 feet away, Ruiz grounded out to second to end the threat. More >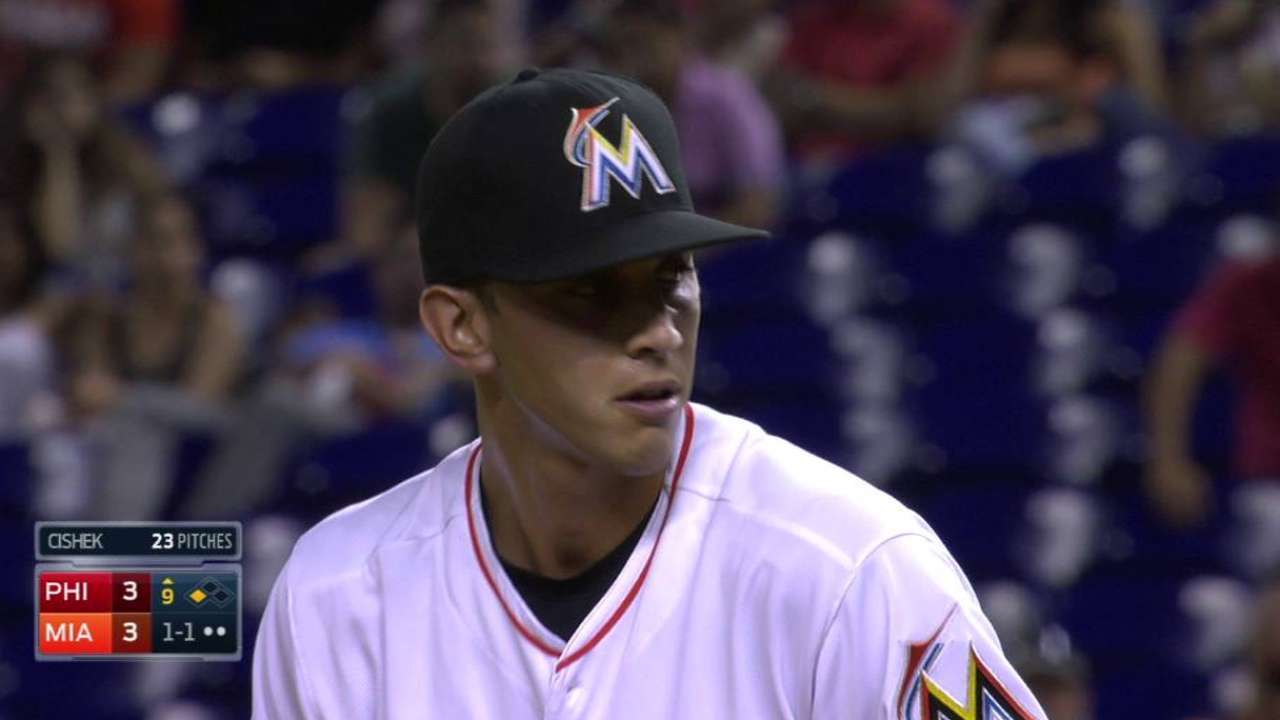 QUOTABLE
"We didn't panic. We kept fighting. Things weren't going in our favor, and we're playing better. We're pitching better. Our bullpen is better. We're getting big hits, and when you do that, the collective energy comes out, and it's no doubt when you win ballgames, win close ballgames, you have an extra bounce in your step." -- Redmond, on the team's four-game winning streak
"Ozuna's a fastball hitter. He's on the fastball typically. That pitch just happened to be the one that he could elevate, but Ozuna's a fastball type of a hitter. Anything down a little bit would've been preferable. That's the strategy with him." -- Phillies manager Ryne Sandberg, on the game-winner
SOUND SMART WITH YOUR FRIENDS
Gordon, playing his 352nd game, was intentionally walked for just the third time in his career. Gordon entered the game having drawn a traditional walk three times this season. The Marlins and Cardinals issued the other two intentional walks when he was with the Dodgers.
Ryan Howard moved into sole possession of first place for most games at first base in Phillies franchise history (1,299). Howard surpassed Fred Luderus, who spent 11 seasons with the organization from 1910-20.
INSTANT REPLAY
Call at plate stands: The Phillies had a big fourth inning, scoring three runs. They nearly had a fourth. But with Howard on third, Koehler threw a pitch to Williams that went to the backstop. Howard raced for home, as Realmuto retrieved the ball and flipped to Koehler covering the plate. Howard slid head-first, and home plate umpire Brian O'Nora ruled him out. The Phillies challenged to see if Koehler was in violation of the home plate collision rule. After a review of two minutes, 14 seconds, the call stood.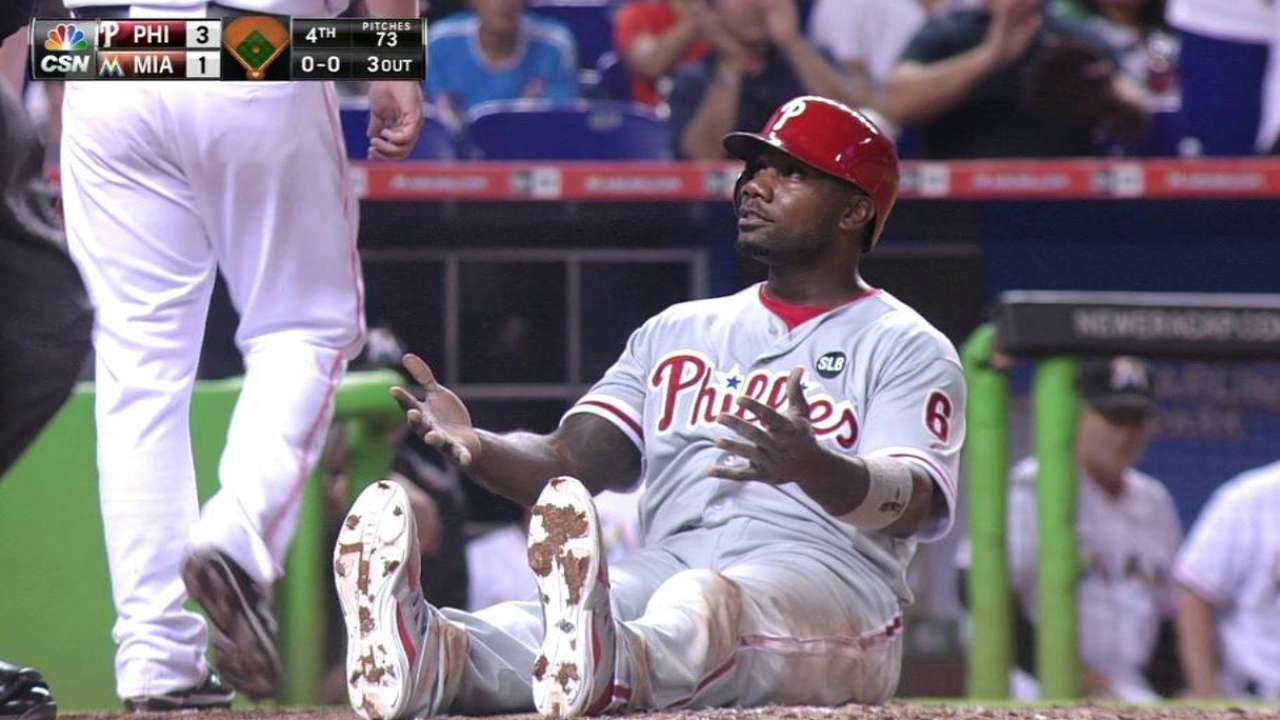 "I pulled my hand back and he just went straight down," Howard said. "That's why I was kind of giving a look of surprise. If I would've felt it I would've said, 'Hey, I'm out. Ryne, don't even waste your time.' I don't know. That's a tough one."
"I know I tagged him, but I wasn't exactly sure where,'' Koehler said. "I mean, I knew I got one hand. I don't know where the other one was. It looked like one of those plays that was tough to overturn. Either way they called it was tough."
Call on game-winning run stands: In the ninth inning, Ozuna drove in the game-winning run with an RBI double into the left-center gap. As Herrera tracked down the ball, Stanton raced home from first and was ruled safe on the play. His feet-first slide beat Ruiz's tag on a relay throw from Freddy Galvis.
"[Herrera] got it in there quick," Sandberg said. "Throw on line and he's out from Freddy. He got in there quick and gave us a shot. It was close at home."
WHAT'S NEXT
Phillies: Cole Hamels picked up his first win of the season in his last start, allowing one run on four hits with season highs in strikeouts (nine) and walks (four) over seven innings against the Cardinals. The southpaw received a no-decision on April 22 in Philadelphia against the Marlins, despite giving up just an unearned run over six innings.He will try to make it two straight wins Saturday against the Marlins at 4:10 p.m. ET.
Marlins: Dan Haren comes off his shortest outing of the year, throwing five innings against the Nationals. The right-hander also did enough to collect a win, giving up two runs. Haren's lone loss was to the Phillies, at Citizens Bank Park on April 21, when he gave up four runs in six innings.
Watch every out-of-market regular season game live on MLB.TV.
Joe Frisaro is a reporter for MLB.com. He writes a blog, called The Fish Pond. Follow him on Twitter @JoeFrisaro. Christina De Nicola is a contributor to MLB.com. This story was not subject to the approval of Major League Baseball or its clubs.