First Majors homer shows Russell he belongs
Cubs No. 2 prospect provides only offense in victory over Brewers
CHICAGO -- Cubs manager Joe Maddon gave Addison Russell Wednesday off so the 21-year-old infielder could catch his breath, sit back and watch the game. The message Maddon was trying to convey was that Russell belongs here. On Friday, Russell proved it.
Russell hit his first Major League home run, connecting in his eighth game, to help the Cubs beat the Brewers, 1-0. The blast, which came off a 3-2 pitch from Wily Peralta leading off the third, landed in the left-field bleachers, still under construction, and was retrieved by a construction worker.
"It feels good, and it was even more special because I'm here at Wrigley," said Russell, whose fiancee and sister were at the game. "The fans jumping up and down, just hearing the crowd roar like that, it's an awesome feeling."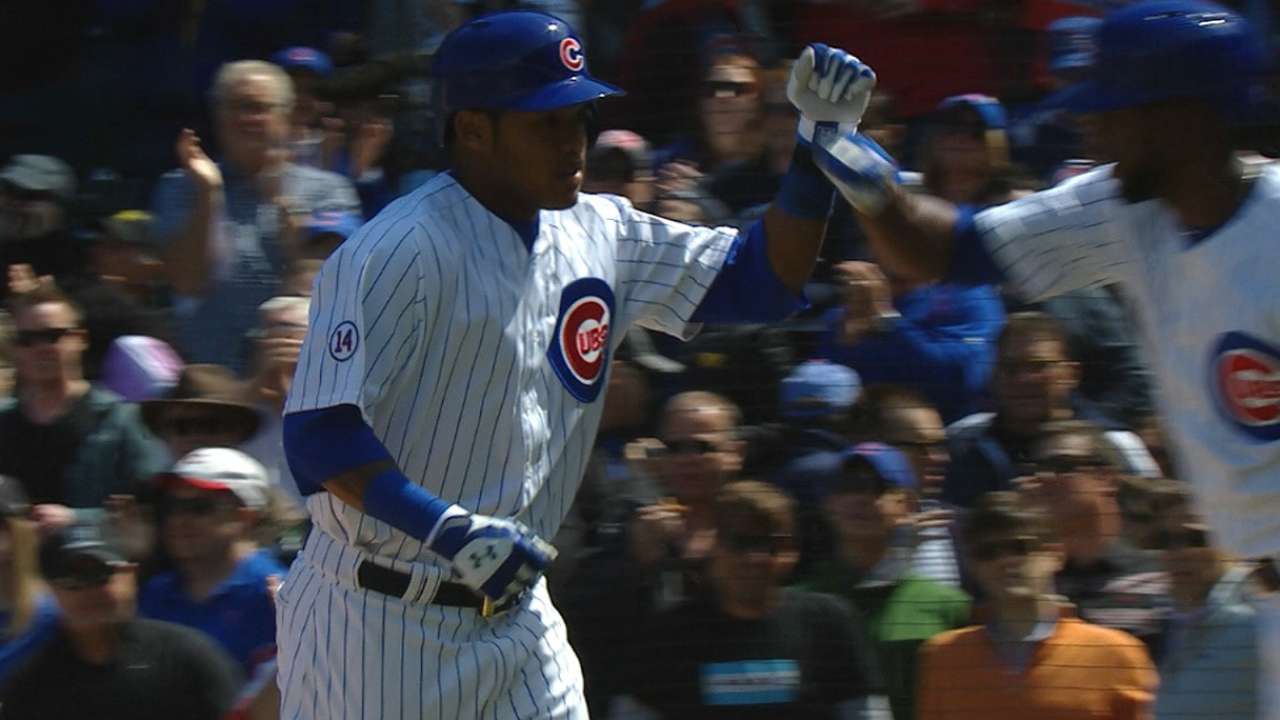 Most Cubs fans expected Kris Bryant to homer before Russell -- but Bryant has yet to do so in his 13 big league games.
"Who's going to hit it first, him or Bryant?" Maddon said. "When [Russell] hit it, you knew it was gone. I expected them to give him the silent treatment, being as Addison likes the silent treatment."
Russell is quiet, but Maddon saw a difference on Friday before the game.
"He was much more at ease during batting practice," Maddon said. "We were talking about where we had dinner last night, a more normal conversation, which I prefer over, 'Let's talk baseball.' I thought his approach to the day was outstanding."
It also was historic. The last Cubs player whose first career home run was the only run of the game was Phil Cavarretta, who connected in a 1-0 win over the Reds at Wrigley Field on Sept. 25, 1934. The last Major Leaguer to do so was Caleb Gindl of the Brewers on July 21, 2013, at Miller Park.
Russell isn't the youngest to homer for the Cubs. Starlin Castro was 20 when he homered in his first big league at-bat on May 7, 2010. The youngest Cub ever was Danny Murphy, who was 18 on Sept. 13, 1960, when he hit his first home run.
Was Russell trying to outdo Bryant, the Cubs' No. 1 prospect?
"It's just what happened," Russell said. "I'm just happy I got that good pitch to hit, and I didn't try to do too much and it went out."
The youngest active player in the National League, Russell did take advantage of Wednesday's day off.
"[Maddon] wanted me to watch the game and see how much I belonged here," Russell said. "I kind of took that, and watched the game, and how it goes about it's business, and I think I deserve to be here."
Carrie Muskat is a reporter for MLB.com. She writes a blog, Muskat Ramblings, and you can follow her on Twitter @CarrieMuskat This story was not subject to the approval of Major League Baseball or its clubs.