Nesbitt may get bigger role in Tigers' bullpen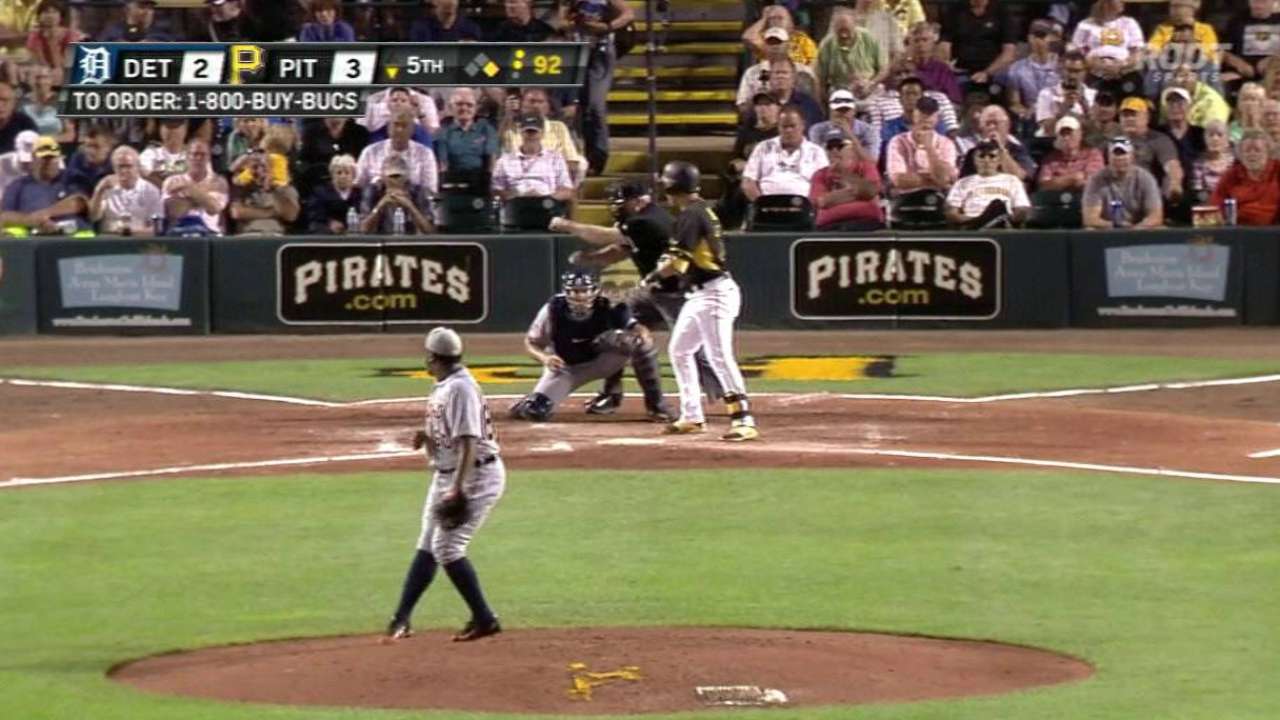 KANSAS CITY -- The radar gun at Kauffman Stadium registered Angel Nesbitt's fastball at 96 mph. The late swing from Royals hitter Lorenzo Cain suggested the same.
It was the second out of the eighth inning on Thursday night. Four pitches and two swings-and-misses later from Eric Hosmer, Nesbitt had retired the side in order, one of just three innings from the Royals without a baserunner. It meant little in an 8-1 Detroit loss. It could foretell something more important down the road.
Though only one of Nesbitt's eight Major League appearances have come in games that were closer than four runs, the goal is to get him to the point where he's an option for higher-leverage situations. It would be a godsend for a Tigers bullpen that thinned out after injuries to closer Joe Nathan and hard-throwing setup man Bruce Rondon, but it's still a ways away.
"It's definitely on the horizon," manager Brad Ausmus said, "something we kind of had in our minds since Spring Training. You'd like to get him a little bit of experience out of the 'pen at the Major League level before you shove him into a one-run game in the eighth, but if I were to guess, I would say at some point he's going to able to pitch in those types of situations, whether it's the seventh, eighth, whenever."
The one close game in which Nesbitt has pitched was a clutch situation for him, entering in the sixth on Wednesday at Minnesota in a 7-7 game at the time. It was also tied at 7, when he left thanks to three outs in three batters, including a three-pitch strikeout of Trevor Plouffe that consisted of a swing-and-miss on a changeup, a called second strike on a cutter, then a called third strike on a 96-mph fastball.
The back-to-back outings were redemption after Nesbitt gave up four runs -- three earned -- over two innings in his previous two outings.
Quick hits
• Ausmus indicated he has not decided whether he'll stick with his five-man rotation in order next week or use Monday's off-day to skip a starter. The Tigers used their last off-day on April 16 to push back Kyle Lobstein in the rotation by a couple of days. Whether they do so again would likely determine whether Lobstein faces the White Sox in Chicago on Thursday or gets a rematch with the Royals next weekend at Comerica Park.
• The Tigers went without a stolen base on Thursday for the first time in a week. They still ended with one of their best running months ever. The 24 stolen bases marked the third-highest April total in franchise history, and the most since the 1998 team swiped 26. The '97 team holds the record with 32. It doesn't reflect any new philosophy from Ausmus, according to players, so much as it's an extension of last year's philosophy with new personnel.
Jason Beck is a reporter for MLB.com. Read Beck's Blog and follow him on Twitter @beckjason. This story was not subject to the approval of Major League Baseball or its clubs.