Pearce makes first career start at second
Change made during unusual week, but versatile player confident he can be effective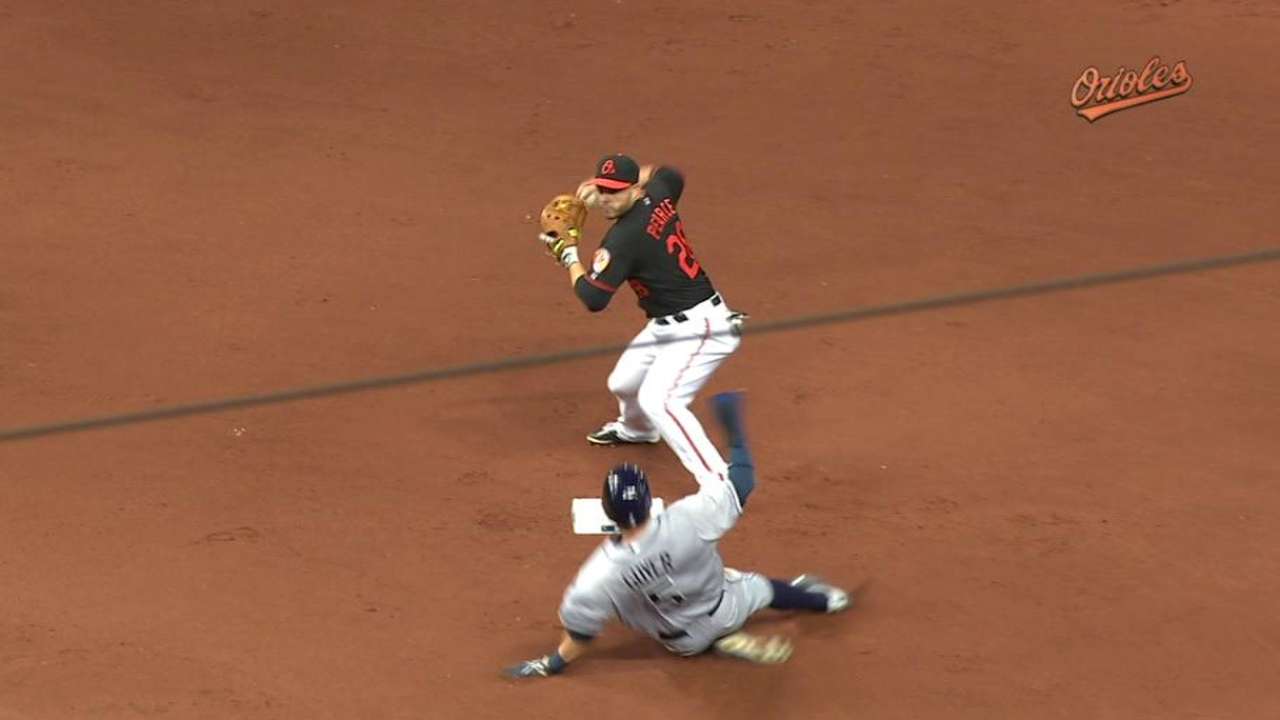 ST. PETERSBURG -- With three infielders injured, the Orioles have had to make some adjustments. On Friday, that included giving Steve Pearce his first career start at second base, in the O's "home game" against the Rays.
Pearce, who has never played second base at any level, said the idea was brought up to him two days ago, and he did practice during Thursday's off-day at Camden Yards and early work prior to Friday's opener.
"When we started out with him at first base last spring, he ended up making himself an above-average first baseman. That's Steve," manager Buck Showalter said of Pearce, who had just one ball hit to him in Friday's 2-0 loss -- fielding the ball cleanly. He also turned a 5-4-3 double play.
"His ball security is good. I'm not any more concerned about it than I was, but what if Jonathan [Schoop] doesn't come back? What if Ryan [Flaherty] has more problems with his groin? That's who we are, that's what we are going to do. We are not going to go buy another second baseman, we are going to look from within."
Pearce admitted this past week, between the O's schedule changes and the time at second base, has been one of the most unusual he's had in his career.
"[It's] definitely up there," he said. "But I can do it, I feel confident I can do it. I've been talking with J.J. [Hardy], going to go out there and work with Manny [Machado] a little bit and take all the advice I can. Those guys are trying to make it easy on me."
Pearce picked up first base pretty quickly for the Orioles last season and was optimistic that would be the case again. As for the biggest adjustment at second, Pearce said: "Getting the baseball clock down. But I did a pretty good job at first base. It's a new position, so you got to put the work in on it. And I've never been afraid to work."
"Stevie is not going to use that [lack of experience] as an excuse," Showalter said after Friday's game. "He made a tag, covered the bag properly. He was late on covering a bag, was late backing up first on Manny [Machado's] throw. That will be the biggest challenge for him, knowing where to be on the plays. It's obviously a crash course, but necessity is the mother of invention, and we have some needs there."
Brittany Ghiroli is a reporter for MLB.com. Read her blog, Britt's Bird Watch, and follow her on Facebook and Twitter @britt_ghiroli. This story was not subject to the approval of Major League Baseball or its clubs.