MLB.com Columnist
Jonathan Mayo
Path to the Draft: Teachers give Rodgers 80 for makeup
Potential top pick humble, successful in navigating high school waters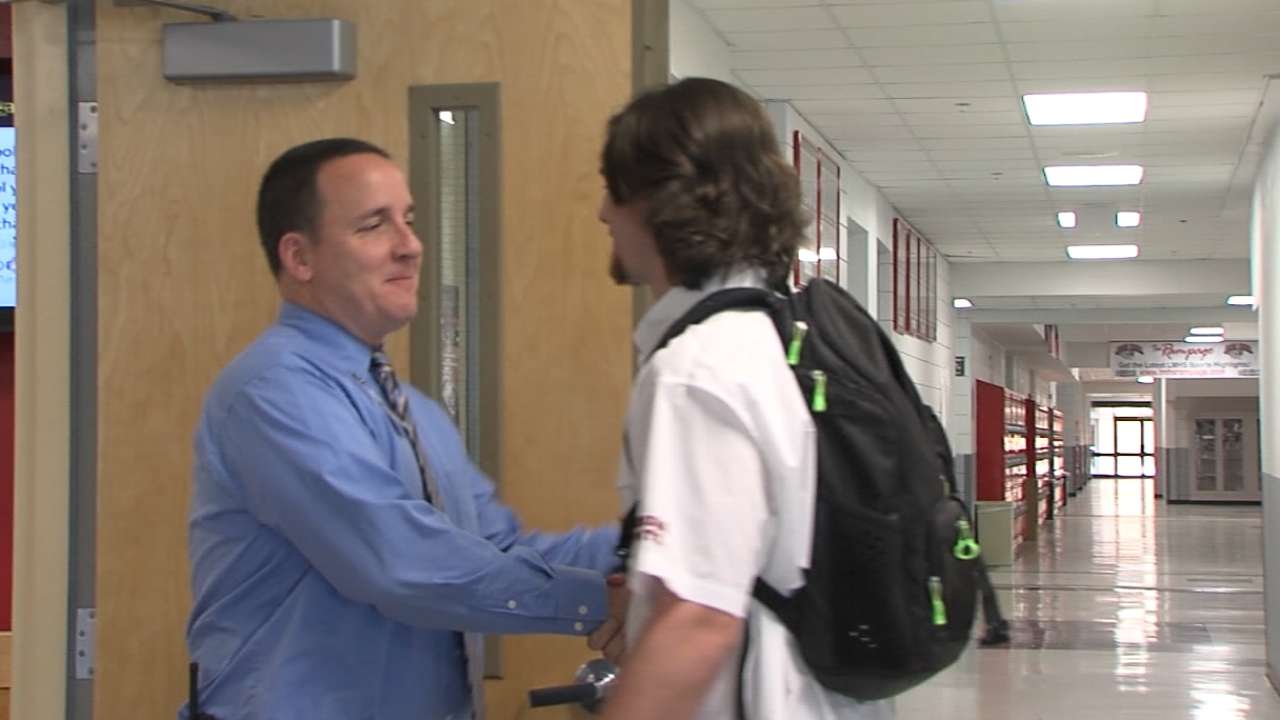 LAKE MARY, Fla. -- The spring before the Draft can be full of excitement and pressure for amateur players hoping to be selected by a Major League organization. Those in the discussion for top of the first round face even more scrutiny as June approaches. MLB.com will be following Brendan Rodgers, ranked No. 1 on MLB.com's Top 100 Draft prospects list, throughout the process. From the start of his senior year at Lake Mary High School outside of Orlando, Fla., all the way through Draft Day, Rodgers has given MLB.com full access to his life as the top Draft prospect in the country.
To most people, Brendan Rodgers is known as the best high school prospect in the 2015 Draft class. That also means, of course, he's a senior in high school. For all of the talk about his future on the field, it wouldn't mean a whole heck of a lot if he couldn't navigate the often-tricky waters of high school life.
There's nothing on the scouting scale for academic performance, but rest assured any team contemplating taking a player at the top of the Draft will uncover every stone in determining a kid's makeup. That doesn't mean every Draft prospect needs to be a straight-A student, but due diligence on school records, attendance, attitude/discipline issues will be done. If the teachers and administrators at Lake Mary High School were filling out the report, Rodgers would receive an 80 (on the 20-80 scouting scale) for his makeup.
"My class, he does well in, so it's not a big challenge," said Andrea Hubbs, Rodgers' TV production teacher. "I know with his other classes, he's committed, where he goes to a tutor at like 6:30 in the morning to do well in that class. A lot of kids are just rolling out of bed at 6:30."
So Rodgers appears as committed to growing mentally as he is to growing physically or being a good teammate. Or at least making sure no high school-related obstacle stands in the way of his dream of playing Major League Baseball, though that might be selling his motivation a bit short.
"He even tells me sometimes, 'One day I could blow out my knee, and what do I have to back up on?'" said Louis Reyes, Rodgers' zoology teacher. "Usually it's the teacher who tells the student that.
"He's matured more, he's become more of a leader than a follower in class. He knows the fact that eyes are going to be on him, especially other young kids, which is something we've talked about. He wants to be sure he becomes a good role model."
"It's good to start out the day with him because he's very funny, so he always makes me laugh," Hubbs said, noting just how far Rodgers has come in terms of the leadership skills Reyes pointed out.
It hasn't always been that way. Lake Mary principal Michael Kotkin recalls seeing Rodgers for the first time as a soon-to-be freshman and not being able to get him to engage all that much.
"I can remember when he first walked in here as an eighth-grader, a shy, quiet, somewhat timid young man who sat right in front of me and didn't utter a whole lot," Kotkin said.
That was then and this is now, and by all accounts, Rodgers carries himself with confidence, albeit a quiet one. Those looking for a cocky, self-centered "big man on campus" type will have to look elsewhere.
Rodgers rarely brings his work on the diamond into the classroom. It's unlikely he mentions that his season is now over, with nothing but workouts for teams interested in drafting him potentially in the works. When roaming the halls of Lake Mary High School, he'd much rather just be Brendan Rodgers, senior, not Brendan Rodgers, potential No. 1 overall pick.
"I never even know what's going on with him baseball-wise unless his mom tells me," Hubbs said. "He's very modest, he doesn't talk a lot about what's going on with him with baseball. Even when other students bring it up, about possibly being drafted, he doesn't really dwell on it."
Rodgers' ability to stay true to himself should be a very helpful trait as he presumably prepares for the transition to the pro game. Wherever he goes in the top part of the Draft -- it's difficult to see a scenario where he would get past the top three selections -- he's going to be handed more money than any teenager could imagine. With that will come expectations to live up to the bonus and the Draft status, things that have changed many young players, and not necessarily for the better. Rodgers' desire to keep his feet planted on the ground could bode well in this next chapter.
"When you go to certain events, Brendan's there, just like everybody else, wearing his red and gray colors, cheering on the football team on a Friday night," Kotkin said. "There's no difference. To me, that's what's amazing. There's not this 'Do you know who I am?' There's not a chip on his shoulder. There is not this air about him. He's a high school kid, and as far as everything I've seen and have seen over the last three and a half years, nothing has changed."
Jonathan Mayo is a reporter for MLBPipeline.com and writes a blog, B3. Follow @JonathanMayoB3 on Twitter. This story was not subject to the approval of Major League Baseball or its clubs.