MLB.com Columnist
Anthony Castrovince
Travis making waves north of the border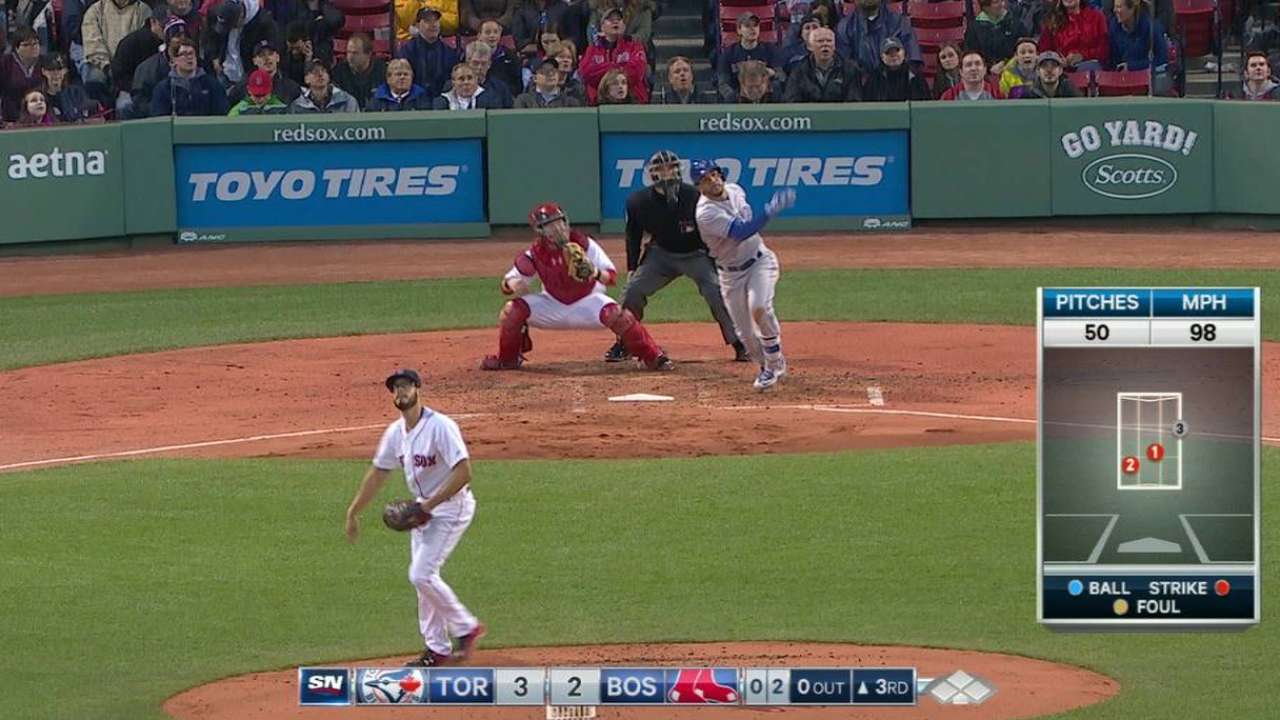 CLEVELAND -- Dustin Pedroia's reputation precedes him. Opponents young and old know better than to expect much in the way of even remotely friendly in-game interaction with the uber-competitive Red Sox second baseman, who uses hate of the opponent -- even if it's temporary manufactured hate -- to fuel the excellent things he does on a baseball field.
But this kid named Devon Travis, who is listed at 5-foot-9, got to second base the other day at Fenway Park, and there was the 5-foot-9 Pedroia, one of Travis' heroes in a game that's not always kind to little guys like them. Though he was well aware of Pedroia's reputation, Travis couldn't help himself.
"Hey man," the kid said to the vet, "I'm really sorry for bothering you. I know you're into the game. But I just want to thank you for all you've done."
In that moment, Pedroia probably wanted to hate the rookie who had the nerve to interrupt his intensity. But the sentiment was so sincere, the kid uttering it so earnest, that even Pedroia had to let his guard down.
"Thanks man," he told him. "I appreciate that."
It's early, yes, but the 24-year-old Travis is having a breakout season with the Blue Jays that conjures up memories of Pedroia's dynamic rookie run in 2007 with the Red Sox, in terms of its instant impact on a lethal lineup. Not even Travis, who prior to winning Toronto's Opening Day job at the keystone had never played above the Double-A level, imagined his impact would be this intense.
As we enter May, the Blue Jays' Little Second Baseman Who Could is shockingly outslugging Giancarlo Stanton, Mike Trout and Jose Abreu, just to name a few. Travis has hit six home runs in 89 plate appearances, despite hitting just 10 in 441 plate appearances with the Erie SeaWolves in the Eastern League last year.
And we're not talking about pull-side wall-scrapers here. Travis' two longest long balls were both nearly 430-foot shots to dead center.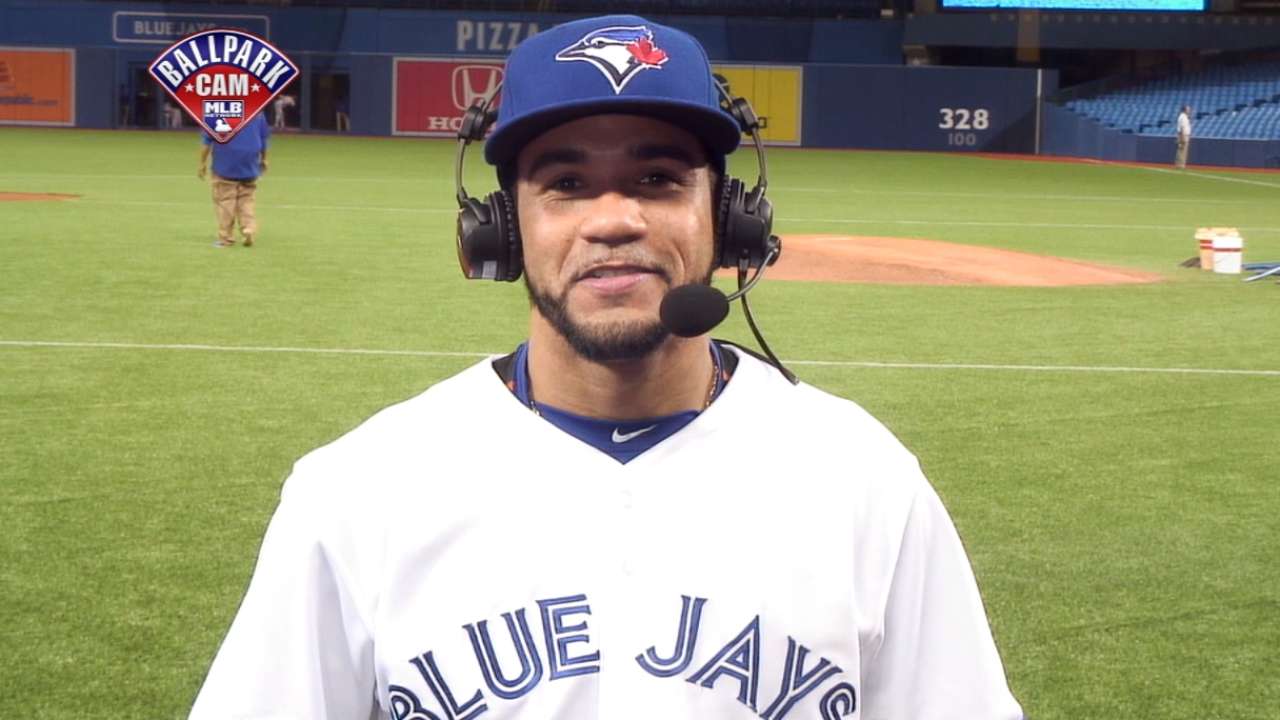 People with Toronto's front office are looking around at each other and saying, "Where the heck did this come from?" And Travis, a young man devoid of ego or pretense, is, quite frankly, asking himself the same question.
"I don't know, man," Travis said, shaking his head. "I don't know. I'm just thankful."
The Blue Jays are thankful they targeted Travis in the winter swap that sent Anthony Gose to the Tigers -- an old-school baseball trade that has brought benefits to both sides. It's some kind of irony or happy happenstance that the only reason Travis was available was because Ian Kinsler was blocking him in Detroit, and the only reason Kinsler was blocking him was because the Tigers acquired Kinsler after Kinsler had rejected a trade from Texas to Toronto.
Travis was not expected to be the starter at second base when the Blue Jays acquired him. He started out Grapefruit League play 0-for-11 at the plate and appeared to be pressing. Hitting coaches Brook Jacoby and Eric Owens basically told Travis to stop "trying" to get hits and instead just worry about finding good pitches to hit. He rattled off a 23-for-53 surge to seize the second-base job.
It's not a job Travis appears likely to relinquish any time soon. Manager John Gibbons is so sold on Travis that he's elevated him to the leadoff spot.
"Crazy," is how Travis describes the last two months of his life. "The opportunity I've been given is amazing. I don't take a single day for granted."
We probably shouldn't take this power production for granted. Per fangraphs.com, Travis has a .300 isolated power mark this season after never reaching higher than .210 (at Class A Lakeland in 2013) at any Minor League level.
Then again, if power is the last thing to come in a player's development, maybe Travis is right on time.
"Maybe I'm growing up," he said with a smile.
Jacoby had another theory.
"He's got those big legs and that big rear end," Jacoby said. "Maybe he gets it from there."
What it really seems to come down to is Travis getting those good pitches to hit and following Toronto's playbook for selective aggression.
"Watching the way these guys here go about their business at the plate has definitely been intriguing to see," Travis said. "If you see that fastball -- whether it's 2-0, 3-1, 1-0, 0-0 -- if you see it and you miss it, you're going to get out. For me, a 2-0 pitch can't be [a] dead take anymore, which is what I used to do. You've got to look for your pitch, regardless of the count. You've got to be ready to go."
Travis has been locked and loaded, though it's inevitable that the league will catch up to him to some degree. After striking out just seven times in his first 58 plate appearances (12.1 percent), he's gone down swinging or looking eight times in his last 31 PAs (25.8).
So that first round of adjustments is underway.
Whether he's the next Pedroia very much remains to be seen, but Travis is someone worth rooting for. He's humble, hardworking, thankful, and he's keeping his amazing ascendance in this sport in proper perspective.
"It's a game," Travis said. "That's what we lose sight of the most."
Anthony Castrovince is a reporter for MLB.com. Read his columns and follow him on Twitter at @Castrovince. This story was not subject to the approval of Major League Baseball or its clubs.