Altuve sets tone with first walk-off of career
Astros star extends streak of multihit games to eight
HOUSTON -- You could say it was just old hat for Jose Altuve by now, what with his eighth multihit game in a row.
But a walk-off hit signaled new territory, even for the reigning American League batting champ. With a one-out single off the left-field wall in the 10th inning that gave Houston an emotional 3-2 win, Altuve keeps expanding his collection of accomplishments. The walk-off knock was the first of his career.
Astros manager A.J. Hinch said there's nobody you'd rather have up in that situation. There's no arguing that. Altuve is now batting .367 in 2015, has 12 RBIs in the last nine games and leads the AL in stolen bases -- 9-for-11 -- for good measure. True to his stoic form, he wasn't exactly soaking in the glory after the game.
"I was just trying to get a hit in that spot, because you want to keep the way we're playing, make sure it carries over to a win," the second baseman said.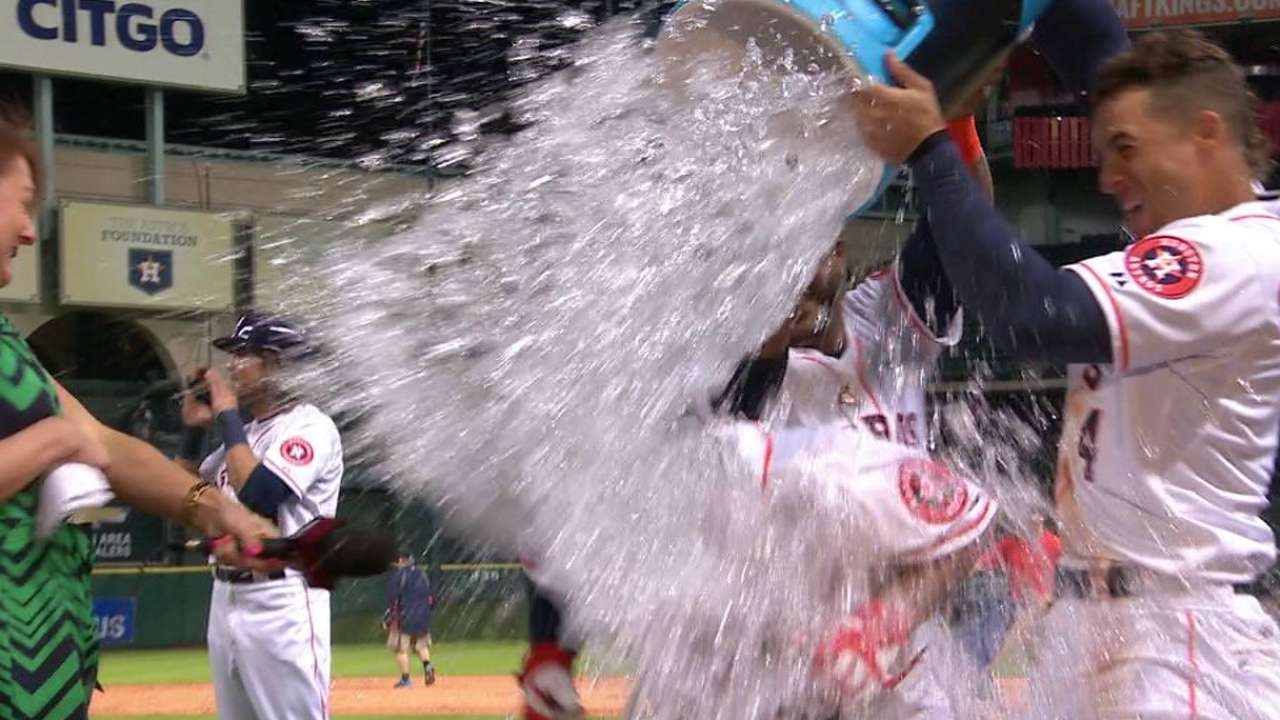 It's no coincidence Houston's rapid rise to the top of the AL has coincided with Altuve's tear, as the Astros have now won seven in a row. Sure, guys like Chris Carter, Evan Gattis and George Springer have started hinting at producing the pop expected of them, but Altuve remains the tone-setter as leadoff man and an embodiment of Houston's need for speed on the basepaths this season.
Altuve kept the multihit streak going right away, cranking a bloop single and a laser double off Seattle lefty James Paxton in the first three innings. He's now batting .560 (14-for-25) against left-handers this season, the best average in MLB.
But the Mariners stymied him for a couple at-bats, inducing weak groundouts to the left side of the infield. Still, after the Astros had clawed back from an early 2-0 deficit and had men on first and second with one out, the result felt almost inevitable.
"I think everybody was expecting a hit," said infielder Marwin Gonzalez, whose one-out double kick-started the bottom of the 10th. "He shows up every day, and he's pretty hot right now. How could you not expect it?"
So it was new territory this time for Altuve, but with a team finally backing up his epic production with a 15-7 month and careening toward serious contention, there'll likely be many more nights where he plays the hero.
"It's not so much about me, because the pitchers and everybody giving 100 percent to win the game, and we have the guys and talent now where that means a lot of good things," Altuve said. "We're winning and I'll keep doing everything I can to keep it that way."
Chris Abshire is a contributor to MLB.com. This story was not subject to the approval of Major League Baseball or its clubs.