Ausmus: V-Mart moving in right direction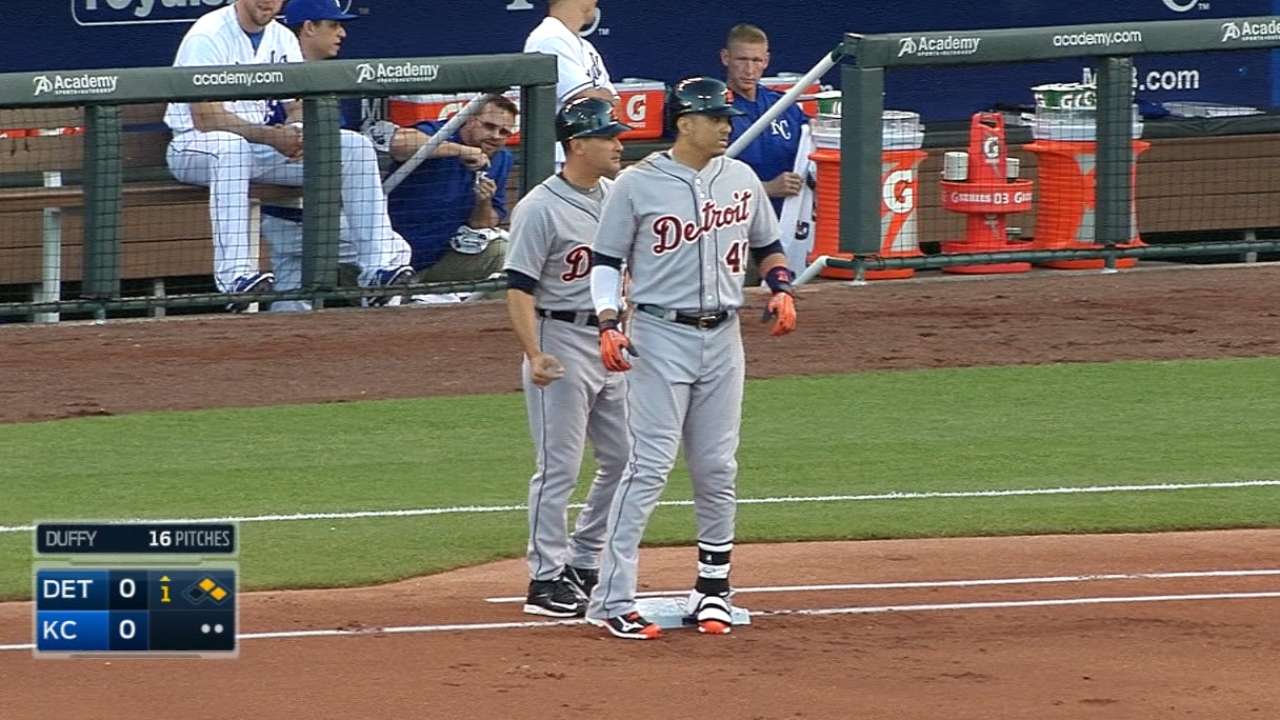 KANSAS CITY -- The frustration was evident after Victor Martinez's final swing on Thursday night, in the eighth inning of the Tigers' 8-1 loss to the Royals. He took two steps out of the box before slamming his bat into the ground, his fly ball still in the air over center field.
"He just missed that ball," manager Brad Ausmus said.
Martinez was close enough that it bothered him all the way back to the dugout, where he tossed his helmet down the tunnel. He was close enough that it was the only thing that stopped him from a three-hit game.
Martinez settled for a 2-for-4 performance that was just his fourth multihit game of the season, and a .231 average for April with one extra-base hit -- a double on April 19 -- and nine RBIs.
The numbers are eerily similar to those of his opening month in 2013, when he batted .221 with no home runs (but five doubles) and nine RBIs. He batted .301 that season with 14 homers and 83 RBIs.
The Tigers need a similar bounce from him if they're going to have the elite offense to contend. Ausmus believes he's seeing the signs of a turnaround.
"Just by watching him, I can tell," Ausmus said on Thursday. "He's really close to being where he was."
Both of Martinez's hits on Thursday were two-out singles batting right-handed, the side from which he doesn't have to load on his surgically repaired left knee. He sent a first-pitch fastball from Royals starter Danny Duffy through the middle in the opening inning, and he shrugged off two curveballs in the sixth to get a fastball he could line into left field.
The question has been when he bats left-handed, which he did in the eighth inning against Jason Frasor on the aforementioned flyout. It was a better swing, but not a better result.
"For a week we've seen him kind of incrementally get better," Ausmus said.
Martinez will be back batting left-handed the next two nights against right-handed starters Chris Young and Edinson Volquez. With the improvement Ausmus has been seeing, he's likely to keep feeding Martinez at-bats to give him a chance to build on the progress rather than rest him at this point.
With the type of surgery Martinez had -- clipping his torn meniscus rather than doing a repair -- there's no indication that even a 15-day bout of rest would make much of a difference. The plan for now involves managing the early discomfort.
"We talked about it, and there's no guarantee that rest would do anything," Ausmus said. "The irritation that he was experiencing, which I think is dissipating, is not even in the area where the surgery was. Now, that doesn't mean it wasn't the result of the surgery, because he could be compensating or moving differently. But the last five days he's taken BP left-handed have been outstanding.
"There's no indication during batting practice that it's really bothering him that much. Occasionally in the game you see it, but not like we did the first 10 days. So I think he's moving in the right direction."
Jason Beck is a reporter for MLB.com. Read Beck's Blog and follow him on Twitter @beckjason. This story was not subject to the approval of Major League Baseball or its clubs.