Offense busts out in unlikely rout of Sale
Lineup notches 9 hits, 8 earned runs on Chicago ace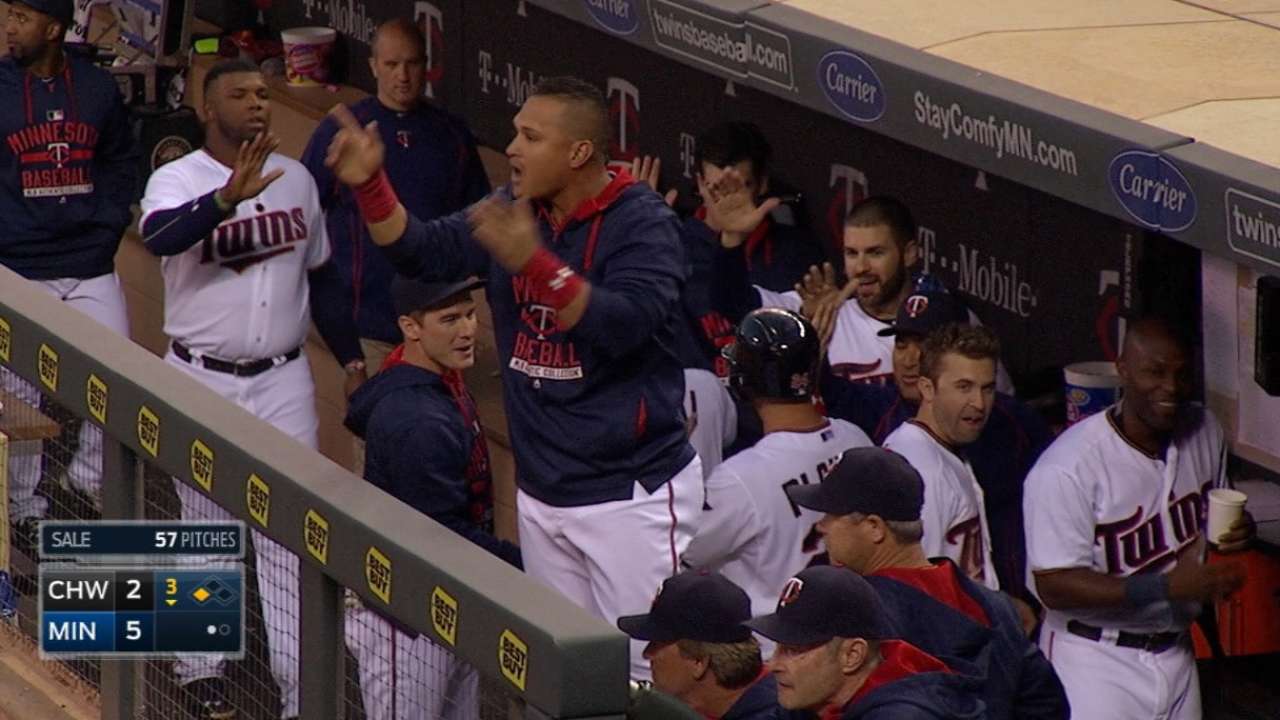 MINNEAPOLIS -- After scoring 74 runs through their first 21 games, averaging just 3.5 runs per contest, the Twins have been looking for their offense to finally break out.
Minnesota finished seventh in the Majors in runs scored last year, but entered Thursday's game against the White Sox ranked 26th. And with ace Chris Sale on the mound, the Twins didn't appear likely to do much offensively in the series opener.
But the Twins surprisingly jumped all over Sale, knocking him around for nine runs (eight earned) on nine hits and two walks over just three innings in a 12-2 win. Minnesota scored a run in both the first and second innings before breaking out for seven runs in the third.
"You have to play the games and they don't always turn out the way they appear heading into a game," Twins manager Paul Molitor said. "Our approaches were good. We got his pitch count up and made him work. Once we got it rolling there, we were able to put up a big inning."
Sale had never given up nine runs in an outing in 88 career starts before Thursday, and entered with an 7-1 record and a 2.37 ERA in 68 1/3 career innings against the Twins. But Minnesota got to him early, as Joe Mauer blooped an RBI single in the first after a double from Torii Hunter before Danny Santana used his speed to his advantage in the second. Brian Dozier hit a bloop single into center with two outs, and Santana caught Chicago off-guard, scoring all the way from first on the play.
It set the tone for their offensive explosion in the third that saw the Twins send 10 batters to the plate. Kurt Suzuki brought home the first run of the inning with an RBI single before Eduardo Escobar singled home two more runs with the infield in. Shane Robinson followed with an RBI single to set up Dozier for a three-run shot to left field that essentially put the game out of reach for the White Sox.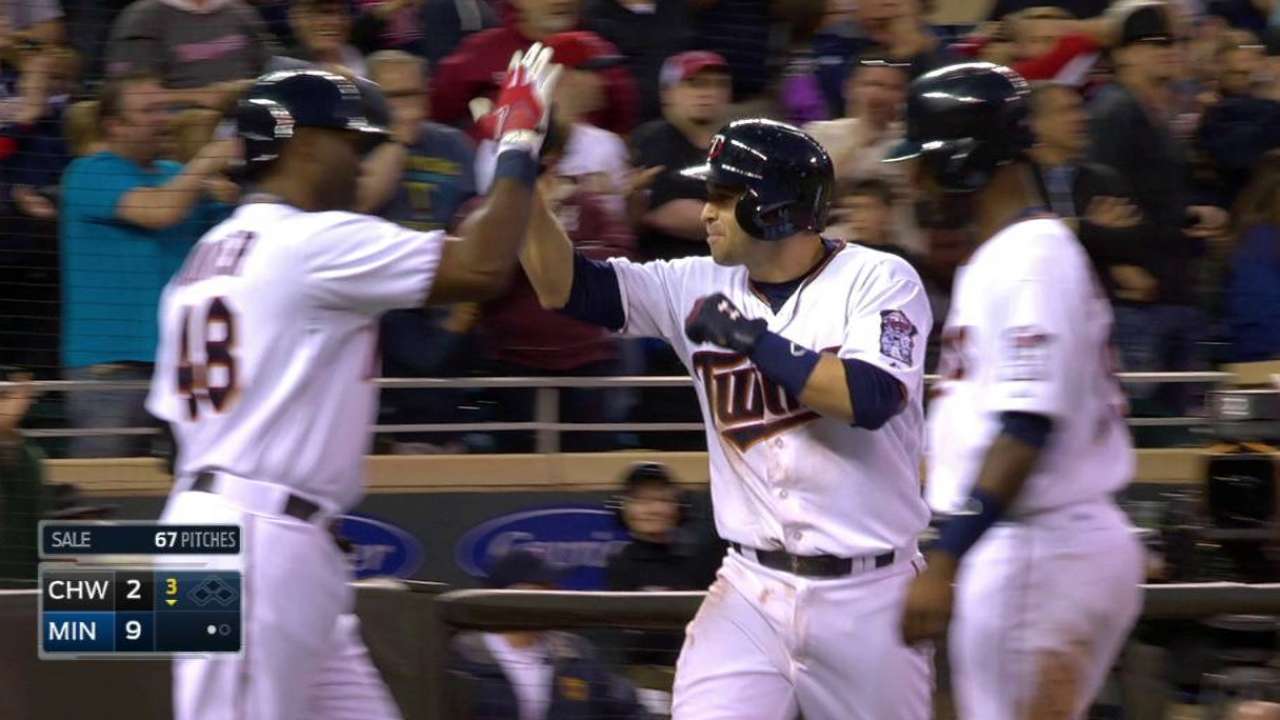 "He had good stuff like he always does," Dozier said. "It seems like when we dropped a few bleeders in, he got frustrated and tried to throw hard and left it over the plate. To put up the runs we did against who I think is the best left-hander in the game is pretty good."
The offense took the pressure off rookie right-hander Trevor May, who gave up two runs on 10 hits and a walk over 5 2/3 innings in his first start since exiting his previous outing early when a comebacker hit off his right elbow. It wasn't May's best performance, and he left with the bases loaded with two outs in the sixth, but it was more than enough with the help he received offensively.
"It was great to have that happen," May said. "It makes your job easier for sure."
Rhett Bollinger is a reporter for MLB.com. Read his blog, Bollinger Beat, and follow him on Twitter @RhettBollinger. This story was not subject to the approval of Major League Baseball or its clubs.