Leake, Barnhart tandem in sync for win
Righty works 8 scoreless; both homer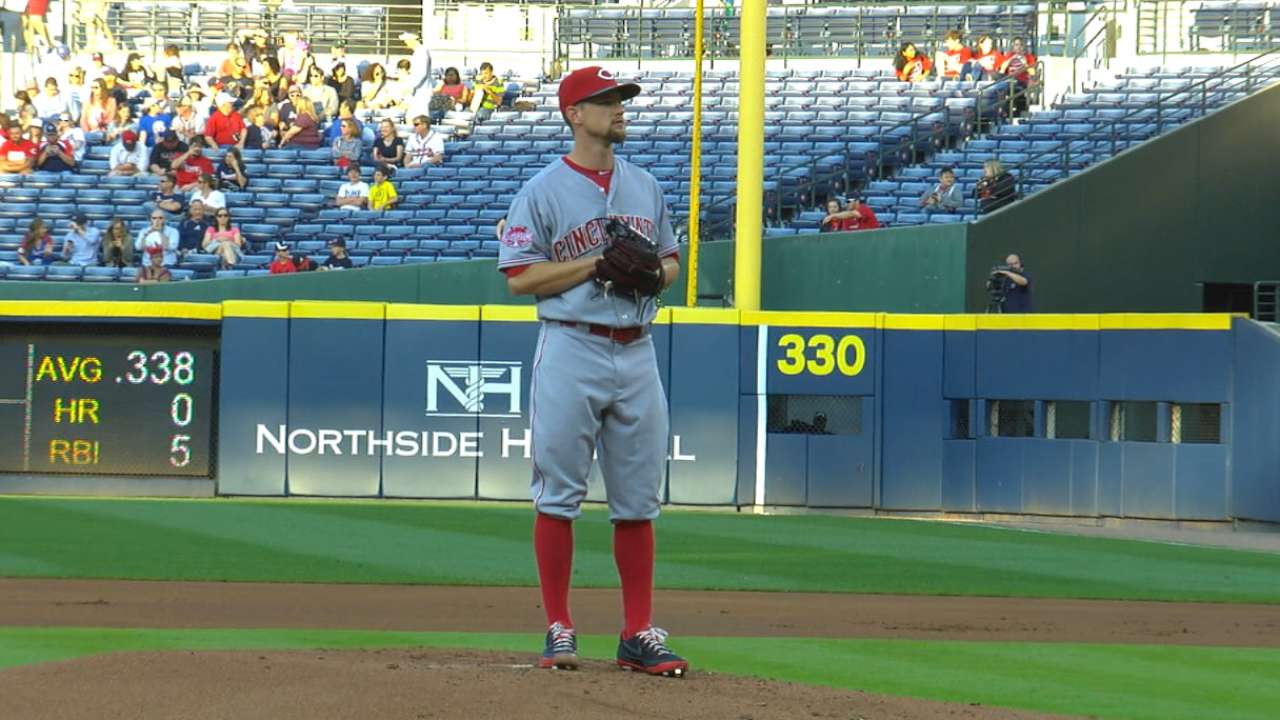 ATLANTA -- Mike Leake did it all Thursday night for the Cincinnati Reds.
He held the Braves to two hits in eight innings. And in the seventh inning, the right-hander hit his fifth career home run to help secure a 5-1 victory against the Braves at Turner Field.
"It's great not feeling the ball come off your bat," Leake said of his homer against Shelby Miller, "but my job is to get them out."
That he did. No Braves hitter reached second base against Leake, who gave up no hits after the second inning.
"He was terrific," Reds manager Bryan Price said. "He was locked in. He has a really good rapport with [catcher] Tucker [Barnhart]. He worked really quickly and attacked the zone. It's a nice lineup. They mix and match so well with players who have had success against Michael, and he pitched a dandy."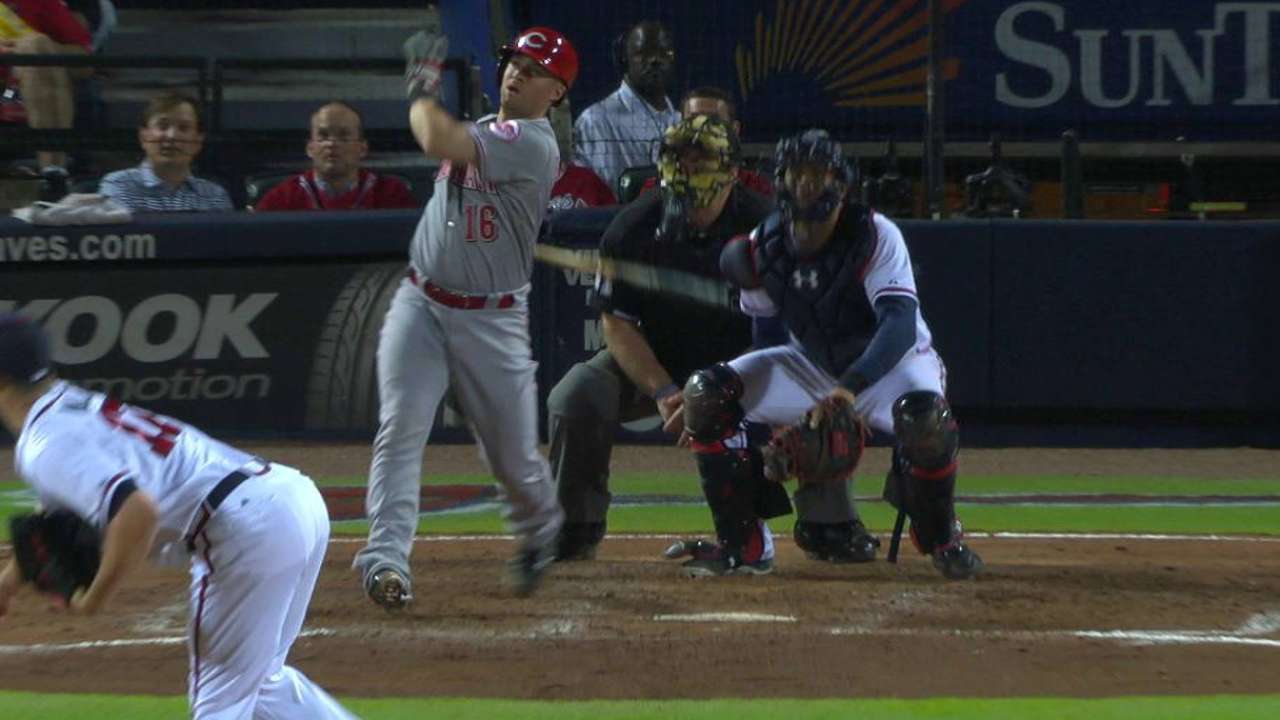 Barnhart, substituting for the injured Devin Mesoraco, played in just his fifth game of the season Thursday night, and preceded Leake's home run with his own solo shot.
"Any day you get to play up here is fantastic," Barnhart said. "Mike and I are good friends. We have really good chemistry together.
"Our game plan was to mix it up early, and he executed it perfectly. I don't know if anyone got to second base. It shows you how good he is. It shows you what can happen when you locate your pitches like Mike does."
Leake gave up a leadoff single to Nick Markakis in the first, but then got the next hitter, Andrelton Simmons, to ground into a double play. He allowed a two-out single in the second inning to Jace Peterson, but that was pretty much it for the Braves.
As for what pitches were working for him, Leake said, "All of them, really. I had a good repertoire tonight. I felt confident with every pitch."
In winning his first game of the season, Leake cruised through eight innings and then told Price he was finished for the evening.
"We had that conversation," Price said. "He was done. You know how I love starters staying in the game. But when you've got a starter who says he's done, I'm not going to allow him back out there. That's creating problems.
"There's a lot of effort into going eight scoreless in Atlanta. He put it all into his [97] pitches."
Tony Cingrani pitched the ninth and allowed the only Braves run.
Leake worked so quickly that the game was barely into its second hour when he began the eighth inning.
"It's the best feeling in the world," Reds third baseman Todd Frazier said. "We're on our toes the whole time. He just toes the rubber and goes. I wish everybody could pitch like that, but everybody has their quirks, just like myself."
Leake said competitiveness of the game -- it was 1-0 as late as the seventh inning -- worked to his advantage.
"I personally like quicker games," he said. "I like it because I can stay involved in the game and the boredom doesn't start trickling in."
Michael Hunt is a contributor to MLB.com. This story was not subject to the approval of Major League Baseball or its clubs.