A's ready to leave April behind them
Oakland loses series to Angels, drops to five games below .500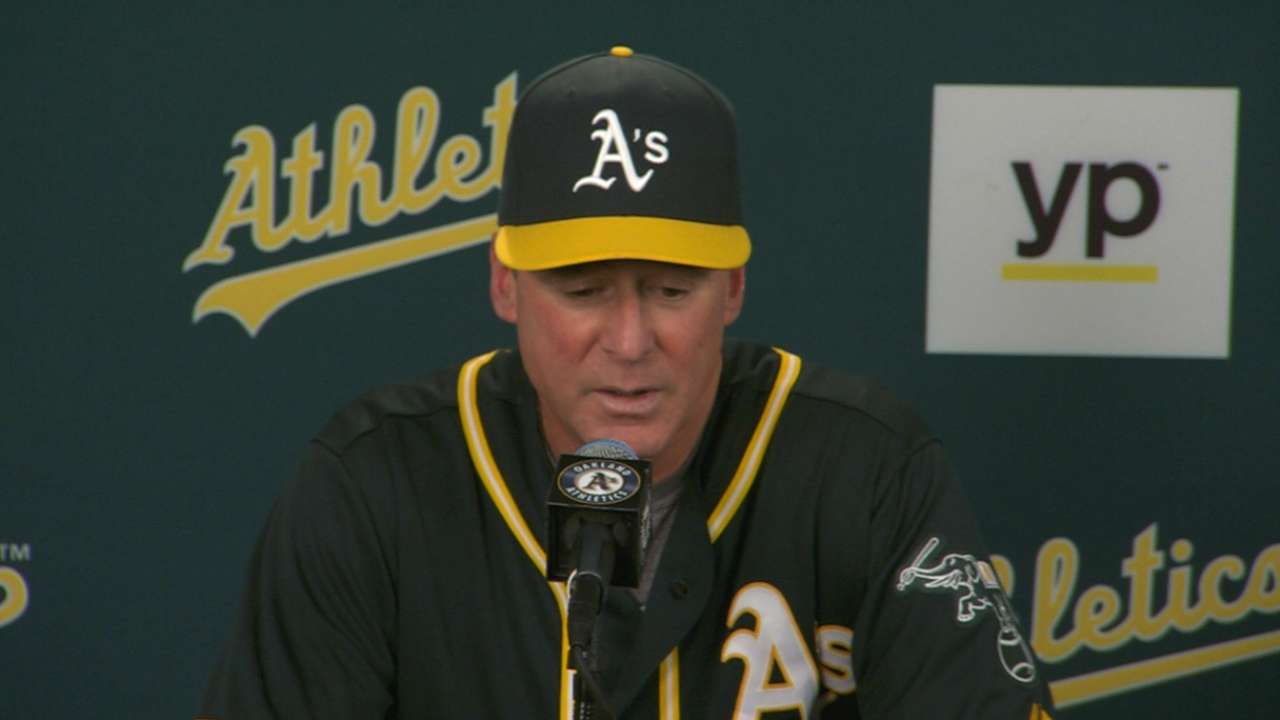 OAKLAND -- An "awful homestand," as Oakland manager Bob Melvin deemed it, and a rather forgettable month of April is behind the A's. That's the good news.
"It's been frustrating, especially the way the spring went," said starter Jesse Chavez, who allowed four runs in five innings in Thursday's 6-5 loss to the Angels. "At the same time, it's baseball. You're going to have high months, you're going to have down months.
"As long as we minimize the long draughts, we'll be all right."
The A's went 1-5 on the homestand against Houston and Los Angeles, dropping to 9-14 overall -- five games under .500 for the first time since June 30, 2012 (37-42). Moreover, it's the first time they've finished April more than three games under .500 since 2001 (8-17).
They're 0-8 in day games, and 0-7 in the final games of a series.
"We felt like, we get some momentum, come back here at home and win some games, then we get swept and lose two out of three here," Melvin said. "We gotta play better than that, and we gotta do it soon.
"Now, certainly, the last inning was pretty spirited, and we have a way of coming back and fighting to the end, but still not a win."
The A's plated three runs in a wild ninth inning that saw Mike Trout make a spectacular game-ending catch in center field, robbing Ike Davis and Co. of a walk-off celebration -- and a series win. The A's have just one of those in seven tries this season.
"We hit a lot of balls hard that were caught," said Davis. "That's a recipe for losing, when you hit doubles that are caught and you hit them right at people. There's not much you can do there.
"The good thing is we've got five more months. We're not losing by crazy amounts of runs. We've got a lot of time to catch up and get back in it."
Again, the A's watched their bullpen falter Thursday. Eric O'Flaherty, sidelined for six days by what Melvin described as a minor shoulder issue, faced four batters and allowed one run, bringing his ERA to 11.57. Ryan Cook surrendered one, too, bringing his total to four in two days.
Those proved crucial in this one-run game. Oakland's bullpen, the one consistent issue through this miserable stretch, has allowed two runs or more in nine of the last 14 games, and its seven losses are most in the Majors.
Jane Lee is a reporter for MLB.com. Read her blog, Major Lee-ague, and follow her on Twitter @JaneMLB. This story was not subject to the approval of Major League Baseball or its clubs.