Deduno penciled in for Friday start
Long reliever will get opportunity to earn rotation spot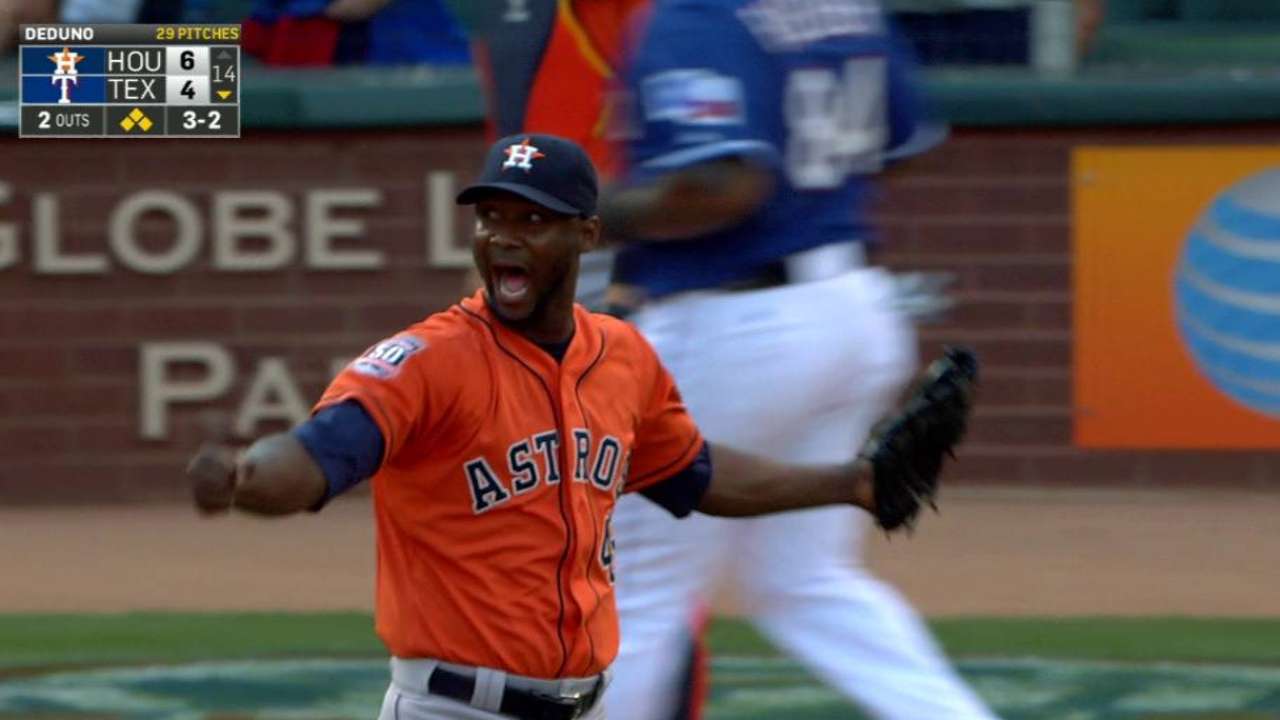 HOUSTON -- With a looming hole in the Astros rotation ahead of Friday's game against the Mariners, manager A.J. Hinch confirmed Thursday that long reliever Samuel Deduno is "penciled in" for the starting nod.
Hinch also said Deduno was available for Thursday night's game vs. Seattle, meaning a stop-gap callup (likely Jake Buchanan) is still possible.
"As a manager, I always fear the 18-inning game, the situations where we need [Deduno]," Hinch said. "If he's not used tonight, Sam will be it tomorrow."
The fifth starting spot has been a bit of a revolving door for the Astros so far. Asher Wojciechowski had his shot but posted a 9.75 ERA in three starts, Brad Peacock is recovering from an intercostal strain after a spot start two weeks ago and lefty Brett Oberholtzer is making his first rehab start Friday with Triple-A Fresno.
"We're going to continue to give players opportunities until they lock it down themselves by their performance," said general manager Jeff Luhnow. "Oberholtzer starting [in Triple-A], he was a guy who was a big part of our rotation these last couple of years. We want him back up to full strength to see what he can do.
"It's nice though that Sammy gets a chance to start -- Jerome [Williams] was in that long-relief spot last year and never got a chance. Then he went to another club and did OK as a starter. We don't want that long role to be a place where you don't have a shot to get to the rotation."
The 31-year-old Deduno has pitched in five games so far this season, posting a 2.89 ERA in 9 1/3 innings. The Dominican native has started 42 games in his career, including a similar spot start in 2014 with Houston when he lasted four innings against the Mets while allowing no runs.
Chris Abshire is a contributor to MLB.com. This story was not subject to the approval of Major League Baseball or its clubs.