Angels RBI League helps kids become 'Major League citizens'
Bullpen catcher Soliz says program helps put focus on fitness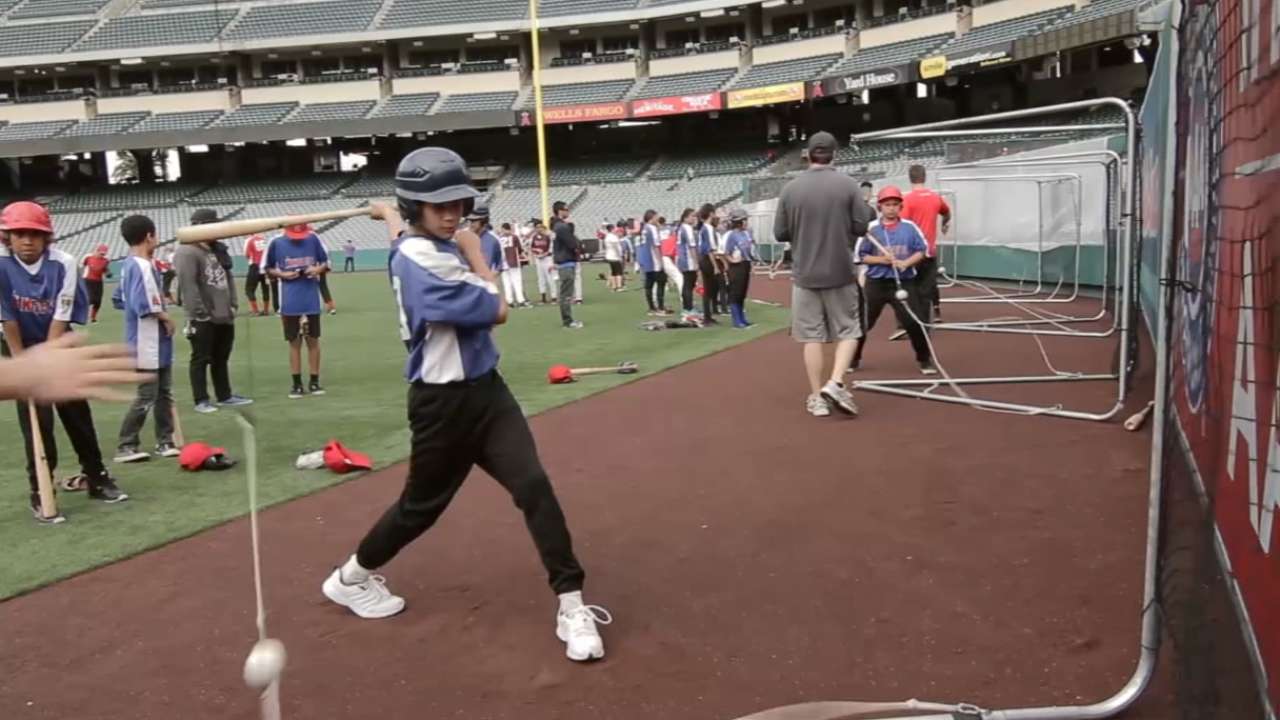 Angels bullpen catcher Steve Soliz lives and breathes the hectic Major League schedule, working almost every day from the middle of February until at least the end of September and accumulating roughly 45,000 airline miles over the course of a six-month regular season. But Soliz is still heavily involved in the Angels RBI League, volunteering to host clinics year-round and recently joining the league's advisory board.
Soliz is a lifelong Southern California resident who grew up with two hardworking parents and spent a lot of time at the local Boys & Girls Club, so he understands the importance.
"It's invaluable," Soliz said. "It's invaluable to give kids an avenue to not only pursue interests, but to occupy their time. When you have free time, that's when you look for things to fill it. So, why not fill it with something that's positive?"
The Angels RBI League is affiliated with the nationwide Reviving Baseball in Inner Cities program that provides free baseball and softball to underserved kids. Since its inception in 1999 -- initially called the Gene Autry RBI League -- the Angels RBI League has served more than 10,000 kids in the Southern California area.
The league -- for children ages 9 to 18 -- has been year-round for the last three years. The Angels fund it with an annual grant, usually around $75,000, and host four clinics throughout the year. The most recent one took place Saturday, featuring Soliz, Hector Santiago, Drew Butera, Mike Morin and 210 boys and girls at Angel Stadium.
At its core, though, this league isn't necessarily about baseball.
"It's about driving life skill and character development," Angels RBI League president Dave Smith said. "We may not be producing a Major League Baseball player, but we're going to produce a Major League citizen. We're going to get them prepared for life; we're going to support them. For a lot of these kids, college isn't even a thought. A lot of their parents didn't go to college, and they're like, 'Why should we?' Through their participation in RBI, we give them an experience and show them a way in which they can do it."
The RBI season typically runs from March to June, but there's a summer tournament season -- culminating in the prestigious RBI World Series -- followed by fall baseball and softball leagues and the Winter Training Series, allowing kids to receive individual instruction from late November through January. Angels manager Mike Scioscia hosts a yearly Q&A with the local RBI coaches, and the organization hosts an end-of-year banquet every June, inviting 800 or so RBI members to the ballpark.
"My brothers are P.E. teachers, and they say one of the worst things they have going on is that kids show up and just aren't interested in anything, whether it be exercise or sports," Soliz said. "Fitness is kind of dying in our young kids, so this is a good way for me to give back."
Alden Gonzalez is a reporter for MLB.com. Read his blog, Gonzo and "The Show", and follow him on Twitter @Alden_Gonzalez. This story was not subject to the approval of Major League Baseball or its clubs.