Padres RBI program aims to expand, draw in youth
Executive chairman Fowler would like to see participation grow to 1,000 children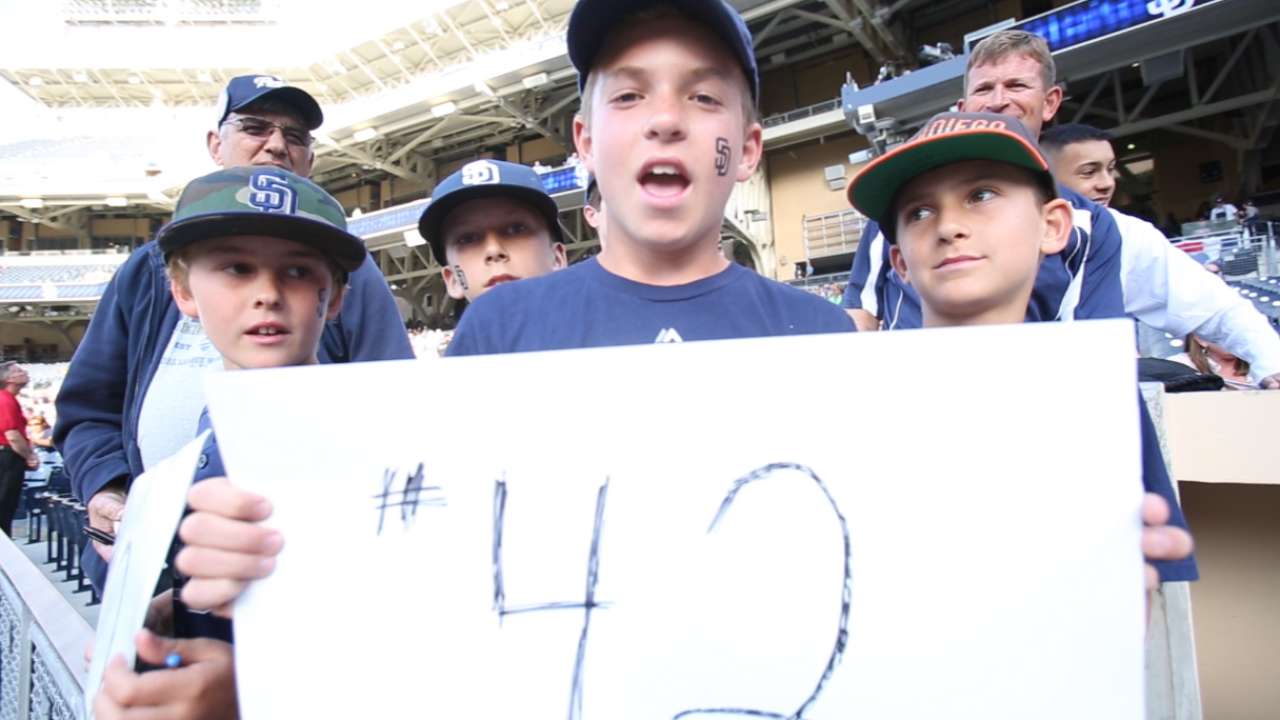 SAN DIEGO -- A year ago, the Padres RBI program for youth baseball and softball experienced a big leap in participation, as the numbers doubled to more than 800. This year, the club, in conjunction with the San Diego Hall of Champions, wants to grow that number of participants to nearly 1,000 children.
This program resonates deeply with Padres executive chairman Ron Fowler, who would like to see more youth come back to baseball and softball.
"I think over time, we've lost some of the young people and we want to get them back," Fowler said. "We went to Major League Baseball and told them how we wanted to approach it. They were very supportive."
The Padres RBI program includes five partner sites across San Diego County: Jackie Robinson YMCA, East County/McGrath YMCA, South Bay YMCA, Marine Corps Recruit Depot (MCRD) and Athletic Initiative, a nonprofit that administers the RBI program for the junior high- and high school-aged players.
The Padres RBI program is free to participants, and it begins in the summer after the Little League season has finished. The ages of participants run from ages 5 to 18 for baseball and softball.
The Padres provided each site a stipend of $2,500 a year ago, and they have done so again this year to execute the program at each site.
In addition to the stipend, the Padres RBI program includes three grants -- Pitch for Baseball, Kids Gear for Baseball and the Cal Ripken Senior Foundation.
Pitch for Baseball donated new and gently used baseball and softball equipment. Kids Gear for Baseball donated equipment and $1,500 each to each of the five partner sites. The Cal Ripken Senior Foundation covered all background checks for RBI coaches.
"One of the key elements of our platform is we wanted to be involved in the community," Fowler said. "This is really getting involved in the community with young kids and a lot of them are at-risk kids based on where they live.
"We just think it's good for the community and it's great to get these kids involved in baseball."
Some of the Padres RBI program participants were recognized on Jackie Robinson Night on April 15, as there were 42 children from the Jackie Robinson YMCA who wore Robinson's No. 42 in the pregame ceremony.
At the end of the 2014 season, the Padres donated over 1,500 tickets to program participants to attend a game. All of the players, coaches, site directors and coordinators were also invited to be recognized in front of fans before a game at Petco Park.
Corey Brock is a reporter for MLB.com. Keep track of @FollowThePadres on Twitter. This story was not subject to the approval of Major League Baseball or its clubs.