Cole emerging as the Pirates' diamond ace
Former No. 1 overall Draft pick goes 4-0 to help lift Bucs to winning April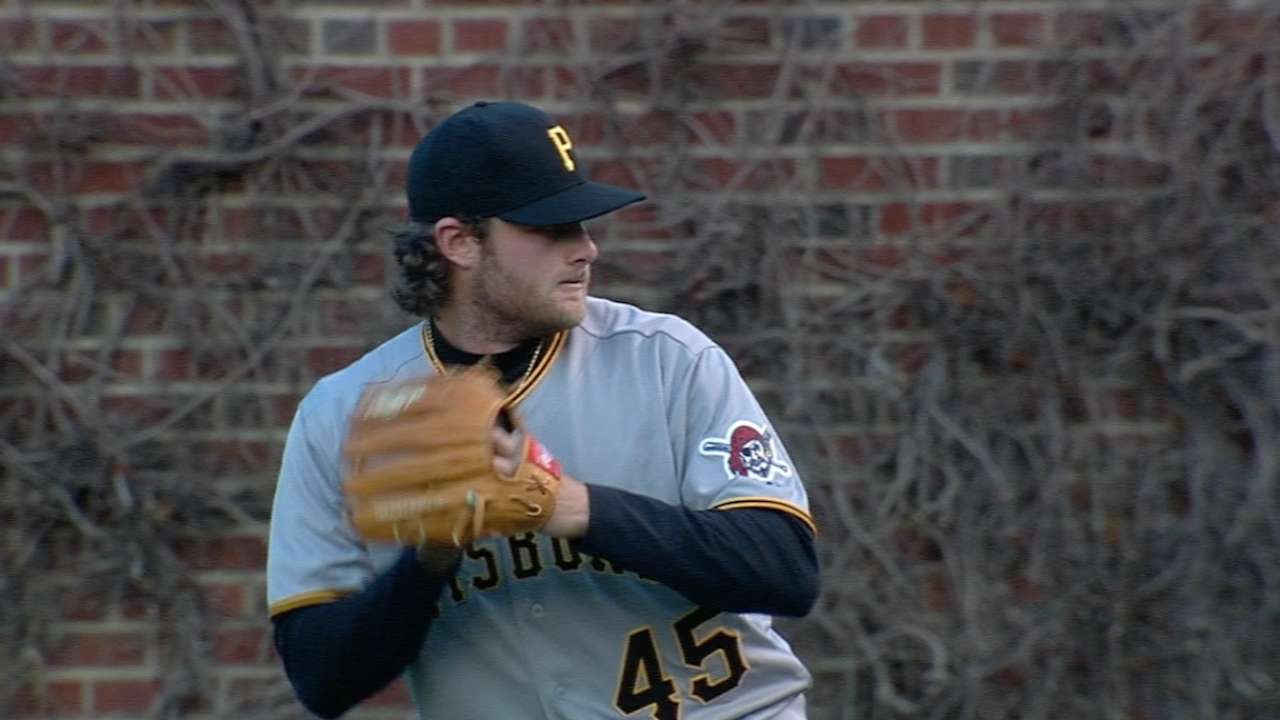 CHICAGO -- One of the questions facing the Pirates this spring was whether -- or, more likely, when -- Gerrit Cole could turn his top-of-the-rotation potential into production. Would this be the year he took a step toward becoming an ace?
If the first month of the season is any indication, the answer is a resounding "Yes." In fact, Cole may have already taken that step.
Cole finished off an outstanding April in the Pirates' 8-1 win Wednesday night at Wrigley Field, halting the Bucs' two-game losing streak and holding a dangerous Cubs lineup to one unearned run while striking out eight over six innings.
"That's [Cole]. He's a gamer," Pirates center fielder Andrew McCutchen said. "He's going to give you everything he's got. I knew he was going to keep us in the game. That's what he does."
Cole's numbers through five starts include a 4-0 record, a 1.76 ERA and a 0.98 WHIP. With Francisco Liriano, A.J. Burnett and Cole leading one of the Majors' top pitching staffs, Pittsburgh overcame its inconsistent offense to finish 12-10 in April.
Cole's ability has never been in question. The 24-year-old right-hander, who was the No. 1 overall pick in the 2011 First-Year Player Draft, showed what he can do by going 11-5 with a 3.65 ERA last season after posting a 10-7 mark and a 3.22 ERA as a rookie the year before. The difference so far this year has been Cole's consistency.
"Just keep trying to keep things simple," Cole said. "The same old stuff we always focus on."
After Cole beat the Brewers on April 19, Milwaukee outfielder Ryan Braun said Cole was "probably as good as anybody in baseball" in terms of "pure stuff." According to manager Clint Hurdle, Cole's success this year has been the result of the right-hander repeating his delivery in order to best utilize that stuff.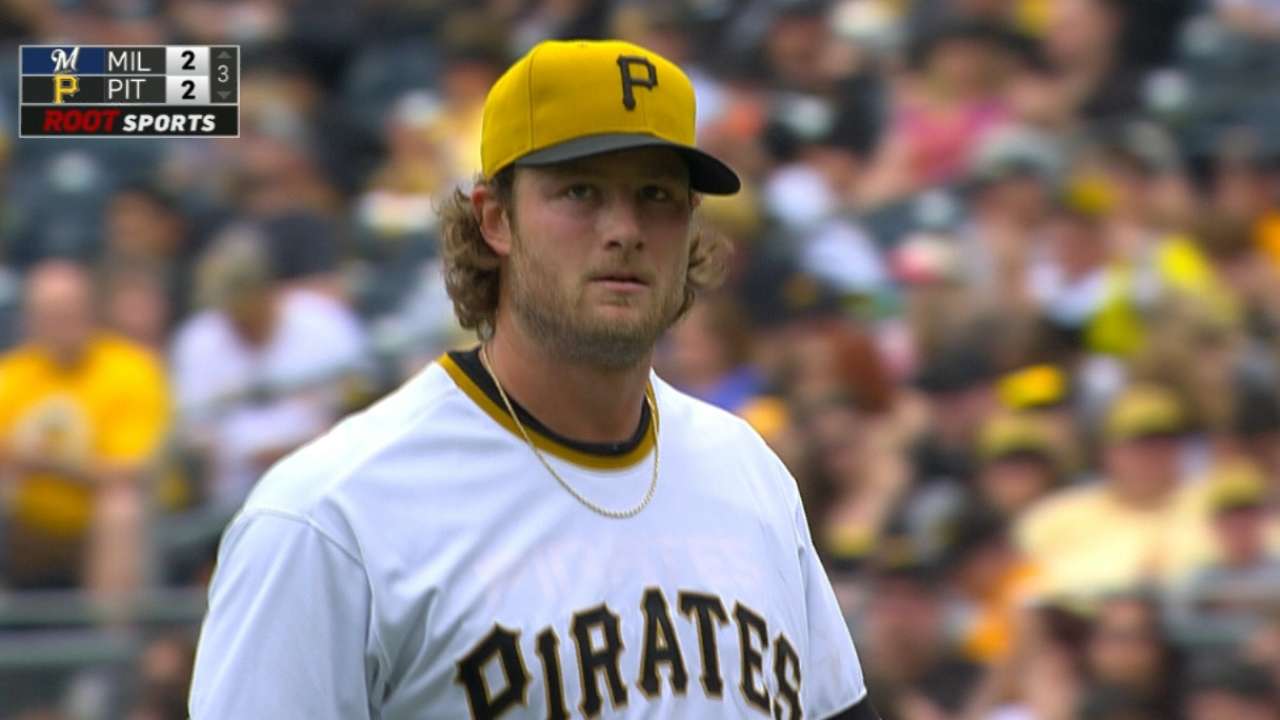 That's led to a lot of strikeouts (35 in 30 2/3 innings over five starts), fewer walks (eight) and a big jump in the number of ground balls Cole has produced. He ranks fourth in the Majors with a 63.2 percent ground-ball rate, about 14 percent higher than where he finished last year.
Cole has also shown signs of growth in his demeanor. He endured a maddeningly frustrating second inning Wednesday night, finding himself on the wrong end of a few debatable calls and two errors by first baseman Pedro Alvarez.
Cole responded by striking out the final three hitters in order, getting out of the inning having allowed just one unearned run.
"I thought he did a lockdown job," Hurdle said. "Stayed focused."
But Cole didn't want to be the center of attention after his latest victory. With a group of reporters crowded around his locker, Cole looked down the cramped, narrow visitors' clubhouse at Wrigley Field at McCutchen, who had just gone 2-for-5 and recorded his 1,000th career hit.
"I think most of the focus should be on him," Cole said. "He's certainly deserved it."
So, too, has Cole.
Adam Berry is a reporter for MLB.com. Follow him on Twitter at @adamdberry. This story was not subject to the approval of Major League Baseball or its clubs.