Inbox: How will Yankees adjust after Tanaka's injury?
Beat reporter Bryan Hoch answers New York fans' questions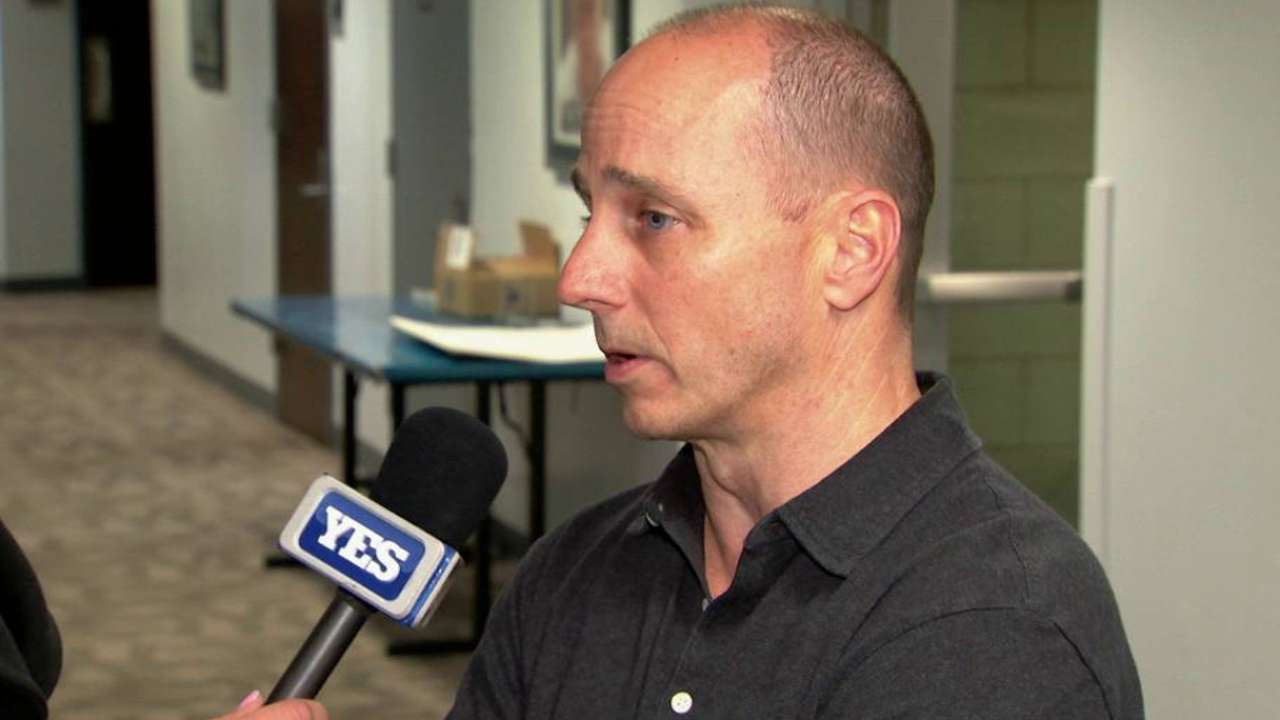 The first month of the season is in the books, and the Yankees overcame a 3-6 start to finish April with 13 victories, tops in the American League East. Here is a selection of what fans are talking about as the Yanks prepare for a weekend showdown in Boston:
How will the Yankees adjust the rotation with the injury of Masahiro Tanaka?
-- Frankie B., Brooklyn, N.Y.
This is the obvious place to lead off this time around. Chase Whitley will stick in the rotation for at least one more turn, slotting in the back end. Taking a peek down the line, New York has Chris Capuano and Ivan Nova both throwing in rehab games in Florida, and Capuano is said to be slightly ahead of Nova.
There's a very real scenario where the Yankees could have Capuano back in late May, get Tanaka back in early June and then have Nova knocking on the door as well. That'd be a nice problem for manager Joe Girardi to have, but it's too far down the line to think about. Much of that depends on how Tanaka looks and feels in a week when he picks up a ball.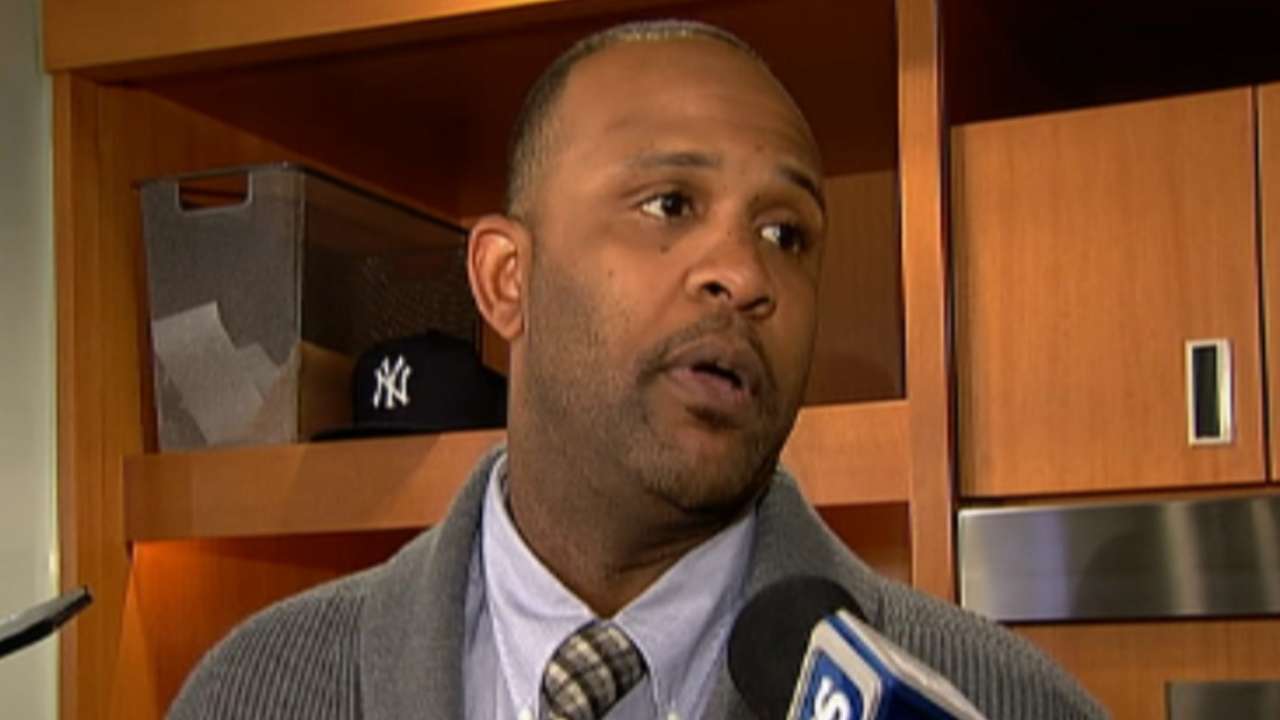 With Carlos Beltran struggling, has there been any talk of Aaron Judge coming up? Or are the Yankees content with Chris Young?
-- Parker R., Canandaigua, N.Y.
That would seem premature, as Judge still has yet to log his 100th plate appearance at the Double-A level. Girardi continues to say that it is important for the lineup to get Beltran going, but it's hard to argue with the extra-base power Young has provided, not only this season but last September as well. He is stating an extremely strong case to take more at-bats away from Beltran.
• Submit a question for the Inbox
Considering Tanaka's health and CC Sabathia's performance so far, should the Yankees trade for Cole Hamels? Which prospects would they have to give up?
-- Francisco, Guatemala
To be clear, there has been no discussion of that to this point, though there was a (refuted) report back in March that said New York had come closest to matching up with the Phillies. Word out of Philadelphia is that it'll take a huge package to part with Hamels (even with $94 million remaining on that contract).
That means the discussion would have to start with the likes of Luis Severino, Judge or Greg Bird, and the Yankees are obviously reluctant to wade in those waters. There's a sense, though, that the Phils will eventually get a good offer from someone if they wait into June and July.
Will Bryan Mitchell get a callup any time soon? Girardi has talked about using a sixth guy for spot starts.
-- Mike, Northport, N.Y.
Mitchell is definitely on that shuttle list from Triple-A. The Yanks technically did use a sixth starter once already with Whitley, but now with Tanaka on the shelf, they may not see as much urgency to slot in an extra starter. It's still something that is on the table, as they think extra rest can help all of the starters considering the mileage on Sabathia's arm and Michael Pineda's recent injury issues, but Girardi said that they're not sure if they now have the depth to do it during this upcoming stretch of 17 games in as many days.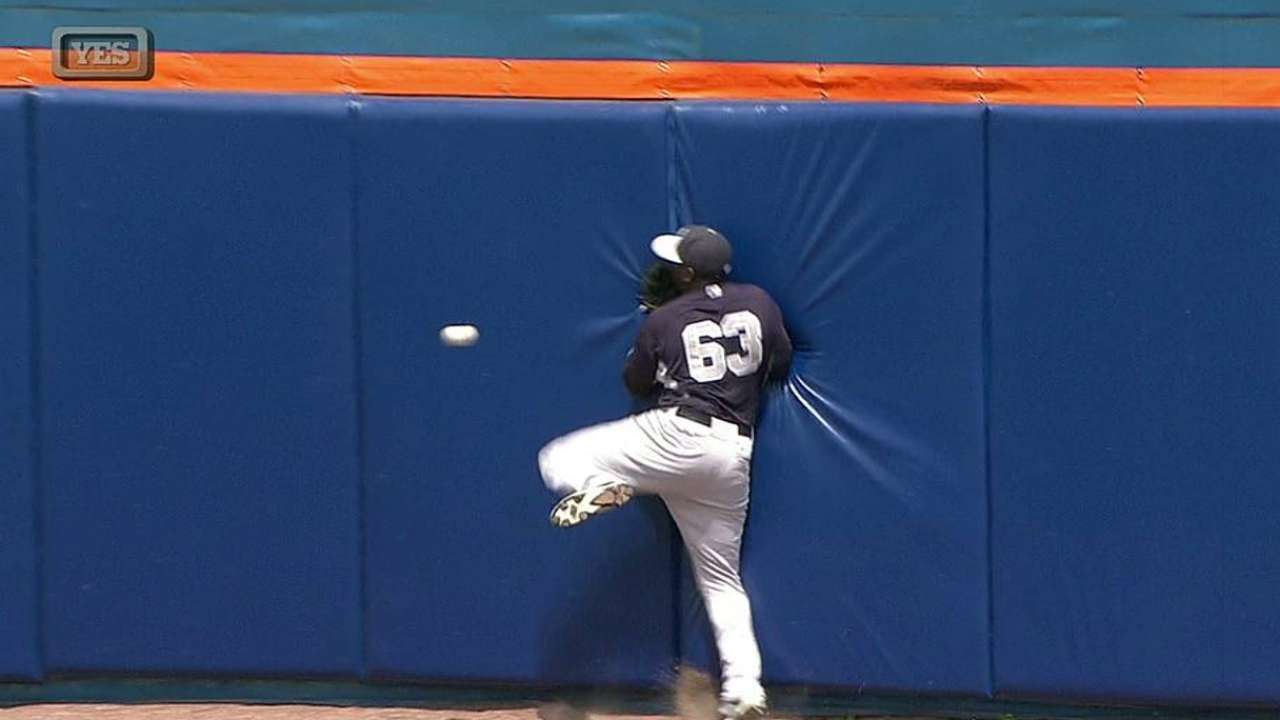 When do you think Jose Pirela will be ready for the Majors?
-- Effi U., New York
Pirela is close; the Yankees moved his rehab to Triple-A Scranton/Wilkes-Barre on Thursday, so a weekend appearance at Fenway Park doesn't seem out of the question. The problem thus far is that his bat has been a little rusty, with one hit in his first 14 Minor League at-bats, but the Yanks expect that Pirela will play a role on the big league club soon.
That said, Pirela is likely to be used as a bench player similar to how Girardi has used Gregorio Petit, and not as a starting second baseman. Despite a sub-Mendoza Line average, the Yankees have no designs upon dislodging Stephen Drew from second base at this time.
Bryan Hoch is a reporter for MLB.com. Follow him on Twitter @bryanhoch, on Facebook and read his MLBlog, Bombers Beat. This story was not subject to the approval of Major League Baseball or its clubs.