Sarah's Take: McCarthy injury creates hole for Dodgers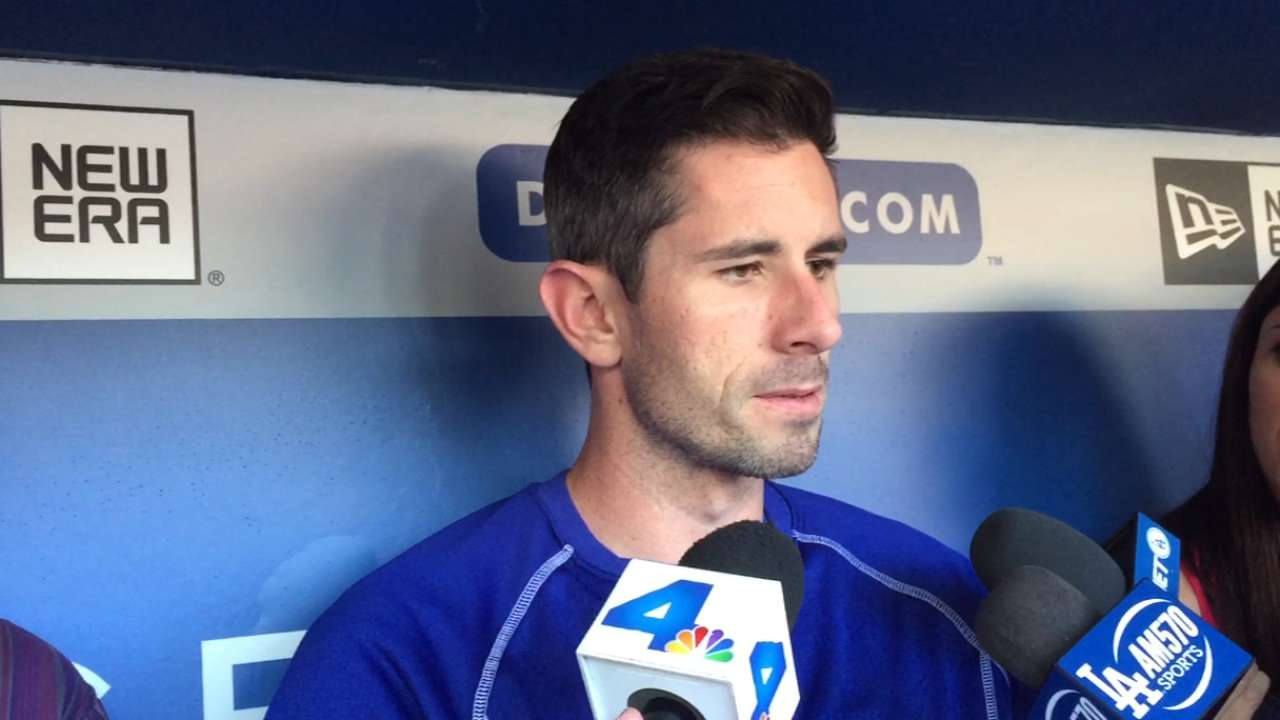 The injuries keep mounting for the Los Angeles Dodgers. They have good depth at most positions, but if Hyun-Jin Ryu does not return soon, they could have problems.
On Saturday against the San Diego Padres, Brandon McCarthy struggled with his control. He never looked comfortable on the mound, and his pitching rhythm seemed too fast. The Dodgers weren't in danger of losing after they scored six runs off Ian Kennedy, who just came off the disabled list with a strained hamstring, so manager Don Mattingly attempted to conserve the bullpen.
In the sixth inning after allowing a three-run homer to Justin Upton, McCarthy signaled to the dugout for a trainer -- never a good sign -- and left the game without throwing a practice pitch.
A couple of innings later, the initial diagnosis of a stiff elbow didn't comfort anyone who follows the Dodgers. McCarthy, who turns 32 in July, hoped it was only tendonitis, but the Dodgers ordered an MRI.
On Monday, McCarthy learned he had a torn ulnar collateral ligament. For the 11th time in his nine-year career, he went on the disabled list. He's out for the season. The usual recovery time for Tommy John surgery is 12 to 18 months.
Last December, the Dodgers signed McCarthy to a four-year, $48 million contract. Because of his history of shoulder trouble, many questioned the signing. General manager Farhan Zaidi said that he didn't see a bad outing from McCarthy while he played for the Oakland Athletics. McCarthy's elbow looked healthy in a pre-signing MRI.
This young season, many teams have experienced injuries to their starting rotation, so every team is looking for starting pitching. None is usually available by trade until closer to the All-Star break. Therefore, the Dodgers must address their starting rotation problems internally.
The Dodgers have tried to provide back up for this scenario.
Before Spring Training, the Dodgers invited Erik Bedard, a veteran starter. Until he injured his shoulder, he pitched well. During Spring Training, the Dodgers signed Brandon Beachy. He isn't expected to be able to pitch until after the All-Star break as he recovers from Tommy John surgery.
For now, Scott Baker, who pitched well on Sunday, will remain in the starting rotation. The Dodgers will still have difficulty finding a replacement for Ryu until he returns. On Sunday, Ryu threw 20 fastballs off the mound for the first time since March. It will be a while before he can rejoin the rotation.
The Dodgers no longer have an abundance of outfielders to be dangled as trade bait. On Sunday, the Dodgers had to put Yasiel Puig on the disabled list with a strained hamstring. They hope he can return within two weeks, but hamstring injuries can linger. On Monday night, Carl Crawford had to come out of the game in the third inning. He felt tightness in his right oblique. He's listed as day to day, but oblique injuries don't go away quickly. They can require a month on the disabled list.
Sarah D. Morris can be reached at sarahmorris27@gmail.com. This story was not subject to the approval of Major League Baseball or its clubs.