Fien heads to disabled list as Twins recall Tonkin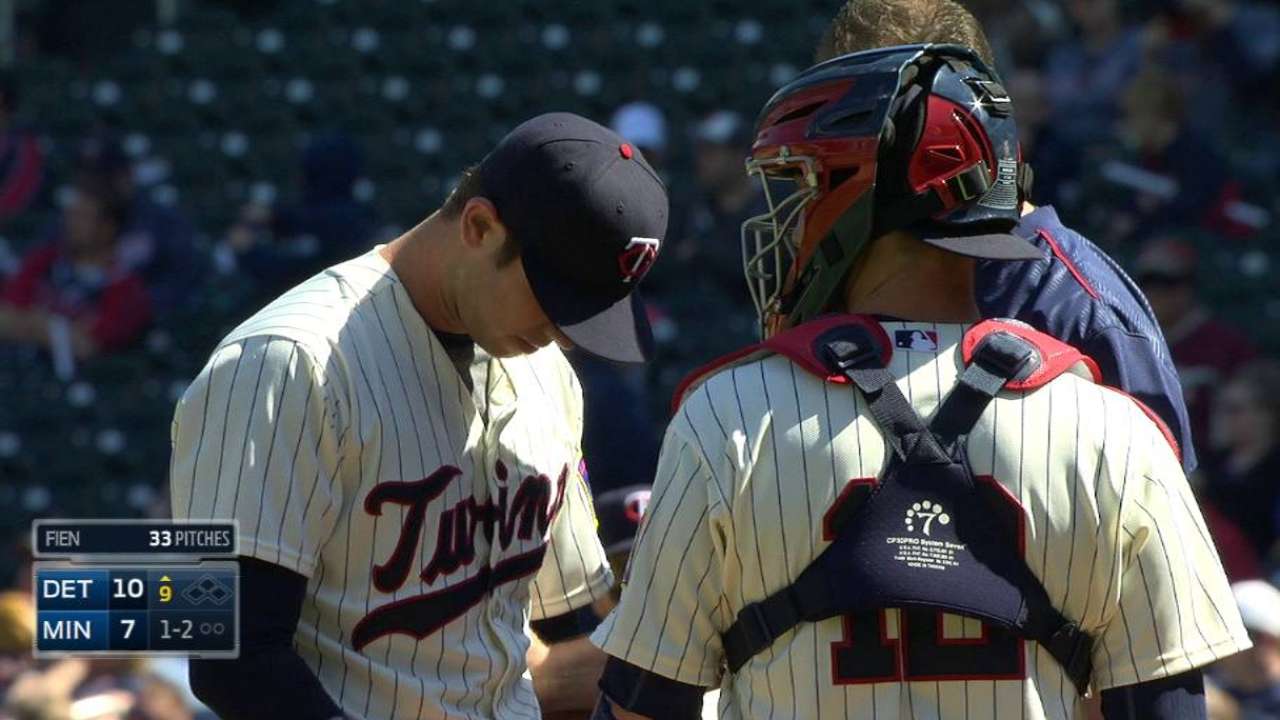 MINNEAPOLIS -- The Twins placed right-handed reliever Casey Fien on the 15-day disabled list on Thursday with a right shoulder strain, and they recalled fellow right-handed reliever Michael Tonkin from Triple-A Rochester.
Fien sustained the injury while pitching in the ninth inning of Wednesday's 10-7 loss to the Tigers. He left the game in the middle of an at-bat against Victor Martinez, and said he especially felt the strain in the back of his shoulder when throwing curveballs. He underwent an MRI exam on Thursday, but it showed no structural damage.
"It's good to know the MRI went well and was clean," Fien said. "I know where I need to strengthen it and where to focus my efforts on."
Fien, 31, is Minnesota's top setup reliever, and he had posted a 4.35 ERA with five holds in nine relief appearances. He struck out three and walked none in 10 1/3 innings. Fien missed time earlier in the season with a shoulder injury he sustained in his first outing, and said he'd been getting treatment on it ever since, but that the tightness worsened on Wednesday.
Fien, though, said the plan is to start throwing in four or five days with the hope of being activated on the first day eligible. He's eligible to come off the DL on May 15.
"I guarantee you if I got another day off, I could probably pitch tomorrow, but we don't want this thing to be ailing through July," Fien said. "I don't want to overcompensate and then maybe hurt my elbow or something else. So this honestly is the best thing for me to get it over with now and get myself healthy."
Tonkin, 25, had been pitching well at Rochester, posting a 2.45 ERA with 10 strikeouts and two walks in 7 1/3 innings. He has a career 3.26 ERA in 34 relief appearances with the Twins over the last two seasons.
"I feel pretty good," Tonkin said. "I feel like my velocity is pretty good. I'm locating my fastball pretty well and using my slider. I'm also using my changeup more than I have in years past."
Rhett Bollinger is a reporter for MLB.com. Read his blog, Bollinger Beat, and follow him on Twitter @RhettBollinger. This story was not subject to the approval of Major League Baseball or its clubs.