Community legacy effort getting All-Star treatment
MLB, Reds unveil summer initiatives, projects to serve Cincinnati and beyond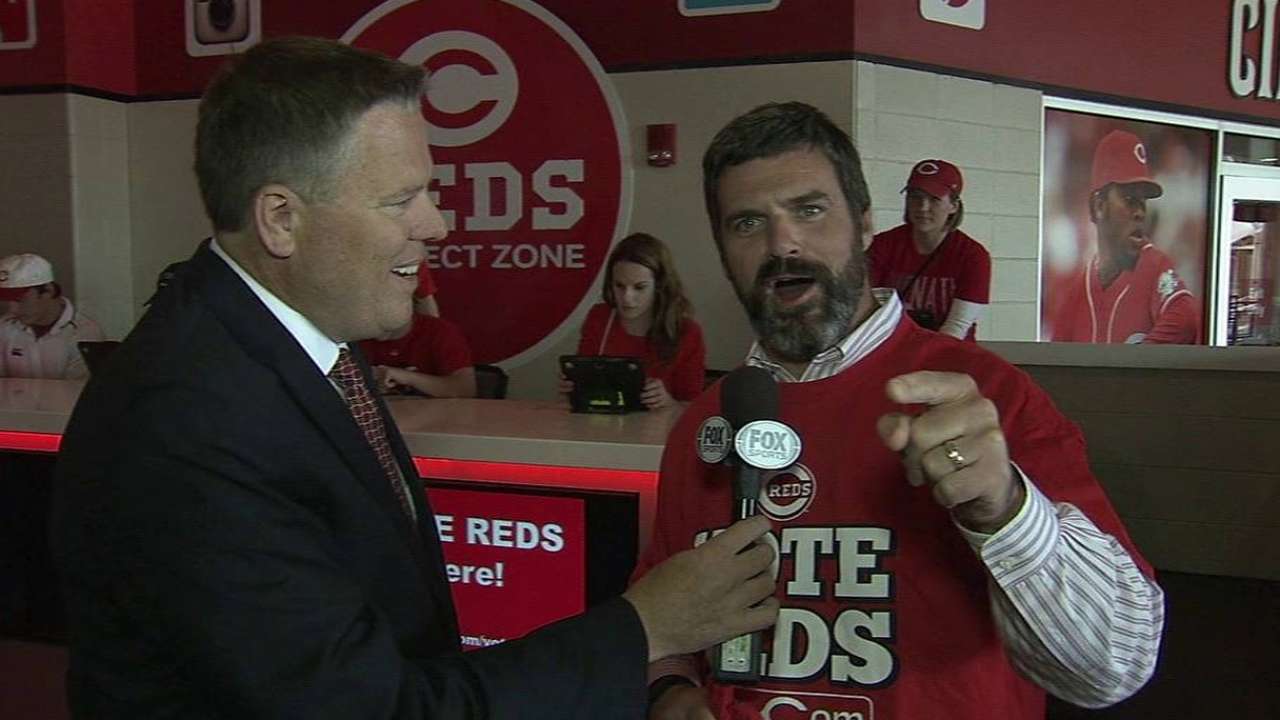 As fans continue to decide which players will start the 86th All-Star Game on July 14 in Cincinnati, Major League Baseball and the host Reds on Wednesday announced details of the annual community legacy effort that will be headed there as well.
The All-Star summer community effort will consist of a range of renovation projects that will leave a lasting impact within communities of Greater Cincinnati and beyond. It features the contribution of nearly $5 million toward national charitable programs and local projects, including nine area youth baseball field renovations.
The various legacy projects are designed to positively affect the lives of local veterans and underserved youth, and they will place a focus on improving the well-being of local citizens. The overall effort will also go toward supporting cancer research, highlighting the importance of environmental consciousness and complementing the midsummer baseball celebration.
The nearly $5 million in donations will come through MLB Charities and the Reds Community Fund, to MLB All-Star projects in Greater Cincinnati and "Reds Country," and also to support national charitable initiatives including Boys & Girls Clubs of America, the Jackie Robinson Foundation, Welcome Back Veterans, Stand Up To Cancer, Prostate Cancer Foundation and Susan G. Komen, among others. A portion of the funds will be raised from Gatorade All-Star Workout Day on July 13.
In some cases, the legacy donation is going toward larger community projects that are funded by local organizations, including, but not limited to, Cincinnati Public Schools, Covington (Ky.) Independent Public Schools, Cincinnati Recreation Commission and Boys & Girls Clubs of Greater Cincinnati.
"Baseball truly could not have selected a more grateful and worthy community to partner with," said Reds CEO Bob Castellini.
Legacy donations to fund worthy projects will include:
• Youth field renovations to provide first-class facilities to an expanded range of youth and amateur players, especially to those from urban and underserved areas. These include Howell Field in Dayton, Ohio; Withrow High School Field and Dyer Fields in Cincinnati; Meinken Field in Covington; and Don Johnson Field at the P&G Cincinnati MLB Urban Youth Academy in Cincinnati.
Separate from the All-Star legacy effort, Scotts, the official Lawn Care Company of MLB, also will be funding a renovation at Queensgate Field in Cincinnati. Don Johnson Field will be the site of the Opening Ceremonies of the 2015 All-Star Jr. RBI Classic, an event designed to provide young baseball and softball Reviving Baseball in Inner Cities (RBI) program participants from around the country, ages 11-12, with the opportunity to be a part of All-Star Week. The Dyer Fields project will be a part of the P&G, Cincinnati Zoo, MLB and Reds Community Fund community makeover.
• Activity Center at the Larry & Rhonda Sheakley Boys & Girls Club in Cincinnati's Price Hill neighborhood. All-Star legacy funds will go to an activity center at the new 17,000-square-foot facility, allowing the Club to double the amount of young people it now serves.
• Technology & Conference Room at the Veterans Reintegration Center. As an extension of MLB's Welcome Back Veterans initiative, MLB and the Reds, in conjunction with the Tri-State Veterans Community Alliance, will upgrade an existing space on the CityLink Campus to create a new veterans reintegration center. The new center will help some of the thousands of veterans in the Greater Cincinnati area to facilitate a successful transition and reintegration into the community through various resources, including financial planning, job readiness, peer coaches and referrals to qualified community organizations/services based on the needs of the veteran and family.
• Community makeover. More than 400 volunteers will help complete a significant makeover project at the Seven Hills Neighborhood Houses, including the abandoned Sands School playground, as well as the Dyer baseball fields in the West End neighborhood. The work at the community center will feature major HVAC and roofing repairs as well as improvements to the kitchen, library, game room, computer room and other areas.
• Pediatric Primary Care Waiting Room at Cincinnati Children's Hospital Medical Center. The project will result in significant improvements to the waiting room, which offers care to thousands of children from low-income families. The renovation will include innovative physical and virtual spaces to engage families with leading community organizations to help mitigate any potential social risks and also offer opportunities and resources to achieve their health goals.
All-Star Week will build on MLB's continued MLB.com/green commitment to the environment by incorporating a wide variety of ecologically responsible features, including:
• All-Star walking path. To encourage fans taking part in All-Star Week activities to walk rather than drive, MLB -- in cooperation with the Reds, the City of Cincinnati and Hamilton County and Kentucky Department of Transportation -- developed this path between T-Mobile All-Star FanFest at the Duke Energy Convention Center and Great American Ball Park. The path will be painted with green markings on the sidewalk and signage on the route. The MLB.com At Bat app will give the route.
• Offsets and waste diversion. To reduce All-Star's environmental footprint, more than 512,000 kWh of energy and 175,000 gallons of water used during the three days of events will be offset with Green-e Certified Renewable Energy Credits and water restoration credits supplied by Bonneville Environmental Foundation. In addition, player travel to and from Cincinnati will be offset through carbon offsets provided by Bonneville Environmental Foundation. MLB and the Reds will collect and donate uneaten food at All-Star events to feed local community members in need.
• Recycling. Great American Ball Park features 175 recycling bins, providing many opportunities to recycle items. To reinforce this message, All-Star Green Teams will collect recyclables and interact with fans. MLB is working with the University of Minnesota and University of Cincinnati to provide college students with a two-credit course on environmental stewardship at large-scale sporting events.
• "Green" Red Carpet. For the MLB All-Star Red Carpet Show presented by Chevrolet, the players will travel on a red carpet made from 100-percent recycled fiber that will be recycled after use.
Visit AllStarGame.com for more information.
Mark Newman is enterprise editor of MLB.com. Read and join other baseball fans on his MLB.com community blog. This story was not subject to the approval of Major League Baseball or its clubs.