#ASGWorthy: Pederson thrills with bat and glove
Rookie center fielder could earn plenty of support on All-Star ballot from LA fans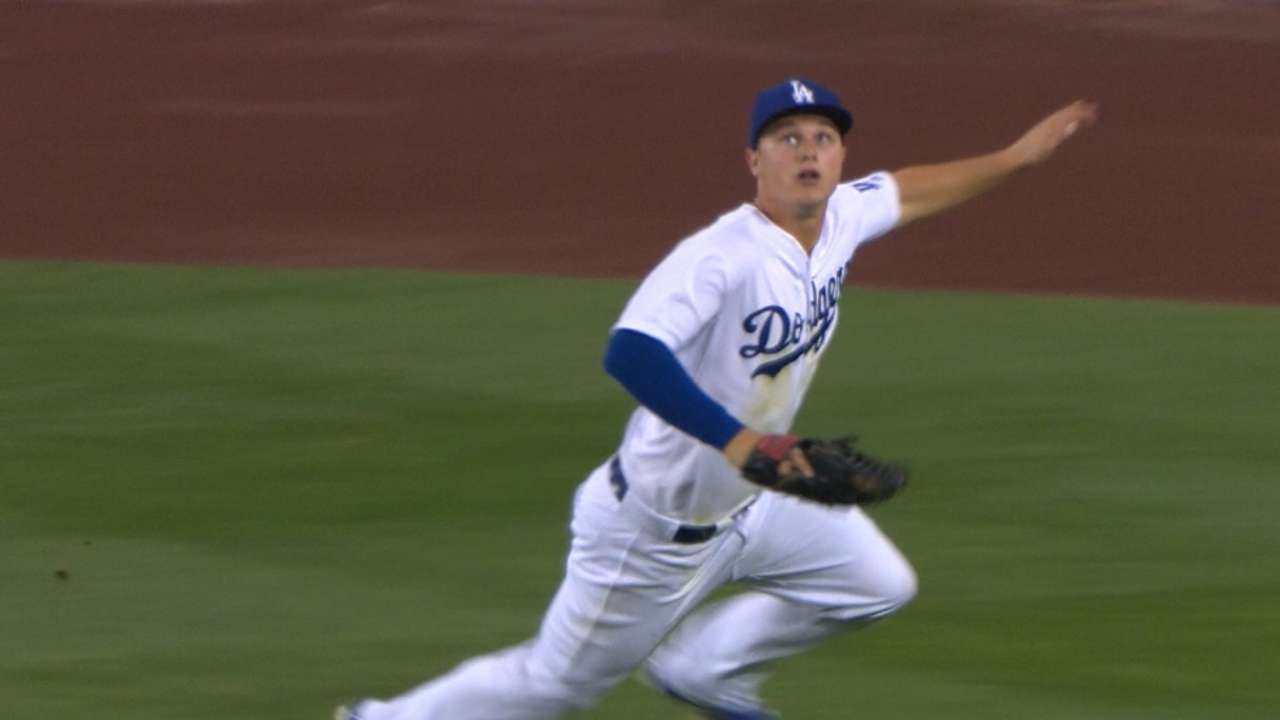 Who said you need longevity to stand out amongst your peers? Joc Pederson has only played in 39 games at the big league level, but he's earning raves for his play on both offense and defense. On Wednesday night, Pederson took his well-rounded feats to a new #ASGWorthy level.
Pederson, the Dodgers' fleet-footed center fielder, homered on the second pitch of the game Wednesday night and later came back to deliver a highlight-reel catch. Pederson tracked back toward the wall, made a course correction and then a sprawling backhand catch in the Dodgers' 7-3 win over the Giants.
Pederson, who was an 11th-round selection in the 2010 First-Year Player Draft, has quickly developed a reputation that belies his modest Draft pedigree. Pederson had a .302 average and a .405 on-base percentage in 441 Minor League games, and he's quickly turning heads in the Majors.
Pederson, 23, struggled in an 18-game test in the Majors late last season, but he's doing everything right for the Dodgers in April. He's batting .298 with a .461 on-base percentage through his first 21 games this season, and he's providing an athletic presence in the wide expanse of center field.
Now, with the All-Star vote in the hands of the fans, Pederson can count on the strength of one of the league's biggest markets. He has homered four times, and his athletic play in center field should give fans in Los Angeles plenty of reasons to punch his name on the ballot.
Fans can cast their votes for starters at MLB.com and all 30 club sites -- on their computers, tablets and smartphones -- using the 2015 Esurance MLB All-Star Game Ballot until Thursday, July 2, at 11:59 p.m. ET. For the first time, voting is exclusively online, where fans may submit up to 35 ballots.
Fans may also receive the ballot by texting VOTE to 89269 (USA) or 101010 (Canada). Or text VOTA for a ballot in Spanish. Message and data rates may apply. Up to five messages. No purchase required. Reply STOP to cancel. Reply HELP for info.
Following the announcement of the 2015 All-Stars, be sure to return to MLB.com and cast your 2015 Esurance MLB All-Star Game Final Vote for the final player for each league's All-Star roster. On Tuesday, July 14, watch the 2015 All-Star Game live on FOX, and during the game visit MLB.com to submit your choice for the Ted Williams Most Valuable Player Award presented by Chevrolet via the 2015 MLB All-Star Game MVP Vote.
MLB.com will provide extensive online coverage of All-Star Week festivities.
The 86th All-Star Game will be televised nationally by FOX, in Canada by Rogers Sportsnet and RDS, and worldwide by partners in more than 200 countries via MLB International's independent feed. ESPN Radio and ESPN Radio Deportes will provide national radio coverage of the All-Star Game. MLB Network and SiriusXM will also provide comprehensive All-Star Week coverage. For more information, please visit allstargame.com.
Spencer Fordin is a reporter for MLB.com. This story was not subject to the approval of Major League Baseball or its clubs.