Rays donate new uniforms to local Little League squads
Club gives back to community by outfitting more than 5,500 area players, coaches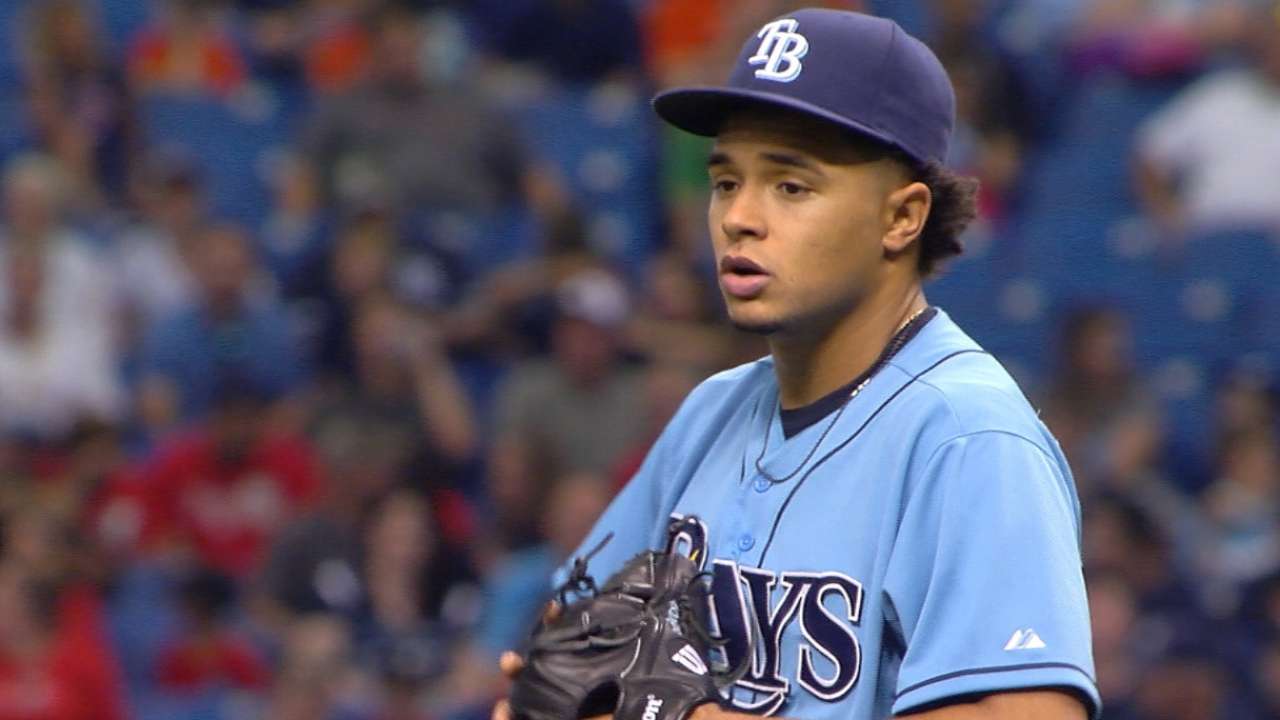 ST. PETERSBURG -- Supporting youth baseball is a priority for the Rays.
"Our mission is to energize our community through the magic of Rays baseball, and our support of youth baseball in Tampa Bay is just one example of creating that magic," Rays president Brian Auld said. "Youth baseball is the foundation of our growing fan base, and we want to ensure baseball thrives in Tampa Bay for generations to come."
For the second consecutive year, the Rays launched an initiative with Little League Baseball. Included in the initiative were Little League teams from Hillsborough, Manatee, Pasco, Pinellas, Polk and Sarasota counties. To help support these programs, Tampa Bay provided jersey and caps to more than 5,500 T-ball players and coaches in those regions.
The uniforms included 18 variations of Rays colors and styles, which gave the young Little Leaguers a Major League look.
The total savings from the project, as reported by the participating leagues, was estimated at more than $115,000.
Because of those savings, officials from some of the leagues noted that they were able to repair scoreboards, provide paint upgrades to dugouts, add fencing for fields, fund new equipment purchases and grounds-crew supplies, and repair concession stands and other facilities.
As part of the overall program, the Rays worked directly with the participating Little Leagues to coordinate instructional clinics for their players and coaches.
"I think any kid that age -- and I know looking back -- that Little League coach, your good ones are like a second dad," Rays manager Kevin Cash said. "You're not only teaching them baseball, but they have that presence about them where you want to be at the park with them, so they have a good structure."
Meanwhile, Chris Archer is demonstrating one way Major Leaguers can help youth baseball.
This season, every strikeout recorded by Archer will benefit both Burg Baseball Inc. and RBI Baseball of Tampa. For each strikeout he logs, the right-hander will join the Rays and WTSP 10 News to donate $25 each to be split among the youth leagues.
"I've seen firsthand the positive influence that both of these organizations have on youth in the Tampa-St. Petersburg area," Archer said. "Since my time is often limited, I'm encouraged to do more monetarily to help these worthy leagues."
Burg Baseball Inc. is a nonprofit organization that provides an organized baseball league for children from St. Petersburg living at or near the poverty level, at little or no cost to the families of players. Since 2007, Burg Baseball has left a positive mark on the lives of more than 1,600 St. Petersburg youth, ages 4 to 16, by teaching not only pitching, fielding and batting skills, but also sportsmanship, character and teamwork.
The Rays' Tampa RBI (Reviving Baseball in Inner Cities) program has served the Tampa Bay area for more than 10 years as an MLB outreach baseball and softball program. For more than 500 inner-city youth, Tampa RBI provides structured play, discipline and mentoring, while fostering a culture of teamwork and respect.
Bill Chastain is a reporter for MLB.com. This story was not subject to the approval of Major League Baseball or its clubs.