MLB.com Columnist
Lyle Spencer
Playing time getting Ethier into good groove
Outfielder showing off power, defense with opportunity created by injuries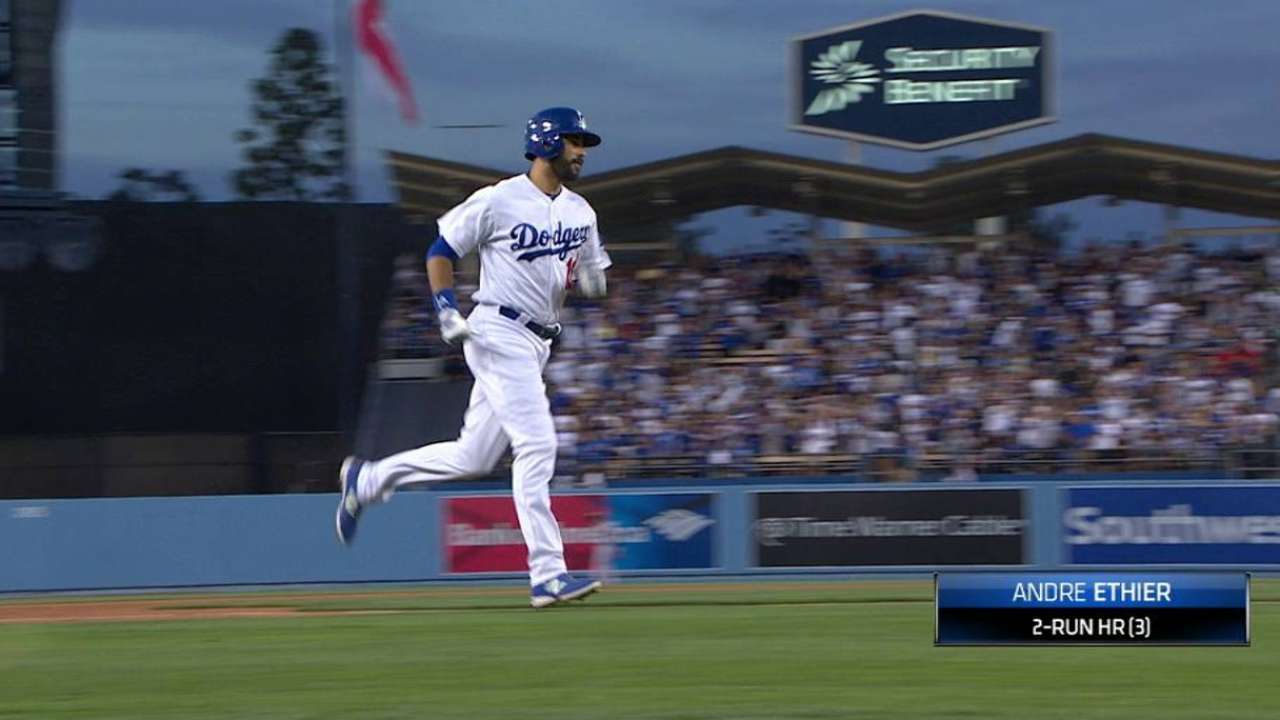 LOS ANGELES -- The Dodgers rolled out the heavy artillery Wednesday night, and Andre Ethier, no longer on the outside looking in, was delighted to be part of the fireworks display.
"Long balls, that's a pretty cool way we scored that inning," Ethier said of the trio of first-inning homers at Dodger Stadium that sent Zack Greinke on his way to a 7-3 victory at the expense of the Giants.
Taking the series two games to one after getting swept a week earlier in San Francisco, the two-time defending division champion Dodgers solidified their early grip on the National League West.
It hasn't been easy for Ethier to nail down a job with the glut of quality outfielders sharing the clubhouse. Injuries to Yasiel Puig and Carl Crawford have created an opening for his left-handed bat, and Ethier has responded with a .304/.400/.587 slash line in 46 at-bats -- more than he could have reasonably imagined 21 games into the season.
"The last couple of years have been tough on 'Dre," said Adrian Gonzalez, who joined Joc Pederson and Ethier in the first-inning home run parade at the expense of Ryan Vogelsong. "Once Puig came up, it put some guys in a position where they weren't going to play every day. You can't get in a groove when you're used to being a starter.
"Right now, he's playing a lot and showing what he can do. He's always had power, and he's a great defensive player."
Pederson, the rookie with the sweet swing and quality glove in center, celebrated his promotion to the leadoff spot with his fourth homer of a brilliant opening month. When Gonzalez and Ethier, the old hands, followed suit, a sellout crowd was rocking.
The Dodgers extended their Major League lead in homers to 32 with Jimmy Rollins' solo shot in the third.
Ethier, who began the season as the fourth wheel in an outfield featuring Crawford, Pederson and Puig, also brought his glove along and supplied the play of the night for Greinke with two runners aboard and two down in the second.
Joe Panik lifted a drive destined for the right-center gap. Ethier got a great jump and made a full-tilt dive, cradling the ball in his glove as he crashed into the warning track.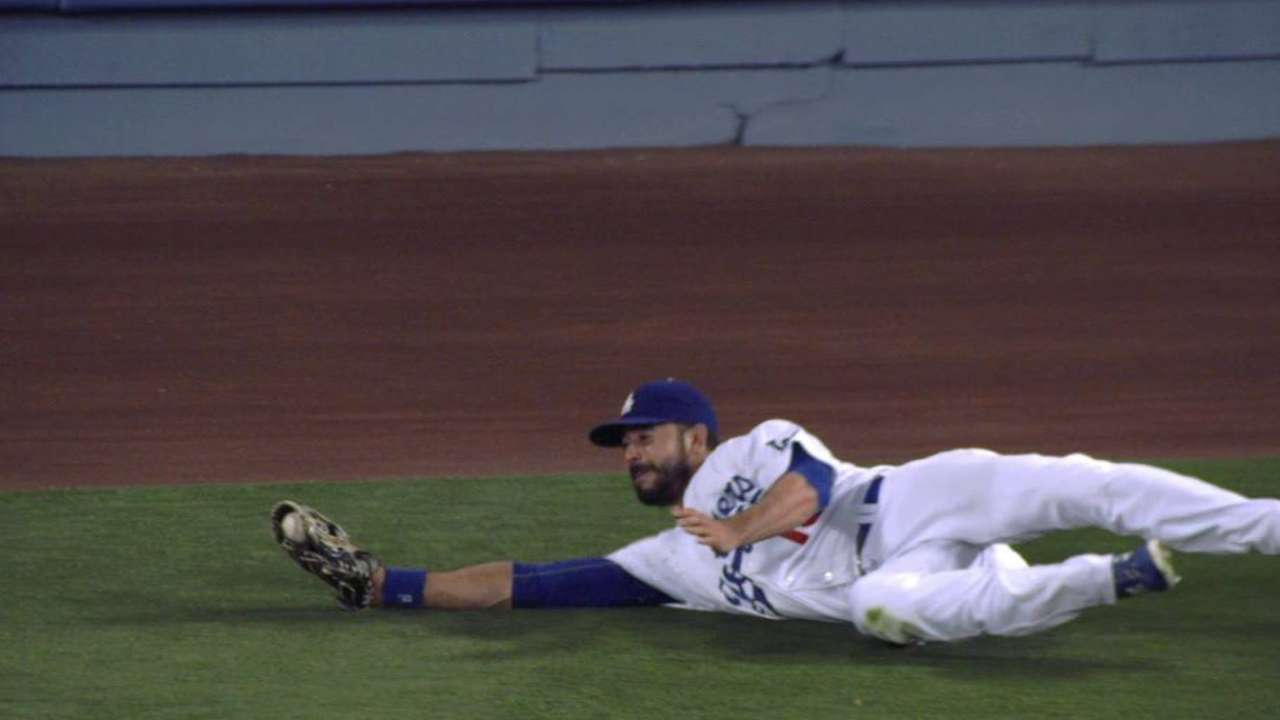 "The way the game was going to go back and forth," Ethier said, "to make that defensive stop and keep them from tacking on more runs was pretty big. I thought I had a good bead on it. Usually off a left-handed bat, those balls come back toward right field. That ball stayed straight. I was 50-50 for it."
Ethier stayed down for a moment as Pederson stood over him, unleashing his youthful enthusiasm.
"I was trying to get all that warning-track crushed-up rock off me, and I think he was screaming in my ear," Ethier said, grinning. "I said, 'What are you screaming for?' I think he was kind of shocked I made the catch."
Greinke acknowledged his good fortune in Panik losing a triple and two RBIs that could have changed everything.
"Ethier's catch was such a big play, really good and really important," Greinke said. "Halfway there, I didn't think he would get it. It was a nice surprise."
Pederson, the wide-eyed kid, also applauded Ethier's leather work.
"It was pretty cool," Pederson said. "It all happened right in front of me. He got a good read, made a great catch. It was huge momentum for us."
The home run, No. 148 of Ethier's career as a Dodger, lifted him into 10th on the Los Angeles list, past Adrian Beltre. Willie Davis is next at 154.
"That was a good answer for us," Ethier said. "Joc set the tone, and definitely we picked up Zack with some plays we made."
Asked if the catch made his personal top 10, Ethier indicated that it surely fit on the list.
"That's a lot of plays to go back on," he said, "but it meant a lot. You're trying to win the series and kind of even it up for what they did to us up there. It doesn't matter what time of the season it is, end of April or whatever. It's important to win games and keep those guys behind us."
"Those guys" are the defending World Series champions. The Dodgers are keenly aware of how dangerous the Giants can be when they start rolling.
"You've got to win division games to win the division -- that's the key to being champs in the NL West," Ethier said. "We've got to beat those guys."
There is no reason to believe the Wild West won't be as unpredictably great as ever. Ethier, who could be playing elsewhere if a deal had been done as he'd hoped, suddenly looks more than content to be along for the ride.
Lyle Spencer is a national reporter and columnist for MLB.com. Follow him on Twitter @LyleMSpencer. This story was not subject to the approval of Major League Baseball or its clubs.