Healthy Blanks ready to showcase skills
Former top prospect aims to make most of opportunity with Rangers after battling injuries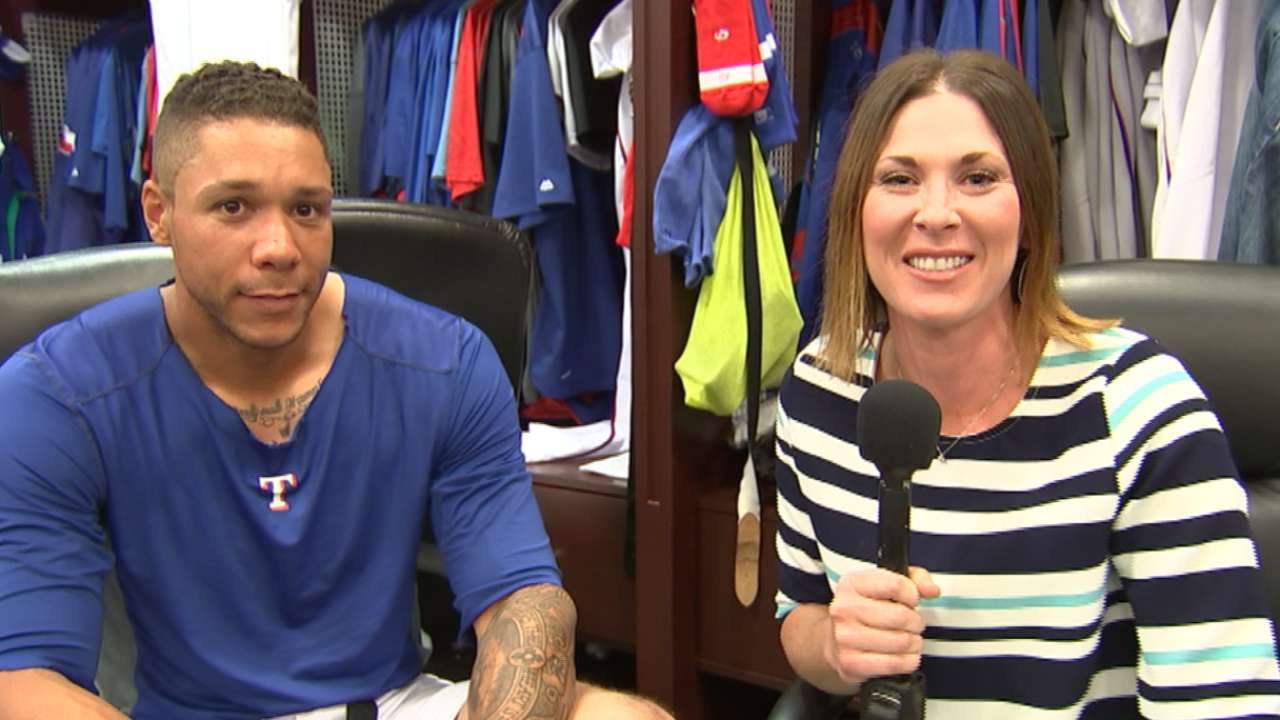 ARLINGTON -- Kyle Blanks was everybody's All-Prospect, almost from the time the Padres signed him as a draft-and-follow in 2005 out of Yavapai College in Prescott, Ariz.
Blanks won the Rookie-level Arizona League home run title, was an All-Star in the California League and won the Texas League MVP Award. He was ranked as the top power hitter in the Padres' farm system. Blanks hit 10 home runs in 54 games as a rookie with San Diego in 2009, including the first inside-the-park home run by a Padres player at Petco Park.
That season came to an end in August with a strained arch of his right foot that developed into plantar fasciitis. Blanks went from the All-Prospect lists to the disabled list, and it seems like he has been there ever since.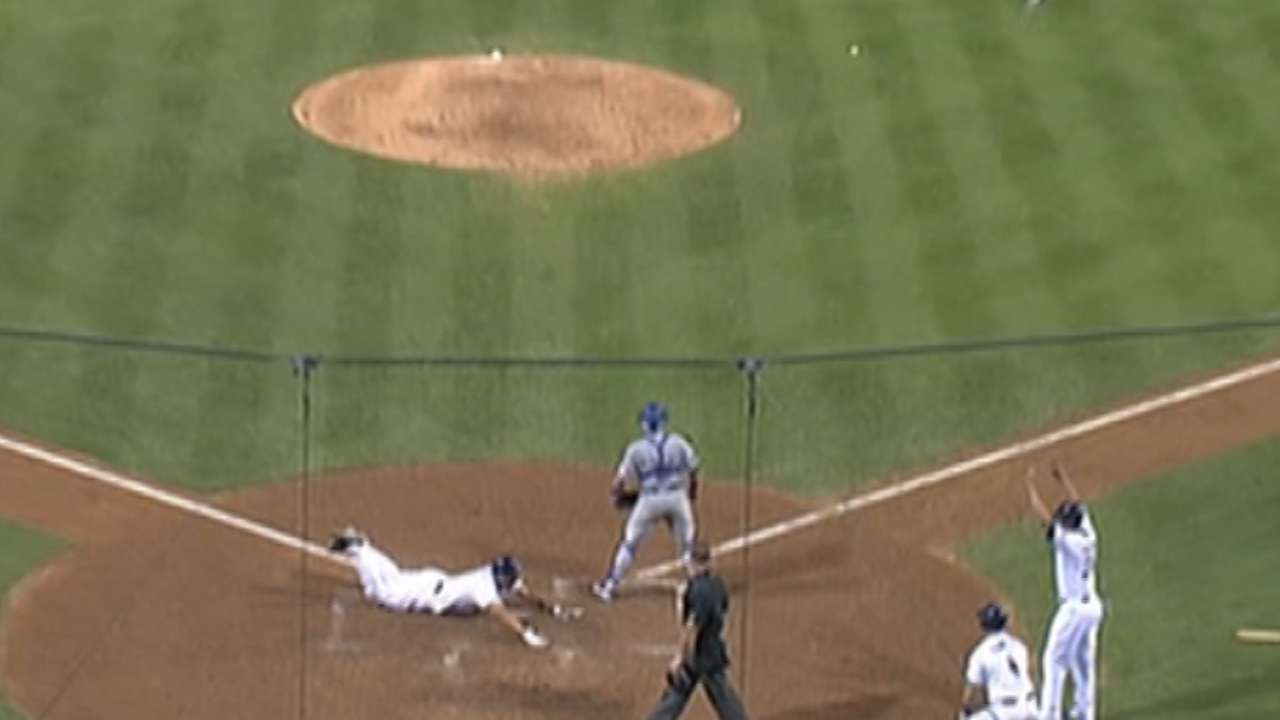 "With me, it has never been a question of anything on the field, it is being healthy enough to be there," Blanks said. "I have been waiting for that time for everything to come together."
Blanks is getting another chance for that to happen. Mitch Moreland is on the disabled list for two to three weeks while recovering from left elbow surgery, and Blanks is here to fill in for him at first base and designated hitter. The All-Prospect gets another chance to show what he can do if he stays healthy.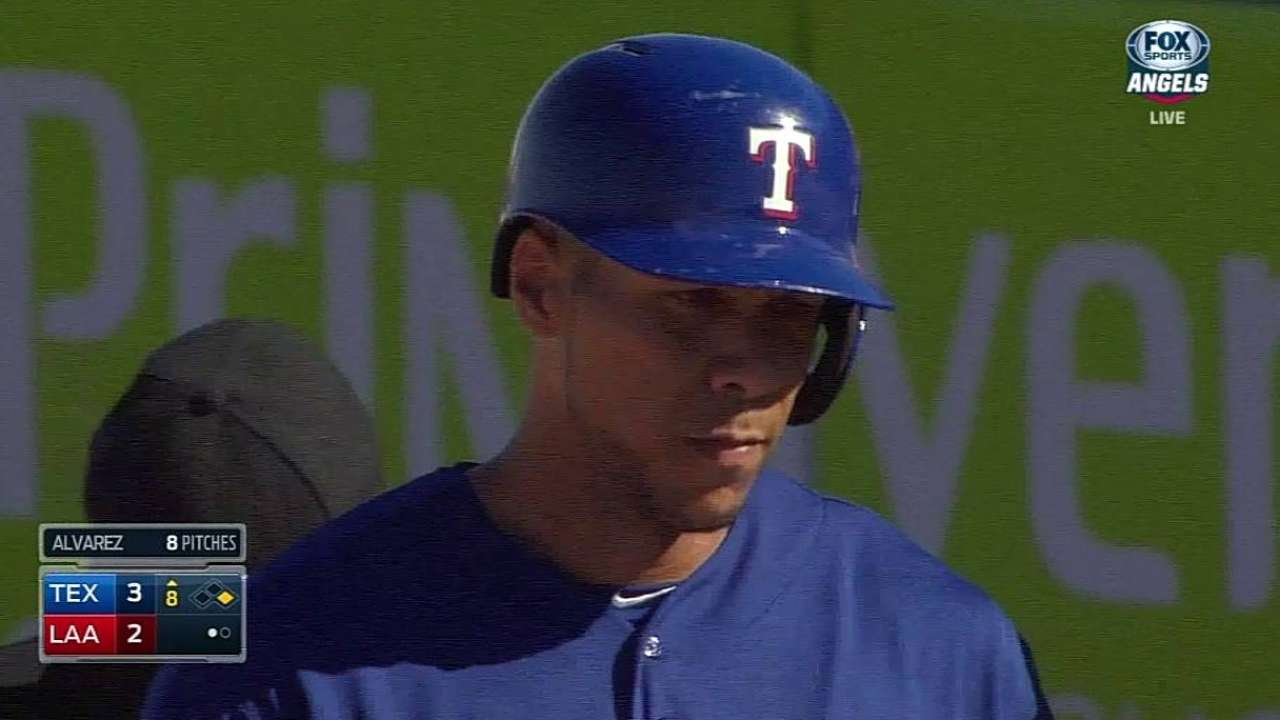 "I know what I'm capable of doing on the field, it's a matter of staying there," Blanks said. "I know I play hard, and if that's what has caused what's happened to me, so be it. I'm not going to stop trying to play the game the right way."
The foot problem in 2009 was expected to be a minor obstacle, but bigger ones surfaced, as a bad elbow in '10 led to Tommy John elbow reconstruction surgery. Blanks has been on the disabled list six times in his career. Every time the Padres thought he was ready for a meaningful role, another major injury would occur. Blanks made his Major League debut in 2009, but he has played just 261 games in the Majors.
"I look at it as there are guys who have had it worse than me," Blanks said. "[I realize] I'm still here and still able to do it. There is always that time of feeling sorry for yourself, but you still got to fix the problem and get back to where you want to be."
In the Minor Leagues, Blanks had a .304 batting average, a .392 on-base percentage and a .520 slugging percentage. For every 150 games, he averaged 25 home runs and 106 RBIs. In the Major Leagues, Blanks is hitting .234 with a .319 on-base percentage and a .407 slugging percentage. He averages 17 home runs and 60 RBIs every 150 games.
The Padres traded Blanks to the Athletics on May 28, 2014, but he didn't play after June 23 because of a left calf strain. The Rangers signed him to a Minor League contract in the offseason, but he had to go slow in Spring Training because of inflammation in both Achilles tendons.
"We'd tried to acquire Kyle from San Diego a couple of times, it just never lined up," Rangers general manager Jon Daniels said. "When he was available this winter, it was an easy call. We needed some right-handed power and he liked the opportunity."
Blanks' physical issues played a part in him not making the team out of Spring Training. Instead, he began the season at Triple-A Round Rock, going hitless in his first 12 at-bats. Blanks turned that around by going 17-for-40 with three home runs and 11 RBIs, earning him the call when Moreland needed surgery.
"When you get off to a slow start, everything is amplified, but from day to day," Blanks said. "It does no good for me to panic about it. You can evaluate it and fix it or freak out and lose your mind. After quite a few years of losing my mind, I figured I'd shoot for some sanity the last couple of years. Works a lot better when you just try to fix a problem."
Blanks hopes the problems are fixed. It would be understandable if he spent much time wondering where he would be if not for all the injuries, but he said he doesn't.
"We all have our own personal expectations," Blanks said. "Looking back, I think I did well. Clearly we all think we could do better, but it just kind of that road that gets you where you are going. Clearly not the best road, still not the best road, But I'm very happy with what I was able to do when I was able to do it. It's definitely made me a better player.
"Ultimately it has been a long road with a lot of lessons, but it has put me here and it's definitely a good place to be."
T.R. Sullivan is a reporter for MLB.com. Read his blog, Postcards from Elysian Fields, and follow him on Twitter @Sullivan_Ranger. This story was not subject to the approval of Major League Baseball or its clubs.